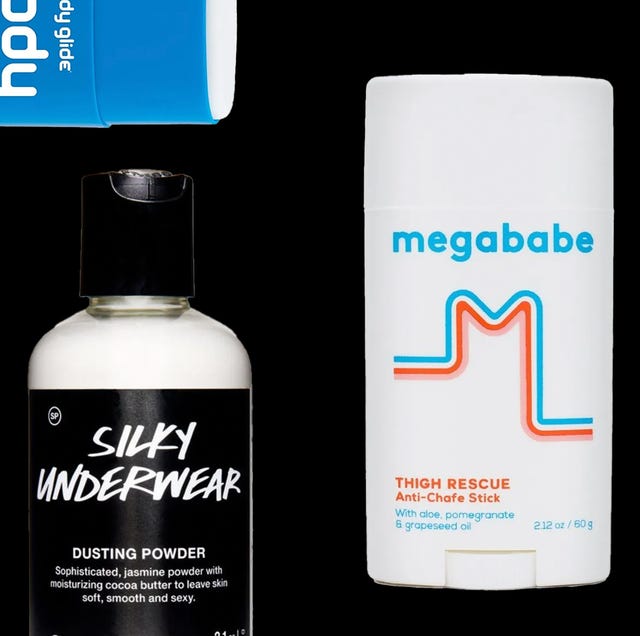 Courtesy Image
I think my favorite part about having a body, with all of its skin and flesh and pores, is how my limbs love to rub together in the summer, until my thighs and under-boobs are chafed to hell. Couple that with some cystic acne and hot-weather breakouts, and I fall in love my genetics more and more every day. Still, since chafing is caused by a mix of rubbing, friction, and moisture (hi, sweat), it can happen to any of us, whether you're a marathon runner/cyclist/athlete, or you're just a human existing in muggy weather. And it freakin' sucks. So what do we do? Stock up on all of the chafing creams, gels, sprays, and anti-chafing bike shorts in existence.
Of course, there are approximately one-zillion chafing creams on the internet, and not all of them are good (or even mediocre). So to help narrow down the selection, we chatted with two experts—dermatologist Dendy Engelman, MD, and dermatologist Mona Gohara, MD—for the best products and ingredients for preventing and soothing chafed skin. Take a peek at a few of our favorites below:
Our top chafing cream picks of 2022
Now keep reading for the full product breakdown, including tester reviews, expert opinions, and more. Trust—your skin will thank you.
Advertisement – Continue Reading Below
Best Chafing Cream on Amazon
Chamois Butt'r Original Anti-Chafe Cream
Doesn't feel greasy or product-y at all
Odorless, so you forget it's there
Reviewers say it can sting already-irritated skin
The ingredients aren't listed or easy to find
Um, this chafing cream has more than 7,000 reviews on Amazon, and for good reason: It's lightweight, non-sticky, and leaves zero greasy residue behind. The formula was developed by cyclists, so if it works for the most friction-y of frictioned athletes, it'll definitely work for your thighs and arms while frolicking in your summer shorts or summer dresses.
THE REVIEWS: "My thighs rub together like nobody's business," writes one reviewer. "Like, as soon as they start touching I'm in pain/ bumps form/ my skin starts burning off. This saved my f****ng life. I was genuinely shocked by how amazing it was."
Best Moisturizing Chafing Cream
Gooch Guard Chamois Cream
Helps protect already broken and chapped skin
Uses tea tree oil to help fight fungus
Contains oils, so can feel a tiny bit greasy
Okay, listen, you gotta ignore the name here—it isn't about what's on the outside; it's about what's in the ~inside~. And that's a cult-favorite cream made with a mix of soothing aloe, moisturizing shea butter, hydration-locking oils (sunflower and castor seed), and anti-inflammatory tea tree oil. The result? A chafing cream that keeps your skin plump and happy, sans rash, redness, or irritation.
THE REVIEWS: "So I'm not a cyclist; in fact, I don't even know how to ride a bike. However, I do suffer from chafing and friction on my inner thighs as I have thighs that need it," reads one tester's review. "It's really soothing, the smell isn't strong at all, it just smells clean. I've even used it on my underboob area and sides in case a bra is a little scratchy, and it is amazing how different it feels when I've done so."
Best Stick Chafing Cream
Body Glide Original Anti-Chafe Balm
Easy to swipe on sweaty, wet, or dirty skin
Can feel a little sticky or "tacky" if you apply too much
If you're the athletic type who loves long-distance activities, like running or hiking (hi, can't relate), Dr. Engelman says to create a barrier between your skin and workout clothing with a hypoallergenic balm to reduce friction. Before your next outdoor venture, swipe this plant-derived chafing stick over your neck, arms, thighs, feet—just about anywhere you might have a little extra rubbing.
THE REVIEWS: "I recently went to Thailand where it was 90 degrees with a 70% humidity every single day I was there," reads one tester's review. "This stuff got me through! I was able to wear dresses and shorts with no chafing!"
Best Chafing Cream for Inner Thighs
Megababe Thigh Rescue
Doesn't leave a white or ashy marks on skin
Has a mix of oils, so can feel a little greasy at first
If inner-thigh chafing is your biggest annoyance, you need this cream. A few swipes of this stick chafing balm, which contains aloe for cooling and grapeseed oil for hydration, is all it takes to protect your inner thighs (one area that seems to get it the worst) from painful rubbing.
THE REVIEWS: "I never write reviews but this stuff is unbelievable," writes one tester. "I walk around constantly and it lasts all day, smells great, and is completely clear. I'm kinda in awe and can't recommend enough."
Best Chafing Cream Spray
SBR Skin Slick Continuous Spray Lubricant
Legit lasts all day once you spray it on
Feels silky-smooth and almost slippery
Can get all over the floor if you spray it on inside
Whether you're looking to prevent blisters, chafing, or even just the annoying rubbing from your bra straps, this easy-to-apply spray works as a shield against all kinds of painful friction. It's also waterproof and sweatproof (good to pair with your waterproof makeup), so you don't have to worry about reapplying it on particularly swampy days—a major plus.
THE REVIEWS: "I super love that I don't have to get my hand dirty, especially when I have to apply it in the nether regions," writes one reviewer. "It's quick, easy to use, and works great!"
Best Anti-Chafing Bands for Thighs
Bandelettes Elastic Anti-Chafing Thigh Bands
Super comfortable and breathable
Comes in 17 colors and 7 sizes
Some reviewers say the bands can roll down
K, if you're not into potentially sticky, greasy, or slick formulas, try these anti-chafe bands as a lighter, more breathable alternative to slip shorts. They've got 15,000 rave reviews on Amazon, thanks to their soft, yet supportive feel. Each band fits comfortably around your thighs to protect them against friction, and thanks to small strips of silicone, they don't slip or slide no matter how sweaty you might be. This pair gets bonus points for also looking like lingerie (which, hey, I'll take).
THE REVIEWS: "I have HORRIBLE chub rub that often leaves me swollen and raw from sweating or fabric rubbing, so these seem so far to be a life saver!" writes one reviewer, adding that they actually wore these bands for a full two years before the silicone strip started falling off. Impressive, right?
Best Chafing Powder
Lush Cosmetics Silky Underwear
Leaves behind zero residue, oil, or grease
Formulated with clay to help soak up excess oil
Has fragrance, so can be irritating to sensitive skin
Can be messy when sprinkling on (especially on dark clothes)
I personally love a good TikTok beauty product and viral skincare hack, and one of my favorites is using corn starch as a DIY anti-chafing product. Still, I'll admit it's messy AF, and can turn pasty on sweaty skin. Enter: This chafing powder that's made with a blend of cocoa butter, kaolin, and—you guessed it—corn starch. The velvety powder creates a silky smooth barrier on the skin to prevent painful friction, and it smells like jasmine and vetiver.
THE REVIEWS: I'm a bigger girl, and, as such, have a lot of creases/areas that get very sweaty and uncomfortable, especially in the summer or during exercise," reads one tester's review. After hearing rave views on this powder, she writes, "Wow, it definitely lives up to the hype. I tried it for the first time before a boxing class and everything is not only dry, but there's no uncomfortable chafing or redness."
Best Chafing Ointment for Irritation
CeraVe Healing Ointment
Actually helps *repair* your chafed, angry skin
It doesn't really prevent chafing—it helps heal it
While some anti-chafe products are specific to just chafing, you'll want to keep a tube of this stuff close by for any kind of compromised skin. Cosmo eds are already big fans of CeraVe moisturizers, but this occlusive ointment, in particular, contains ceramides and hyaluronic acid to lock in all the hydration and moisture your chafed skin needs to stay healthy.
THE REVIEWS: "It leaves my skin well moisturized, soft, and bright," writes one reviewer. "Rough skin patches are gone. Red irritation spots are gone. Just an amazing product that you get a ton of mileage out of."
Best Chafing Gel
Monistat Care Chafing Powder Gel Relief
Leaves skin feeling silky, not oily or greasy
Completely clear and translucent
Needs re-applying throughout the day
This skin protectant looks like a gel at first, but once you rub it in, it transforms into a soft, velvety, almost powder-like finish—just like a makeup primer, which is why it's also a favorite dupe of the skin prep product. This silicone-based gel also helps to reduce the redness of irritated skin, making it perfect for both treating and preventing chafed skin.
THE REVIEWS: "This stuff is great. Goes on like super-soft powdery smooth [and] protects from chafing, as well as from moisture," writes one reviewer. "Just a tiny raindrop size is all that's needed to protect, [and it has] no odor, no difficulty getting clean like with some other protective creams, no mess."
Best Chafing Oil
Bio-Oil Multiuse Skincare Oil
Lightweight and sinks into skin
Doesn't have as much "slip" as other chafing products
Isn't very protective (better at soothing already-chafed skin)
If you're looking to treat already mildly chafed skin (for more serious cases, consult your doctor), Dr. Engelman suggests washing the area with gentle soap and then, while the skin is still damp, applying Bio-Oil to area. Packed with ingredients like vitamin E, lavender oil, chamomile, and calendula, this quick-absorbing oil can help to improve and soothe the skin.
THE REVIEWS: "Lovely body oil," writes one reviewer. "It dries quickly and is soothing for sensitive skin. It's great during the summer months."
Which ingredients should I look for in a chafing cream?
When it comes to chafing, prevention is key—it's easier to prevent your skin from getting chafed raw and red than it is to try to repair it after the fact. One of the top ingredients for preventing friction? Dimethicone. Dimethicone is a silicon-based polymer that, when used in skincare products, gives the formula an incredibly smooth, soft, slippery feel, board-certified dermatologist Mona Gohara, MD, has previously explained.
Silicone-based products are always a good bet, but oil-based creams are also beneficial at creating a skin-protecting barrier. Look for formulas with mineral oil, petroleum jelly, or coconut oil, and bonus points if they also contain skin-soothing ingredients like vitamin E, zinc oxide, and aloe vera.
How do you cure chafing ASAP?
If you're already past the point of prevention, and you're dealing with angry, red, irritated skin, you need to do some soothing damage control to treat your chafing. After rinsing your skin, slather on a barrier cream (i.e., rich, skin-healing moisturizer that locks in moisture), followed by a layer of 1 percent hydrocortisone cream to calm inflammation.
And if your chafing is seriously painful and stinging, dry to make an appointment with your doctor or a dermatologist (even a virtual dermatology appointment will work!) to get prescription topical steroids to calm the irritation fast.
Dendy Engelman, MD, is a board-certified cosmetic dermatologist and Mohs surgeon at Shafer Clinic in New York, NY. Dr. Engelman is an expert in injectables, lasers, and and chemical peels.
Mona Gohara, MD, is a board-certified dermatologist in Hamden, CT. Dr. Gohara is an associate clinical professor at Yale School of Medicine and president of the Women's Dermatologic Society. Her areas of expertise include medical and surgical dermatology and skin of color. Dr. Gohara has previously spoken to Cosmopolitan about dimethicone.
Chloe Metzger is the deputy beauty director at Cosmopolitan with nearly 10 years of experience researching, writing, and editing skincare stories that range from cystic acne treatments to skincare routines. She's an authority in all skincare categories, but is an expert when it comes to sensitive skin, rashes, and chafing, thanks to her own lifetime of dealing with sweaty summer thighs and under-boob sweat (thanks, genetics). She regularly tests chafing creams, gels, and sprays for efficacy, and worked with the industry's top dermatologists and cosmetic chemists to assess new formulas and brands for this story.
Brooke Shunatona is a contributing writer for Cosmopolitan with more than 10 years of experience writing about beauty, fashion, and lifestyle articles, including breakdowns on plum oil for skin and double-cleansing your face. Her anti-chafing selections were based on product reviews, ratings, and personal testing, along with information from experts.
This content is created and maintained by a third party, and imported onto this page to help users provide their email addresses. You may be able to find more information about this and similar content at piano.io
Advertisement – Continue Reading Below