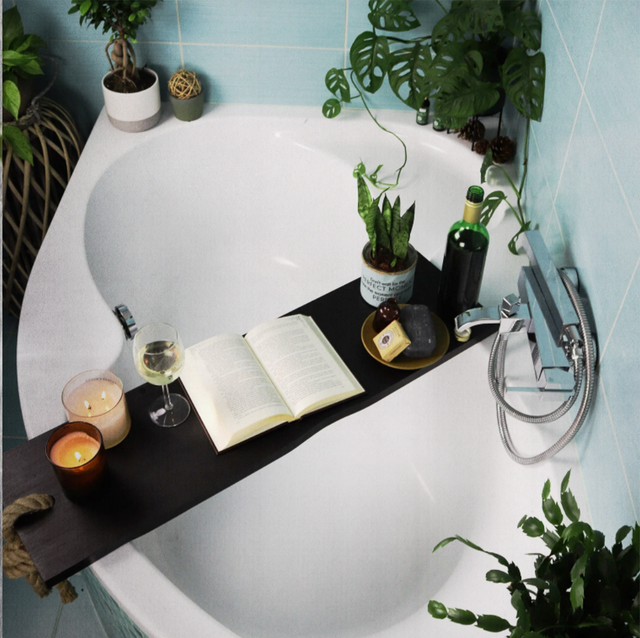 Courtesy
If your favorite form of self-care is taking a bubble bath and you still have yet to invest in a bathtub tray… WYD?! The caddy is a total game-changer. I mean, what's more incredible than the idea of having a place where you can set down a book, tablet, candle, and/or glass of wine all within arm's reach of you soakin' in the tub? Nothing. The answer is nothing. So on that note, I present to you, the best bathtub trays to hold alllll the things. (And yes, they're chic! And sturdy!)
Below, you'll find a ton of top-rated bath caddies, no matter what your specific needs or aesthetic are. Looking for something cool and modern? There's an acrylic bathtub tray for ya. Need something with a slot for your iPad? Got that too! Or maybe you know you'll want something with a dedicated wine glass holder (priorities, I like that). You'll definitely find that below!
Our top picks for the best bathtub trays of 2022
Scroll on to see the rest of our picks. Your future at-home spa awaits.
Advertisement – Continue Reading Below
a tray with storage
Monsuri Bamboo Bathtub Tray
some reviewers say the bookstand doesn't fit their iPad
Your relaxing bath won't ever have to be disturbed by getting up to grab something when you have this tray that can fit a ton. It has space for your tablet (or book!), a wine glass, and your go-to bath essentials or spa items.
THE REVIEWS: This is just what I needed to relax and unwind!" one reviewer writes. "I have a place to set a beverage. It's big enough for my laptop so I can watch my favorite shows! There's plenty of storage if I want to put on my skincare products and have a spa night. It's easy to store under the sink and I can just wipe it clean if necessary. There is a small storage caddy that is detachable so be mindful of that when you're moving the tray. Other than that, it's great. I highly recommend this."
a dark wood option
LuxuryWoodsProducts Black Wooden Bath Caddy
available in three different wood finishes
natural wood markings may look different from the photos
Not only will this handmade wooden tray look gorgeous in your tub, but it'll also make for a great home decor piece when you're not using it during bathtime.
MY REVIEW: I love the fact that I don't have to worry about where to store this tray when I'm not using it because I can just display it on my tub as decor and it'll look soooo chic!!
this one that swivels
Uncommon Goods Swivel Bath Tray
some reviewers say suction isn't strong enough
only works on porcelain tubs
This tray can swivel, meaning it won't get in your way when you want to exit the tub or stretch your legs. And honestly? That's genius.
THE REVIEWS: "I wanted a table to add to my bathtub but I can't use one of the ones that rests across the tub," writes one reviewer. "I found this and was so excited. It's perfect for what I need. I love that it swivels so I can put it to the side when I don't need it and it still gives me enough room. It's really beautiful as a piece of furniture too."
this affordable option
Amazon Basics Wire Bathtub Caddy Tray
some reviewers say it gets rusty over time
For those who aren't trying to drop tons of dough: Check out this wire caddy from Amazon that's currently less than $25. It'll hold multiple bath products, accessories, and even a candle.
THE REVIEWS: "I needed something sturdy to hold big bottles of shampoo and conditioners and other bath items. This product works perfectly!" writes one reviewer. "It's adjustable to fit different sizes of bathtubs. It met my needs well for the products that I wanted it to hold."
this narrow one
Yamazaki Home Expandable Bathtub Caddy
might not hold everything you want
Maybe you're on the hunt for something more compact. This caddy from Yamazaki Home is very thin, but can still fit a bunch of stuff—including your tablet and some of your self-care items. And you can even make it longer if need be, thanks to its expandable width.
THE REVIEWS: One reviewer writes, "Fits most tub sizes and holds a lot of things, including an iPad or a book and a glass of wine."
this one with a curved design
Olivia & Aiden Luxury Bathtub Caddy Tray
lots of slots for various items
certain wine glasses may not fit in the cup holder
How about this ergonomic, bamboo tray that's got a tablet/book stand, wine glass holder (for both stemmed and non-stemmed glasses!), a candle holder, and a self-draining cup holder?
THE REVIEWS: "Makes my bubble bath better," one reviewer writes. "Small, doesn't take up too much space, and I can still bend my knees. It is sturdy and doesn't shake or shift around."
this acrylic one
Ebern Designs Mesirow Bath Caddy
may not be long enough for some tubs
If you've got a simple ~aesthetic~, you'll love this sleek, acrylic option. Its got a beautiful clear surface with stainless steel, rust-proof handles that'll make carrying and adjusting its position effortless.
THE REVIEWS: "I'm thrilled with this bath tray!!" one reviewer writes, "Very sturdy design with a classic look that will compliment most bathtubs. The acrylic dries without spots when it gets wet so super easy to keep clean."
this extendable tray
Umbra Natural Freestanding Bamboo Bath Caddy
multiple compartments
slip-resistant arms
Don't worry about this tray not fitting in your tub because it's got arms that can extend up to 37 inches! And each arm has a thin layer of silicone so that they don't ever just slide off. (Bonus: It's got hooks for your loofah and shaver!)
THE REVIEWS: "Love this bath caddy!" one reviewer writes, "There is a place for everything. It's very well made and fits perfectly in my tub."
this customizable tray
CraftedWoodCoShop Wood Bath Tray
What's so great about this bath tray is that it's made to order and it comes in different dimensions. So whether you're looking to get yourself one or gift it to a friend, you can order it so that'll work with the tub's measurements. Another perk: You can also personalize it.
MY REVIEW: I love that you can just share the exact measurements of your tub and the seller will make you a tray that fits it perfectly. No more second-guessing.
this one that can also be used as decor
Loon Peak Aiedan Freestanding Bath Caddy
too earthy for some people's taste
Into the rustic look? Go for this wooden one that is cut, sanded, and finished to your liking.
THE REVIEWS: "This is such a gorgeous piece and it's very unique. It's truly one of a kind and has changed my bath game forever.," one reviewer writes. "I watch videos from my phone or tablet on it. I've even had a meal from my tub (don't judge!). It helps me keep all my toiletries handy during a long bath and it adds a beautiful touch even when not in use. Makes my claw foot tub look even swankier! Highly recommend!"
this luxurious tray
CB2 White Marble Bath Caddy
isn't very durable and could break easily
Anything made of marble screams luxe. And if that's the theme you're going for, choose this stunning tray that's been handcrafted in India.
THE REVIEWS: "I bought this for a freestanding tub and it looks incredible," one reviewer writes. "The marble is gorgeous and thick. It has enough space for a book and most importantly a glass of wine! This is the perfect finishing touch for a spa-like bathroom."
What is the purpose of a bathtub tray?
Okay, yes, it may sound like something soooo extra. But! Before you get all judge-y, it's actually a super useful product that'll make baths so much more relaxing—especially if you find yourself in the tub, like, a LOT.
With a bathtub tray, you don't have to stress about where you're gonna put your bathtime necessities. Your book and wine glass don't have to chill on the floor, nor do they have to sit on the corner of your tub at risk of toppling over into the water when you have one of these gems. Think of it as a whole-ass table made to fit on your tub—but less bulky.
What is the best material for a bathtub tray?
The last thing you'd wanna do is invest in a nice bathtub tray, only for it to become warped or damaged from all that bath water over time. So with that being said, aim for something water-resistant!
I'd keep an eye out for bathtub trays made out of plastic, stone, or even bamboo, as they are less porous and more able to resist soaking up water compared to hardwood.
How we chose the best bathtub trays
Cosmo's shopping team is constantly curating the internet to bring you the chicest, trendiest options like it's our job (because it is, heh).
We have pretty high standards when it comes to recommendations. Each of our shopping articles adheres to the 15 Percent Pledge and includes picks for all styles. And you better believe we read those product reviews (and test many of the brands IRL) so you don't have to. You're welcome!
This content is created and maintained by a third party, and imported onto this page to help users provide their email addresses. You may be able to find more information about this and similar content at piano.io
Advertisement – Continue Reading Below