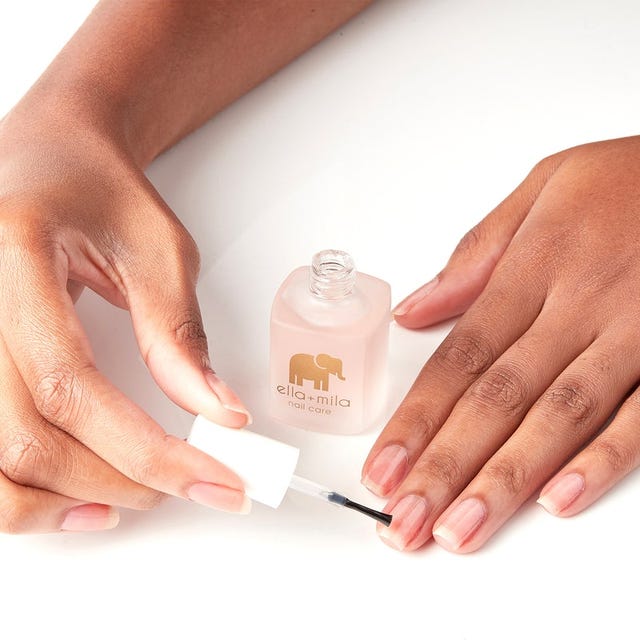 Ella + Mila
Everybody loves a good salon or at-home manicure. But before you dress up your nails with your favorite winter nail colors or pastel nail colors, it's important to address any underlying issues you might have, like peeling, cracking, or splitting. Luckily, you can likely fix all of these problems by adding one simple step to your nail care routine: applying one of these top-rated nail strengtheners.
The best nail strengtheners are packed with nourishing ingredients that hydrate, moisturize, and strengthen nails. In that respect, you really can't go wrong with any of the products on this list, so it all comes down to preference and purpose. You can choose from creams, oils, polishes, and hardeners—all with hundreds or even thousands of glowing reviews from customers. Some products are specially formulated to target peeling or chipping, while others work wonders on yellow or stained nails.
If you're looking for something with natural ingredients, you'll find several options here, including one with beta-carotene-rich spinach extract, and another with soothing and smoothing milk and honey. No matter which nail strengthener you choose, you'll be on your way to achieving the longer, stronger nails of your dreams in no time! When you're done, keep the self-care going by giving yourself a relaxing pedicure at home!
Advertisement – Continue Reading Below
1
7,000+ Reviews
First Aid Kiss
More than 5,000 Amazon users swear by this four-week treatment's effectiveness. It's rich in vitamin E and vegan and animal cruelty-free.
2
Under $6
Diamond Strength Instant Nail Hardener
Diamonds are your nails' best friend! This nail hardener contains real micro diamonds and titanium that instantly seal fragile nails.
3
Best Cream
Hard As Hoof Nail Strengthening Cream
This top-rated cream is formulated to prevent and heal even the most severe splits, chips, peels, and cracks. It also conditions cuticles and nails with calcium, vitamin E, C, and D, and hydrogenated jojoba oil.
4
Under $10
Orly Nail Defense
This strengthening protein treatment has a glossy sheen that will make your nails look and feel beautiful. You can also use it as a base coat under your nail polish.
5
Best for Travel
Nail Strengthener Pen
Brittle nails don't stand a chance against this nail repair serum that comes in convenient pen form. Toss it in your purse so you can apply it while you're on the go.
6
Best Oil
Milk and Honey Cuticle Revitalizing Oil
This lightweight oil is bolstered with natural ingredients like soothing and softening milk, plus honey, one of nature's best humectants for parched skin.
7
Splurge Pick
Dior Creme Abricot Base Coat
This celebrity manicurist favorite nourishes and hardens, making uneven nails look and feel smoother. One happy reviewer said it extends the life of their manicures by at least five days!
8
Best All-in-One
All-in-One Nail Polish
If you're not thrilled with the idea of adding another step to your nail care routine, consider this clear all-in-one base coat, top coat, and nail strengthener. It's specially formulated to give nails a smoother glossy finish.
9
Best Kit
Starter Manicure Kit
Get everything you need for your nails in one four-step system containing a vitamin-infused base coat, two color coats, and a strengthening top coat.
10
Best for Yellow Nails
Genie in a Bottle Illuminating Nail Tone Perfector
This base coat sounds like a wish come true. Protein-rich biotin strengthens the nail and stimulates growth, while ultra-sheer violet pigments neutralize dull, stained, or yellow nails.
11
900+ Reviews
Horse Power Nail Rescue Base Coat
Your nails will be like butter with a little help from this protective base coat. It's infused with horsetail extract, biotin, vitamin B, and calcium to help rescue damaged nails and protect against future damage.
This content is created and maintained by a third party, and imported onto this page to help users provide their email addresses. You may be able to find more information about this and similar content at piano.io
Advertisement – Continue Reading Below