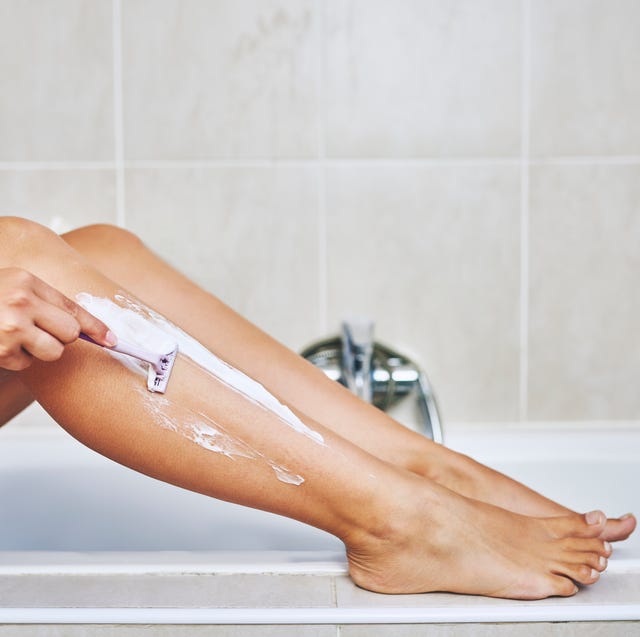 Moyo StudioGetty Images
While there are tons of options to consider for a practical solution for hair removal—from creams, bikini trimmers to at-home waxing kits and high-powered laser tools—using one of the best electric razors for women is a quick and painless way to get smoother, hair-free skin without irritation. Whether you're in the market for a portable device that packs away nicely in your carry-on, or a versatile, dual-purpose razor that easily does away with hair on both your body and face, there are plenty of expert-approved options to choose from—especially when shopping on Amazon. From ergonomic tools that fit perfectly in the palm of your hand to shavers made for in-shower and beyond, we rounded up a 13 of the very best electric razors (a handful of which are on sale right now) Amazon customers swear by for baby soft skin in a flash with minimal effort.
Advertisement – Continue Reading Below
1
Satinshave Advanced Women's Electric Shaver
Philips Norelco
$42.99 $39.99 (7% OFF)
You can snag this top-rated shaver on sale, which one Amazon customer shares is "easy to hold and manage around the curves of the calves and knees."
2
SatinShave Prestige Women's Electric Shaver
Philips
$59.99 $49.95 (17% OFF)
Here's another version of the Philips SatinShave device that over 1,800 customers consider one of the best electric razors you can buy. It's ideal to use wet or dry for a smooth finish, and lasts for up to an hour when fully charged and used in cordless mode.
3
Close Curves Electric Razor for Women
"This is a life saver for someone who hates shaving," writes one satisfied Amazon customer about this beloved and waterproof electric razor. In addition to using three floating blades and two outer foils to get rid of body hair, you can safely use this device in or out of the shower for maximum efficiency.
4
Smooth & Silky On the Go Shaver
This handy shaver is one of the best options to pack in your carry-on, since it's compact, cordless, and extremely travel-friendly. The three-blade electric razor also includes a set of trimmers for quick touch-ups and precise bikini line maintenance.
5
Electric Razor for Women
Brori
$35.98 $25.48 (29% OFF)
Here's another markdown on one of the best electric razors on Amazon, with one shopper considering this wet and dry electric version a "must-have for anyone who hates shaving," since it seamlessly trims underarms, legs, and more without the use of shaving cream.
6
Wet and Dry Women's Electric Shaver For Sensitive Skin
Whether you use it wet or dry, this gentle trimmer aims to minimize skin irritation while providing a super close shave, and is ideal to use on body parts like the underarms, legs, and even your sensitive bikini line.
With over 65,000 customer reviews and close to a five-star rating, this cordless and pen-shaped trimmer is a hit among Amazon shoppers. It features razor thin stainless steel blades with rounded tips that make it easy to maneuver around sensitive or hard-to-reach areas, and quickly rinses clean under running water.
8
Flawless Legs Women's Hair Remover
Finishing Touch
$59.99 $39.88 (34% OFF)
This dry shaver specifically for legs is also on deep discount right now, and features 18-karat gold-plated floating heads that make it easy and painless to guide your hair removal.
9
Ladies All-in-One Rechargeable Personal Groomer
Conair
$29.99 $19.99 (33% OFF)
Whether you prefer to shave or trim, this versatile tool works in and out of the shower, and includes a number of attachments—from a foil shaver to a bikini trimmer—to remove unwanted hair from hard-to-reach areas on the body.
10
Lumina Painless Hair Remover
Here's another travel-ready electric trimmer that uses a pivoting head to remove unwanted facial or body hair without tugging at your skin. The device also contains a built-in light that helps you track down even the finest of hairs.
11
Palmperfect Electric Shaver
This battery-operated shaver has an ergonomic design for ultimate control while removing hair from just about any part of your body, and is ideal for quick touch-ups while on-the-go.
12
Electric Razor for Women
Tencoz
$59.99 $25.99 (57% OFF)
This two-in-one rose gold razor can quickly upgrade your beauty tool aesthetic, and includes two detachable heads for your face and body with up to 60 minutes of shaving time per charge.
13
Smooth and Silky Electric Shaver for Women
Another Amazon's Choice electric razor, this one from Remington has an angled head that uses four blades to trim shorter hairs, and hypoallergenic foils to remove longer ones. It even includes an almond oil strip for added hydration as you shave.
This content is created and maintained by a third party, and imported onto this page to help users provide their email addresses. You may be able to find more information about this and similar content at piano.io
Advertisement – Continue Reading Below