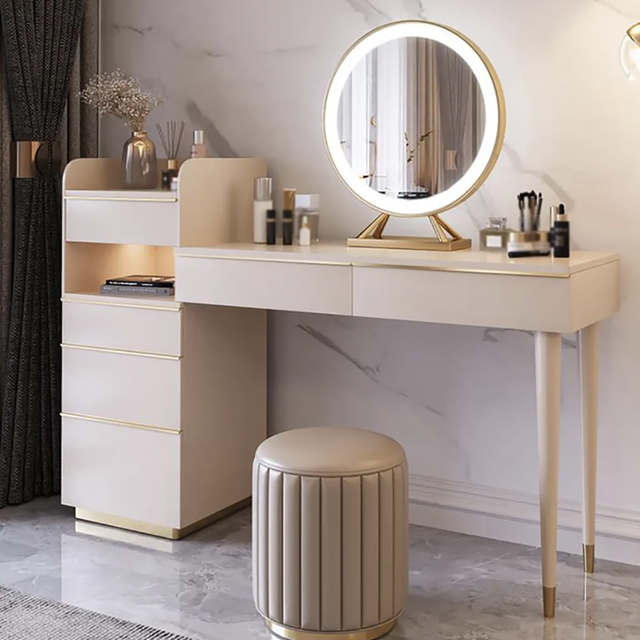 Courtesy
Time to be real with myself: Doing makeup while standing (!) at my bathroom counter (!!) under that harsh, fluorescent light (!!!) is certainly not the vibe. So you betcha I'm jumping at the chance to get a good makeup vanity in my room. But as I shop around, I also realize that I don't need just any ol' vanity. No, I need me a makeup vanity with storage to hold allllllll the lipsticks and eyeshadow palettes that I've been hoarding over the years (we can talk about how this is gross and that most of my makeup is probs, most def expired another time).
So, of course, I did my research and came up with a list of the best makeup vanities with drawers (and even one with lights!). There's one for every aesthetic—whether you're a minimalist, an ultra-glam babe, or a mid-century enthusiast. See it all, below!
Our top picks for the best makeup vanities with storage of 2022
Below, super pretty makeup vanities with storage that will quite literally hold allllll the things.
Advertisement – Continue Reading Below
this one that can fit a ton
Makeup Vanity Set
lots of drawers
a breeze to build
pretty stool included
no storage space on counter
Six roomy compartments to hold all your makeup and skincare products?! A dream.
THE REVIEWS: "This is an excellent piece of furniture. It is very sturdy and has deep drawers to accommodate all of my makeup and toiletries," one reviewer writes. "It was easy to assemble. I would definitely purchase it again."
this one with a tri-fold mirror
Songmics Greige Makeup Table with Tri-Fold Mirror
comes with an upholstered stool
sturdy black steel frame
Not only does this beaut have a tri-fold mirror and drawer space, but it also has a brush holder and hairdryer slot hooked on the side.
MY REVIEW: As someone who is a makeup lover and hoarder, I need allllllll the storage space I can get (especially with the small NYC apartment I live in). So the fact that this compact vanity has a lil basket to hold my brushes and hair products is clutch.
this one with a touch screen mirror
Vanity Set with Touch Screen Dimming Mirror
durable
compact but roomy
some reviewers say it came with dings and scratches
BRO, this vanity set comes with a light-up mirror that actually dims when you tap the screen! I love living in the future, especially for under $250.
THE REVIEWS: "Totally worth the money! I've never found a vanity that comes with a light-up mirror and stool. This is by far a steal in my eyes," one reviewer writes. "There were minor imperfections like small chips in the paint on the legs but it's not noticeable to me, but others may be disappointed. It holds a lot as well for its size. The touch lighting is on point with three different settings, and when you hold the button it's dimmable! It's EASY to put together and took me a little under an hour. I absolutely love it and recommend it to anyone looking to up their beauty space."
This gorgeous stone shade
Mid-Century Vanity Desk Set
made of sustainably sourced wood
Found: a S-T-U-N-N-I-N-G vanity with five (!!!) drawers and a sophisticated design. God, I love her.
MY REVIEW: It's rare to find a classic vanity made with recycled materials. And even though it is on the pricier side, it is sooo worth the money knowing that it's high quality. I also personally love its timeless look that'll match any aesthetic.
this lil one
Arinze 31.5" Wide Vanity Set with Stool and Mirror
easy setup
compact design
shorter than expected, according to some reviews
This one is perfect if you're in need of something that won't take up much space.
THE REVIEWS: "It arrived exactly as pictured," writes one reviewer. "The assembly was wonderfully straightforward and fast. It took me about 20 minutes, but if you're quite handy, it's really 10-15. The table itself (along with the drawers) is already assembled so all you need to do is attach the legs, and the mirror and assemble the chair. It fits perfectly in my bedroom. There's also ample drawer space. My only quip is that I wish the mirror was adjustable. It's the right height for me (I'm 5'2") but for my sister who is 5'7", she has to stoop a bit. I definitely recommend this set. It's lovely."
this one with a flip-top mirror
Makayla Vanity Set with Stool and Mirror
some reviews said it was delivered with scratches
What's up, this comes with a super chic upholstered stool!!!! Plus, it has a flip-top mirror, meaning you can definitely use it as a desk.
THE REVIEWS: "This vanity is gorgeous and such a cool desk if I want to close it and get to work!" one reviewer writes. "I love the organization it adds to my space and how it helps me free up space in the bathroom so I don't hog the mirror for my beauty routine."
this one with gilded details
Blaire Classic Vanity Desk Set
For those who love gold accents and all things glam, this one goes out to you.
MY REVIEW: With all the makeup that I have, sometimes I forget what I even own! I love that there's ample storage space on the table of this vanity so I can SEE what I need.
this traditional one
Tri-Folding Vanity
durable
packaged securely
some reviewers say a few parts were missing
If your aesthetic leans a little more traditional, this all-white beauty would look so good in your room. Plus, it comes with a tonnnn of drawers and a tri-folding mirror so you can see yourself from different angles.
THE REVIEWS: "I did a LOT of searching, on many popular sites, for the right vanity before ordering this one …and I have to say I made the right choice!! I love it!!" one reviewer writes. "I also wanted something with enough storage space to help me manage my beauty product addiction. This is perfect on all fronts!! It's even more beautiful in person, was super easy to put together, feels good and sturdy, and offers more than enough space and organization for everything. I am so happy I chose this one!"
this gold mirror
Round Gold Mirror
may be too small for some
You may not like vanities with attached mirrors, and that's okay! Here's a sleek and simple mirror that you can hang over the vanity of your dreams.
MY REVIEW: I love that this gold mirror can go with any vanity and will also make for great home decor.
this gorge dresser
Lyra 4-Drawer Dresser
breathable, woven rattan cane drawers
For all those who prefer doing makeup whilst standing up, I gotchu! This wood dresser with chic rattan drawers has so much storage space and is a great height for all your standing up while dolling up needs. (Also, it'll go sooo great with that gold mirror!)
MY REVIEW: What I'm obsessed with about this gorgeous dresser is that it is SO multifunctional. You can store your makeup collection in it as well as some extra clothes that need a home or random miscellaneous things.
this v modern one
Askern Vanity Set with Stool and Mirror
affordable for its stylish design
complicated to build, per a number of reviews
Well, damn. She's dark, she's moody, she's sexy. And best of all, she comes with a deep drawer for storing all of your serums and makeup tools.
THE REVIEWS: "A little complicated to put together, but a lovely finished product," one reviewer writes.
this simple one
HEMNES Dressing Table with Mirror
easy assembly
has a glass top for added protection
doesn't have many compartments besides two drawers
IKEA coming through with this affordable, yet stylish option. It's a sleek design without skewing too modern—and that may very well be what your space needs.
THE REVIEWS: "I bought this for my teen daughter and she loves it," writes one reviewer. "It holds a ton of her stuff on top and in the drawers and the mirror can be adjusted up or down if needed. It was easy to set up and looks so beautiful!!"
this clean and simple option
Makeup Dressing Table with Round Mirror
reviewers have said the stool is flimsy
Not in the market for something super ornate? Add this simple white one to your cart.
THE REVIEWS: "I've been looking for a vanity for a few months now, maybe closer to a year. I'm so glad I FINALLY found this," one reviewer writes. "It got delivered today by Amazon Prime. This was the easiest thing to put together, it's sturdy, perfect, cool size drawers, reasonable priced, compact, and most important of all it did not come with any damaged pieces. I am sooooo HAPPY and in love with it."
this tiny one
BRIMNES Dressing Table
also works great as a desk
mirror doesn't tilt back very far
No fuss, no frills. If you want something that gets the job done (and doesn't look like an obvious vanity in your room), go for this bad boy.
THE REVIEWS: "I had to downsize my makeup vanity to save space and this is exactly what I needed," one reviewer writes. "It's small but still has enough storage. I don't have great lighting in the room it's in so I got vanity lights to go around the mirror and it's perfect! It's much easier to assemble with help rather than on your own. It didn't take long at all!"
How to choose a makeup vanity for you
There are tonsssss of makeup vanities out there to choose from and if I were you, I would wanna make sure I've seen a good amount of them before picking The One. But if you're still trying to figure out what would make the perfect vanity for you, here are some specs you'd wanna know about before buying.
Consider the storage options
If you have a lot of crap, then you're probs going to need more than one or two drawers to hold everything. And, obvi, the roomier those drawers are, the better. It's the little things, people!
There are also some vanities that have built-in organizers on top of the actual table, and if you're down for all the storage space you can get, I'd look into finding one that has this specific feature. With it, you can have your daily makeup products and brushes at just an arm's length away.
Consider the mirror and lighting situation
Some people must have great lighting when doing their makeup (hi, it me). And if this is something that's really important to you, then you should shop for one that comes with lights attached to the mirror. You can even get one that's touch-screen activated. I mean, welcome to 2022, baby—am I right??
Cosmo's shopping team is constantly curating the internet to bring you the chicest, trendiest options like it's our job (because it is, heh).
We have pretty high standards when it comes to recommendations. Each of our shopping articles adheres to the 15 Percent Pledge and includes picks for all styles. And you better believe we read those product reviews (and test many of the brands IRL) so you don't have to. You're welcome!
This content is created and maintained by a third party, and imported onto this page to help users provide their email addresses. You may be able to find more information about this and similar content at piano.io
Advertisement – Continue Reading Below