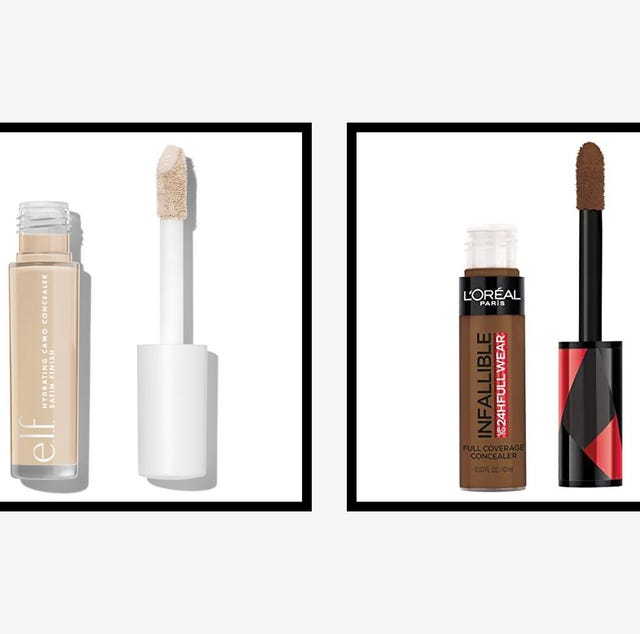 Harper's Bazaar
We've all been there: You wake up to an unexpected breakout or sunken-in dark circles after a late night, and panic mode starts to set in. That's when the right concealer comes in handy.
"Buying a concealer is a very personal choice," celebrity makeup artist Vincent Oquendo tells BAZAAR.com. "Some people like full coverage; some prefer a more lightweight, sheer concealer; and others like concealer with added benefits like acne medication. The drugstore aisle has a wide array that fit individual preferences."
When determining your perfect concealer shade, Oquendo recommends swatching a few different shades against your jawline and picking the one that disappears. "When you swipe your concealer, give it about five minutes to dry down, because some concealers might change color," he adds.
Finding your ideal concealer also comes down to what you are using the product for. "For brightening the face, I always use a concealer that is one or two shades lighter than the natural skin tone to color-correct and illuminate the skin," celebrity makeup artist Sofia Tilbury explains. Place a brightening concealer on the bridge of your nose, forehead, chin, outer corners of your eyes, and beneath the hollows of the cheekbones to "cheat great lighting and add a lifted look," Tilbury says.
To conceal any blemishes or dark spots, you should always match the color to your foundation. "You don't want to highlight or draw attention to blemishes or redness," she adds.
Most concealers can get the job done, but the real test is in the product's staying power. Luckily, affordable options now boast long-lasting formulas. Whether you're looking to conceal breakouts, hide dark circles, or just add brightness to your complexion, here are the best concealers to try that don't break the bank.
1
Best for Travel
Instant Age Rewind Eraser Dark Circle Treatment Concealer
One of the top drugstore concealers, this Maybelline Instant Age Rewind has a smooth formula that leaves a radiant finish. Oquendo typically buffs out concealer with a damp sponge, but the built-in application makes this perfect for on the go.
2
Best Longwear
16HR Camo Concealer
This concealer receives high praise from everyone from TikTok influencers to celeb makeup artists, and for good reason: It's full coverage, won't cake or settle into fine lines and creases, and lasts all day.
3
Best for Dark Circles
Honey Caffeine Concealer
Like a cup of coffee for your under-eyes, this hydrating concealer instantly rids bags and dark circles, and gives the skin a natural, radiant finish.
4
Best Matte Concealer
Infallible Full Wear Concealer Waterproof
If you gravitate toward matte formulas, this waterproof one is a top pick. Pro tip: Go a few shades lighter to use as a highlighter or a few shades darker to use as a contour.
5
Best Full-Coverage
True Skin High Cover Concealer
This high-coverage formula stays put (without creasing) for 18 hours while hydrating with hyaluronic acid. For a more sheer look, blend it out with your fingers. To keep the coverage full, Tilbury recommends layering on with a brush.
6
Best for No Creasing
TruBlend Undercover Concealer
The pointed doe-foot applicator on the CoverGirl TruBlend Undercover Concealer makes it easy to precisely apply product. Oquendo suggests placing concealer on the inner corner of your eye and right underneath your brow bone to fake a wide-awake look.
7
Best All-in-One
ColorStay Skin Awaken Concealer
When it comes to drugstore concealers, this multipurpose one is hard to beat. Infused with caffeine and vitamin C, it hydrates, refreshes, and brightens in one step.
8
Best for Color Correcting
Supercharged Brightening Undereye Tint
"To color-correct under the eye, I use a concealer that has a peachy undertone," Tilbury says. This Milani concealer corrects with peach and brightens with micro-fine pearls.
9
Best Lightweight
Bare with Me Concealer Serum
This TikTok-viral formula combines good-for-your-skin ingredients like vitamin E, green tea, and hydrating snow mushroom with illuminating coverage. For light makeup days, skip foundation and try this concealer as an all-over base product.
10
Best on a Budget
Mega Last Incognito All-Day Full Coverage Concealer
For as much as (or even less than) your daily iced coffee, you can get this concealer, which provides mega coverage and hydrates with shea butter, licorice root extract, and mango seed butter.
11
Best for Hydrating
Hydro Boost Hydrating Concealer
Dry under-eyes have met their match: This Neutrogena concealer with a hyaluronic acid-infused center hydrates the skin while adding sheer coverage.
12
Best for Smoothing
Light Illusion Full Coverage Concealer
Even though it's full coverage, this concealer feels super lightweight on the skin and even has a blurring effect (you may even be able to skip powder afterward).
13
Best Concealer with SPF
Natural Defense Concealer
Don't forget to protect your under-eyes from harmful rays. This concealer has SPF 30 and defends against blue light.
14
Best for Brightening
Bright Future Gel Serum Under Eye Concealer
If you prefer a lighter texture, opt for this gel-serum hybrid. It feels airy on the skin while it smooths and brightens with pineapple ceramides.
15
Best for Acne
Clear Complexion Concealer
If you're prone to breakouts, this salicylic acid concealer will be your best friend. It covers zits while letting them breathe so that they can heal more quickly.
This content is created and maintained by a third party, and imported onto this page to help users provide their email addresses. You may be able to find more information about this and similar content at piano.io
Advertisement – Continue Reading Below