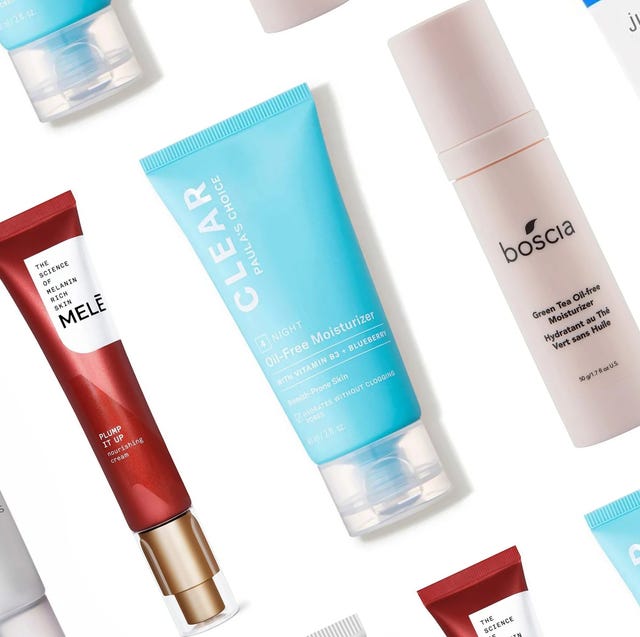 Courtesy
When it comes to skin, oil can be too much of a good thing. Yes, sebum—the oil your face naturally produces—is one of the keys to glowing, radiant skin. But when oil production goes into overdrive, it can be quite annoying (think: clogged pores, shiny skin, and even breakouts). While everyone's skin and skin issues are different—meaning there's never going to be a one-size-fits-all fix—there are ways to adjust your routine to reduce some of that shine. That's where oil-free moisturizers can come in handy.
"Over-exfoliation is one of the most common practices that increases oil production," says Sarah Akram, celebrity master esthetician and owner of Sarah Akram Skincare. "By constantly over exfoliating, you're stripping the skin and because of this your skin will begin to overproduce oil, and once you start layering other heavy oils and moisturizers on top, this will most definitely contribute to your oil production." The important thing when this happens, she recommends, is to keep it simple, let your skin barrier heal, and slowly integrate products back into your routine.
One of the best ways to see if you need an oil-free moisturizer is to check whether you skin is dry or dehydrated—two concepts that are often mixed up, according to celebrity skin expert and founder of Artisan of Skin, Sharlena Hassani.
"When deciding between an oil-free moisturizer or moisturizer with oil it's important to choose one based off your skin type and what you are treating on the skin," she says. "The first thing to check for is whether your skin is dry or dehydrated. If you have dry skin, your skin is producing less oil or sebum, which is the natural oil produced by your body to lubricate the skin as well as act as a barrier of protection. Dehydrated skin, however, means there's a lack of water, not oil." For the latter, you can supplement with an oil-free—yet still hydrating—moisturizer.
If your skin is a candidate for oil-free moisturizer, we've rounded up 15 of the best formulas that leave skin looking plump and hydrated, but not at all shiny.
Advertisement – Continue Reading Below
1
Marine Hyaluronic Water Cream
Akram says that oily skin typically correlates to water loss. She especially recommends oil-free moisturizers if you actually have "full fledged" acne, especially when temps warm up. This water cream is formulated to add hydration back into your skin, and won't lead to breakouts.
2
Vinoperfect Instant Brightening Moisturizer with Niacinamide
If you also have acne-prone skin you know that the condition often goes hand-in-hand with hyperpigmentation. Sometimes you're left dealing with these spots long after your breakouts subside. This oil-free moisturizer also brightens to reduce the look of those pesky dark spots.
It might be on the pricier side, but this is one of Akram's favorites. "I recommend [this] to my clients all of the time simply because it targets both oily and acne-prone skin," she says.
4
Hydra Boost Oil Free Moisturizer
One product that Hassani always finds herself recommending is this oil-free moisturizer. "It's lightweight, oil-free and fragrance-free and uses ceramides to hydrate and replenish the skin," she says. "It is also packed with antioxidants and has niacinamide which helps to improve the appearance of enlarged pores, uneven skin tone and just overall dullness."
5
C-Rush Vitamin C Gel Moisturizer
If you have oily skin and are also looking for a way to minimize fine lines and wrinkles, the vitamin C and rose of winter extract in this gel moisturizer will help you out.
6
Daily Greens Oil-Free Gel Moisturizer with Moringa and Papaya
Hassani explains that a huge skincare myth is that oily skin doesn't need a moisturizer, as people are often concerned it will make them oiler. "Using the proper moisturizer for your skin is essential to balance the skins natural production (or regulate over-production) of oil," she says.
7
CLEAR Oil-Free Moisturizer
Another great choice for acne-prone complexions, this moisturizer has niacinamide to even skin tone and refine the look of pores, ceramides to support the skin barrier, and licorice root extract to soothe redness.
Hyaluronic acid, squalane, aloe, and more skin-loving ingredients help this bouncy face cream can keep skin hydrated for up to 72 hours.
9
Plump It Up Nourishing Facial Cream
Formulated by dermatologists of color for women of color, this face cream strengthens and protects skin's moisture barrier, helps even out the skin tone, and leaves skin with a lit-from-within glow (it's the niacinamide for me).
10
Green Tea Oil-free Moisturizer
Japanese green tea is the star of the show here, soothing redness, balancing oil production, and adding antibacterial properties that may help fight acne. It'll leave skin non-greasy, and perfectly prepped for makeup application.
11
SPF 30 Oil-Free Moisturizer
Stock up on this non-greasy moisturizer for summer; it boasts a soothing mix of algae and aloe, and a natural-looking—but matte—finish.
12
Effaclar Mat Daily Face Moisturizer for Oily Skin
For days when the oil just won't quit, reach for this pore-tightening and shine-fighting formula.
13
Ultra-Calming Moisturizer SPF 15
If you're prone to redness, irritation, or just sensitive all around, this drugstore find is for you. It contains feverfew and oat to calm angry skin.
14
Oil-Free Acne Pink Grapefruit Facial Moisturizer
Combination skin can get away with wearing Neutrogena's acne-friendly moisturizer all year round, but if you're super oily, make this your winter go-to. It's got salicylic acid to keep blackheads in line and a lightweight formula to tone down the shine factor.
Shoppers who take the details seriously will like what they find with Kate Somerville's moisturizer. It's not just oil-free; it's also cruelty-free.
This content is created and maintained by a third party, and imported onto this page to help users provide their email addresses. You may be able to find more information about this and similar content at piano.io
Advertisement – Continue Reading Below