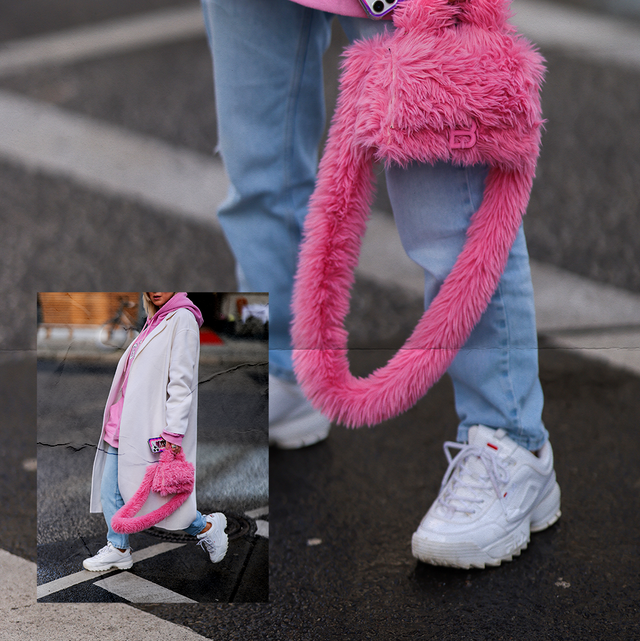 Getty
Just wondering: How did chunky sneakers get so dang popular? Up until a few years ago, many of us considered these '90s-inspired shoes "ugly" or deemed them (in a negative way, obvi) "dad shoes." Somehow, though, big-soled sneakers have become synonymous with ~cool~. Footwear that was once dumped at the thrift store after a closet overhaul has taken over the zeitgeist—and it shows no signs of stopping. (Honestly, TG!) So while chunky sneakers are certainly nothing new, they're continuously getting chic upgrades that keep 'em in the spotlight.
Thankfully for us all, these shoes are so easy to style. Toss on a pair with an oversized button-down and bike shorts for the summer or wear them with your fave jeans and sweaters during the cooler months. Like most fashion sneakers, they're endlessly versatile—and worth keeping in your footwear rotation year-round. And to help you find your perfect pair (or pairs), we've found the best chunky sneakers you gotta try ASAP. Trust.
Our top picks for the best chunky sneakers in 2022:
---
Keep on scrolling to see deets for all the cutest, chunkiest sneakers on the the internet right now. (Then go make some room in your closet.)
Advertisement – Continue Reading Below
These V Trendy Sneakers
Fila Women's Disruptor Ii Premium Sneaker
Popularly known as the "ugly" sneaker, these white Fila shoes are endlessly trendy. You've probably seen 'em all over social media, so go ahead and treat yourself.
Glowing Review: "Since buying them, I haven't had any regrets. I strut around in them towering over everyone who said they were ugly. I could easily squash them and their opinions with my chunky soles.
These Chunky Skechers
Skechers D'lites Life Saver Memory Foam Lace-up Sneaker
comfortable to wear all day
some have had quality issues
As someone who has several pairs of Skechers D'lites sneakers, I can safely say that are some of the comfiest shoes out there. (Bonus: They're great for wide feet, too!)
Glowing Review:
"I figured the first few days might be a little uncomfortable until I would break them in," says one review. "…but to my surprise, I have been wearing them for two whole days and never had any problems."
These Classic White Sneakers
LUCKY STEP Chunky Platform Reflective Sneakers
tons of fun colors to choose from
These white shoes are one of Amazon's top choices when it comes to chunky sneakers. Not to mention, the classic look will serve you well for years to come.
Glowing Review: "I bought these to wear to a festival and they worked out great!" says one review. "I wore them for 10+ hours and didn't feel overly uncomfortable."
This Pop of Neon Pair
H&M Chunky Sneakers
Available in sizes 4 to 11
If you've never tried a pair of H&M shoes before, let these cute sneakers be your first purchase. The lil pop of neon is so fun!
Glowing Review: "Honestly shocked at how comfortable these are. I thought they were just a style sneaker, but they are very supportive for walking and being on my feet all day."
These Bold Sneakers
Fila Disruptor II
comes in whole and half sizes
If you're feeling like going bold this season, snag these neon trainers and light up the night (or day, obvi). The perforated toe area will help keep you cool while the lightweight sole makes it easy to hop from one adventure to the next.
These Luxury Sneakers
Off-White Odsy-1000 Sneaker
Feeling like a splurge? Add these Off-White sneakers to your rotation, STAT. Sure, they're on the pricier side, but the minimalist hues and cool tag detail ensure you'll get plenty of use of 'em for years to come. We love an investment piece!
These Lightweight Sneakers
Sorel Kinetic™ Breakthru Day Lace Sneaker
Sorel sneakers are incredibly comfy, folks. The pair I own feels so light on my feet and minimizes feet pain and blisters after a day of walking everywhere. Highly recommend.
Glowing Review: "These shoes are lightweight and so very comfortable. It's like walking on marshmallows. I love them!"
This Bright Orange Pair
Steve Madden Maxima Rhinestone-Trim Trainer Sneakers
With a bright orange hue and subtle rhinestones in the design, this pair of Steve Madden is a must-have. Pair 'em with jeans and a tee or a simple sundress for a cool vibe.
Glowing Review: "These actually were more beautiful in person. All day long, people wanted to know where I got them from."
These Neutral Sneakers
H&M Chunky Sneakers
If you're on the hunt for a pair of sneakers that looks expensive—but comes in at under $50? Allow me to introduce you to these neutral shoes from H&M. You're welcome.
Glowing Review: "I am obsessed with these sneakers. They are cute and look expensive. My foot is narrow and they fit perfect."
This Super Cute Pair
Veja Condor 2 Sneaker
great for walking or running
Fashion girlies, unite. Anyone who loves a pair of adorable sneakers with fun, colorful details will adore this pair from Veja.
Glowing Review: "SO, SO, SO CUTE. Even better in person than the photos."
These Sparkly Sneakers
Steve Madden Maxima Sneaker
The little bit of added sparkle on these sneakers brings them to the next level—without making them any less wearable.
Glowing Review: "They're so very comfortable when you have a pair of no-show socks on. It gives you an elevated height and a spring to your step with all the sparkles. Matches with most anything!"
These Statement-Makers
Converse Run Star Motion Hi Sneaker
Go all-out with your chunky sneakers, bb. This pair from Converse is over-the-top in the best way, and is sure to liven up your wardrobe in any season.
Glowing Review: "These are fun, super chic, and really comfortable."
These Iconic Converse Sneakers
Converse Chuck Taylor All Star Lift Sneaker
For fans of Chuck Taylor sneakers, you're gonna want to add this chunky pair to your collection. The extra-large sole gives these classic shoes such a fun and on-trend twist.
Glowing Review: "My new favorite go to white sneaker. I love the lift (5'2 here !) and so comfortable."
These Sporty Sneakers
Nike Air Max Excee Sneaker
not available for international shipping
The iridescent ~swoosh~ on these shoes makes them stand out from other, similar white sneakers. If you love the look of a classic white shoe but want something just a lil different, this is going to become your go-to pair.
This Collab Pair
NinetyNine x Eyeconic Ash The Eyecon
hand wash laces separately
In a collaboration with Eyeconic Ash, NinetyNine created these bright and stunning sneakers. You'll find 'em in women's sizes 5.5 through 18.5—so folks who have trouble finding larger shoes can score these.
These Walking Sneakers
Gravity Defyer G-Defy Ion Walking Shoe
If you're on your feet all day for work (or for fun), this pair of chunky sneakers from Gravity Defyer is definitely for you.
Glowing Review: "The shoes feel positively bouncy on my feet, the rocker sole makes my plantar fasciitis less annoying and there is an outstanding amount of room in the toe box. Walking in them is very comfortable, and I look forward to many more miles in them."
These Designer Sneakers
Tory Burch Good Luck Trainer
Yes, these sneakers are definitely a splurge, but they're so highly rated and work great as a cute travel shoe!
Glowing Review: "I debated if I wanted to purchase these for months, but finally caved. I have not been disappointed. These are very nice quality sneakers, are comfortable, and definitely stand out in a crowd."
These Street Style Sneakers
Nike Air Zoom Fire Running Shoe
available in sizes 5 to 12
IDK why, but these give me Y2K Hot Wheels vibes—and I kinda love it. Sporty and comfy, these sneakers are a win.
Glowing Review: "These are super fashionable, and I love wearing them with a graphic tee and straight-leg pants or bike shorts. They are very comfortable to run around in all day. Love the look and feel of these!"
QQ: Are chunky sneakers still trendy?
'90s-inspired chunky sneakers really came back with a vengeance in the last several years—and we're cuter for it. But like any other fashion item that's become more mainstream, it's sometimes difficult to tell if something is still as popular as it once was. So, um, are chunky sneakers still trendy in this, the year 2022? The short answer: Yes.
Chunky sneakers are still very much everywhere. Just take a look at your IG feed or TikTok FYI and you're sure to see some "dad sneakers" on the feet of plenty of influencers. That said, even if this trend weren't as viral as it currently is, you can (and should) wear them if you're a fan! Frankly, chunky sneakers are seriously comfortable and look great paired with just about anything. So whether or not they're in style shouldn't really matter in the grand scheme of things. Do you, boo.
Here's why you can trust Cosmopolitan.
Cosmo's team of digital fashion experts—which includes Fashion Features Director Rachel Torgerson, Fashion Editor Tarah-Lynn Saint-Elien, and Contributing Fashion Editor Maggie Griswold—have decades of combined experience in the industry. They spot relevant trends on the runway before they even hit your TikTok FYP or Insta Explore Page and conduct research across retailers of all kinds—testing many brands IRL—to bring you the best clothing and accessory picks for every season. Basically, we've curated the internet to bring you the chicest options like it's our job (because it is, heh). Each of our shopping articles adheres to the 15 Percent Pledge and includes products for all sizes.
For these cute and chunky sneakers, we focused on finding you a mix of styles, colors, and aesthetics sure to please any shoe lover. From lightweight options to trendier picks, we worked to round up all the best sneakers (according to reviews, ratings, and our fashion knowledge) worth adding to your wardrobe.
This content is created and maintained by a third party, and imported onto this page to help users provide their email addresses. You may be able to find more information about this and similar content at piano.io
Advertisement – Continue Reading Below