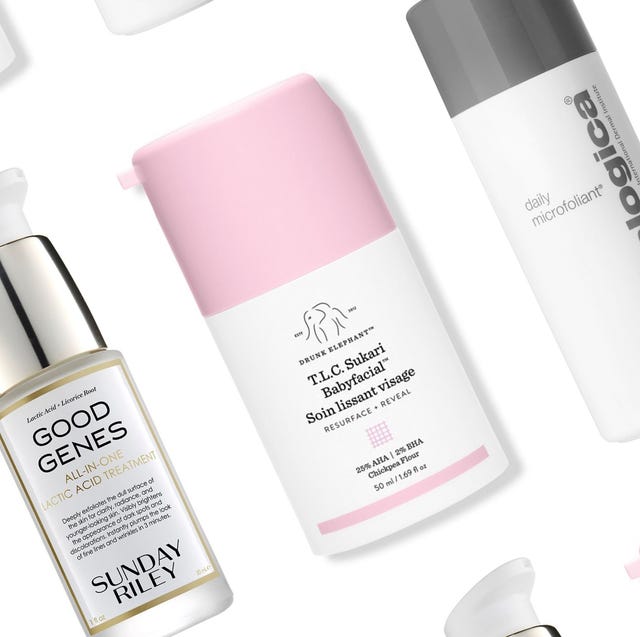 Courtesy
We've all had days when our skin seems dull or our pores are unusually clogged and we just need a little boost. That's when finding the best exfoliant for your face comes in handy. The key to exfoliating correctly is that a little bit goes a long way. Some exfoliants can produce a noticeable difference in skin tone and texture almost instantly. The downside: Too much of a good thing is a one-way street to sensitized skin and other forms of irritation.
Hadley King, a dermatologist at Dr. Hadley King Dermatology in New York City, notes the many benefits of regularly exfoliating your skin. "Regular exfoliation is key to glowing skin," she says. "Physical and chemical exfoliation help to brighten the complexion by sloughing off the old dead skin cells and revealing the fresh new cells underneath." And to protect the skin barrier, "Follow exfoliation immediately with a good moisturizer to lock in moisture and protect the newly revealed surface skin cells," she advises.
How Often Should You Exfoliate?
If you're new to the game, she suggests starting out with a gentle exfoliation once or twice per week. If your skin doesn't get irritated or dried out, then you can go ahead and increase the frequency or strength of the exfoliant as tolerated by your skin.
What Type of Exfoliant Should You Use?
Exfoliants are broken down into two broad categories: physical (also called manual or mechanical) and chemical. Physical exfoliants are your scrubs or microfiber cloths that physically remove dead skin cells from your face. While physical exfoliating products can be great, King cautions against using products that are too abrasive because "particles that are large and rough with sharp edges" can actually create micro-tears in the skin, which can lead to irritation or even infection. "Look for a product with very fine particles and use very gentle pressure, and depending on your skin type, this should be fine. If you have very sensitive skin that easily becomes inflamed and irritated, then sticking to chemical exfoliation may be the right answer for you," she says.
Many experts prefer chemical exfoliants, which are acids and enzymes that help to resurface the skin. "Alpha hydroxy acids (AHAs) in chemical exfoliants dissolve the bonds that hold dull, dead skin cells on the surface of the skin so the skin will gently shed, revealing smoother, brighter skin underneath," King says.
Ready to dive right into the world of the best exfoliants, both chemical and physical? We've rounded up 18 amazing, BAZAAR editor-approved products to check out.
Advertisement – Continue Reading Below
Lotion P50 is a trailblazing product that basically created the liquid exfoliator category. For the best application, apply with a damp cotton pad in a dabbing motion during the first week of use. After that, you can soak the cotton pad with just the lotion and apply.
2
Best Combo Exfoliant
ExfoliKate Intensive Exfoliating Treatment
As mentioned, exfoliants typically fall into either the chemical or physical category—but this pick is a double whammy. Ingredients like papaya, pineapple, and pumpkin enzymes work with lactic and salicylic acids to remove dead skin. Plus, natural silica gently works as a scrub to exfoliate as well. This is amazing for anyone with a congested T-zone and more visible pores.
3
Best Enzyme Peel
Rub-a-Dub Refining Peel Gel
"Every time I use this facial peel, I'm amazed by what chemical exfoliants are capable of. You can literally see and feel the dead skin it's sloughing away, but it's still gentle enough not to irritate my sensitive skin." —Lindy Segal, interim digital beauty director
4
Best for Combination or Oily Skin
Mandelic Acid + Superfood Unity Exfoliant
It might be hard to keep track of all the acids in beauty products, but mandelic acid (an AHA) is definitely one you'll want to remember. This ingredient gently lifts surface skin cells to brighten skin and visibly smooth out texture.
5
Expert Pick
Transparent Gentle Exfoliating Daily Cleanser
This is one of King's favorite exfoliants. "This a great choice, because this sulfate-free formulation cleanses and gently exfoliates without stripping the skin of moisture. It contains glycolic acid, mandelic acid, and willow bark extract to gently remove dead skin cells and pore-clogging debris. It also contains niacinamide, which is helpful for tone and texture," she says.
6
Splurge Pick
Good Genes All-in-One Lactic Acid Treatment
"Know that skin care progress doesn't happen overnight, but the Sunday Riley Good Genes seems to instantly transform your skin for the better. It's a super-gentle exfoliator for my sensitive skin, and it makes my skin look smooth and plump within minutes of applying." —Mariah Morrison, senior social media editor
7
Safe for Sensitive Skin
Ultra-Fine Scrub for Sensitive Skin
This ultra-fine physical exfoliant is suitable for sensitive skin types. However, King recommends starting slow when adding any type of exfoliation treatment to your beauty lineup. "When adding exfoliation into your routine, I generally recommend starting twice per week. The frequency can be increased as tolerated if the skin is not too dry or irritated," she says.
8
Pro Strength
T.L.C. Sukari Babyfacial
Not for Very Sensitive Skin
If you're just starting out with chemical exfoliants, this might not be the first one you pick up. With a 25 percent AHA blend of glycolic, tartaric, lactic, and citric acids, this exfoliant is best used once a week. It can be left on up to 20 minutes; however, if you're new here, consider cutting that time in half and work your way up.
9
Vegan Pick
Daily Microfoliant Exfoliator
"This is one of my favorite exfoliators of all time, because it's super fine and gentle, and always leaves my skin looking instantly smoother after I use it. It's also vegan, and paraben and fragrance free, so I never have to worry about breakouts. And it's housed in recyclable packaging." —Tiffany Dodson, associate beauty commerce editor
10
Great for Dry Skin Types
Milky Exfoliating Emulsion
Great for Day or Night Routine
This exfoliating emulsion features rice powder, quartz powder, and bamboo extract to gently remove dead skin cells.
11
Best Glycolic Mask
Brightening Glycolic Peel Mask
"I always gravitate toward chemical exfoliants over physical. I'm probably scarred from using harsh scrubs in my teen years. While lotions or liquid options are great, I love a good exfoliating mask. I've been using this one from Caudalie for a while, and it's never let me down. This one is great for all skin types and reveals a noticeably smoother skin texture after washing off." —Jamie Wilson, beauty editor
12
Great for Mature Skin
Raspberry Resurfacing Peel
Can Be Used Morning or Night
As amazing as exfoliants are for revealing smoother skin and a brighter complexion, it is possible to have too much of a good thing. "With either physical or chemical exfoliation, it is possible to over-exfoliate, which dries and irritates the skin," King says. In those cases, it's best to take a step back before reintroducing an exfoliant back into the mix. But when you're ready to get back in the game, this Raspberry Resurfacing Peel is top tier for addressing fine lines and the appearance of pores.
13
Best Powder Formula
Vitamin C Enzyme Polish
"When I'm on the go or traveling, I love this powder exfoliator by Osea Malibu. With a drop of water, it turns into a luscious paste that instantly brightens and gets rid of any buildup from the day. Hot tip: Mix with a milky cleanser instead of water for a two-in-one wash treatment." —Katie Intner, assistant beauty editor
14
Best Sugar Scrub
So Polished Exfoliating Sugar Scrub
"I can't stop using this TULA sugar scrub. It leaves my skin feeling baby smooth immediately after using it. Plus, the smell, which features pineapple and papaya for slight enzyme exfoliation, transports me to a tropical island." —KI
15
Best to Travel With
Alpha Beta Universal Daily Peel
"On days when I'm looking to up my exfoliation game just a little more, this peel set uses a combination of salicylic, glycolic, and lactic acids to leave my complexion looking and feeling super smooth." —TD
16
Best Budget Buy
Renewing SA Cleanser
This salicylic acid cleanser is actually super gentle and can be used regularly to keep excess oil, clogged pores, and acne at bay. It also features hyaluronic acid, niacinamide, and vitamin D, which are all known to hydrate and moisturize.
17
Viral Sensation
AHA 30% + BHA 2% Peeling Solution
Not the Best for Sensitive Skin
"The manner in which this exfoliant went viral on TikTok sent derms and aestheticians everywhere into a panic. This peeling solution is no joke and shouldn't just be haphazardly smeared on the face. All that aside, I love this product. I started using it when it launched, and it's been a regular top-shelf product in my vanity. In just 10 minutes, my skin feels smoother and looks better. If I'm using this peel, I only bust it out once or twice a month. If you want to give it a go, the most important thing is to follow the instructions." —JW
18
Great for Dry Skin
Micro-Exfoliating Scrub
When it comes to mechanical exfoliants, King explains that it's best to stay away from ones that are very abrasive. "For the face, which is the part of the body most sensitive to exfoliation, I recommend gentle forms of mechanical exfoliation—small, fine particles rather than large more abrasive particles, which can leave many tiny micro-tears and cause too much irritation, or gentle devices," she says. This scrub from SkinCeuticals manually exfoliates using tiny particles of hydrated silica for a gentle way to remove dead skin.
This content is created and maintained by a third party, and imported onto this page to help users provide their email addresses. You may be able to find more information about this and similar content at piano.io
Advertisement – Continue Reading Below