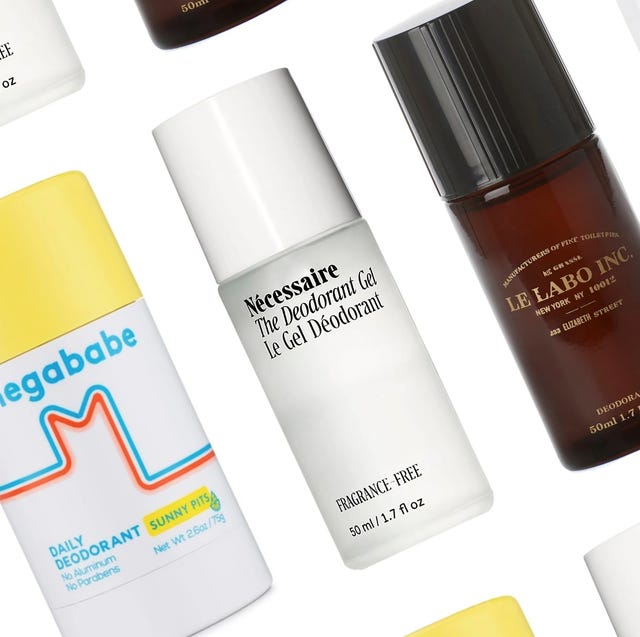 Courtesy
Let's get two facts out of the way: There's really no need to distinguish aluminum-free deodorants, because all deodorants are aluminum-free. (That said, we tend to conflate deodorant and antiperspirant—which does contain aluminum.) Many people like to use aluminum-free deodorants because they have heard it's safer, but every study to date suggests there is no definitive link between aluminum-based antiperspirant use and breast cancer.
Studies have shown that underarm skin actually absorbs very little aluminum—only about 0.01 percent. But what about when you shave your armpits, then apply a swipe of antiperspirant? The absorption rate of aluminum goes up to 0.06 percent on pre-damaged skin, and a 2017 retrospective study "showed an earlier age of disease onset in breast cancer patients that had used aluminum-containing antiperspirants combined with underarm shaving."
The National Cancer Institute and leading scientists have called for large-scale epidemiological studies of the relationship between aluminum-based antiperspirants and the risk of breast cancer, but so far, no conclusive evidence has been found to label antiperspirants toxic. Our suggestion? Play it semi-safe: Switch to a deodorant on the days you shave, then use your aluminum-based antiperspirant on the days you don't.
Looking for recs? These are the aluminum-free deodorants we love and trust for keeping our armpits dry and fresh. If you're looking for all natural and organic options, click here.
Advertisement – Continue Reading Below
1
Best Gel Deodorant
The Deodorant Gel
Clear
Convenient
Skin-Loving Ingredients
Necessaire's gel deodorant has 5 percent lactic and mandelic acid to prevent odors, plus niacinamide and witch hazel to soothe and moisturize skin. It's available in a spa-like eucalyptus scent, or a fragrance-free version if you're extra sensitive.
2
Best Extra Strength
Citrus Vetivert Extra Strength Deodorant
Great for Sweat
Long-Lasting
The waterless gel-to-powder formula is heat-activated (so it absorbs sweat and releases a warm, soft fragrance right when you need it), and you only need a little bit to reap the benefits.
3
Best Travel Size
Supernatural Deodorant
Convenient Size
Baking-Soda Free
Leave it to the exercise experts at Alo to create the perfect sized deo to throw in a gym bag. Plus, it glides on completely clear, and is baking-soda free.
4
Best Charcoal Deodorant
Natural Deodorant
Good for Sweat
Six Scents, Including Unscented
Less Transparent Than Other Formulas
Made with charcoal, bentonite clay, and bentonite clay, this deo is almost like a daily detox for your underarms.
5
Best Unisex Deodorant
Rosewater Ginger Aluminum Free Deodorant
Unique Scent
Eco Packaging
The rosewater-ginger scent is unlike anything else we've seen (for aluminum-free products or otherwise), and it lasts all day.
6
Best Spray Deodorant
Wake the F*ck Up Deodorant
Clear Spray Formula
Fresh Scent
Think of this refreshing spray-on deodorant like a perfume. Plus, it won't stain your clothes, and it dries in seconds.
7
Best Fragrance
Rio Deo Aluminum-Free Deodorant
Great Scent
Skin-Loving Ingredients
Scent May Be Strong for Some
Sol De Janeiro's signature scent (the same one in their famous Brazilian Bum Bum Body Cream) was made to be in deodorant form, and now it is. Plus, it has tapioca starch to absorb sweat, and papaya enzyme to exfoliate skin and prevent ingrowns.
8
Convenient Packaging
Deodorant – The Achiever
Easy to Use
Great for Sweat
This cream formula smells super-fresh (like mint, juniper, and salt water), and is easy to squeeze and swipe on with one hand, so it won't get all over your clothes.
9
Best Roll-On Deodorant
Chemistry AHA Serum Deodorant
Skin-Loving Ingredients
Scented and Unscented Options
Many natural deodorant connoisseurs claim this is the best one ever, and we might have to agree. Available in both fragrance-free and scented, this stain-free, roll-on deodorant uses an AHA blend to fight odor-causing bacteria, aloe vera juice to soothe, and glycerin to hydrate your skin.
10
Drugstore Deal
Aluminum Free Deodorant
Great Value
Conditioning Formula
We never thought the day would come when Dove's signature skin-coddling conditioners and fresh scents would be found in an aluminum-free deodorant formula. It's the perfect 1:1 swap if you're currently using one of Dove's best-selling antiperspirants.
11
Best for Sensitive Skin
Natural Deodorant Jasmine Tea Sensitive
Long-Lasting
Won't Irritate Skin
Natural deodorants have a bad habit of irritating your under-arm skin. This Jasmine Tea formula from Schmidt's was made for the most sensitive among us.
12
Best for Serious Sweat
Aluminum Free Deodorant
Great for Sweat
Long-Lasting
If you've been using a Secret stick for two decades or more, you don't have to give it up just because you're trying to be aluminum-free. This formula keeps us so dry and stink-free we forget it's not antiperspirant.
13
Most Popular
Lavender & Rose
Tons of Scent Options
Great for Sweat
This is the natural deodorant that will make you believe they can actually work. It's been known to convert even the most diehard antiperspirant fans.
14
No Essential Oils
Sweet Pitti Deodorant Cream
Skin-Loving Ingredients
Free of Essential Oils
This deodorant is free of aluminum, baking soda, fragrance, and essential oils—so it's ideal for sensitive skin. The blend of shea butter, arrowroot powder, and mandelic acid work to keep you both dry and odor-free.
15
Fragrance-Free
Fragrance Free Deodorant with Shea Butter
Non-Irritating Formula
Great Value
Serious Sweaters May Want More Protection
Finding a fragrance-free deodorant is hard. Finding a fragrance-free deodorant that works is even harder. We love this one from Hello because it keeps us feeling fresh, is free of aluminum and baking soda (a common irritant), and is packaged in 100 percent PCR plastic.
16
Fresh Fragrance
Sunny Pits Daily Deodorant
Light Scent
Glides on Clear
Needs Reapplication Throughout the Day
Any good deodorant will keep your armpits dry and soft. We love this one from Megababe because it also makes us smell like fresh-squeezed lemonade.
17
Best Luxe Fragrance
Deodorant
Smells Incredible
Dries Fast
This quick-drying deodorant is made from the fragrance brand worn by practically every man, woman, and child in New York City.
18
Best Long-Lasting Deodorant
Eucalyptus Deodorant
Spa-Like Scent
Glides on Clear
The bold eucalyptus and citrus scent isn't for everyone, but this slick, gel-like deodorant is one of the best we've ever used for keeping us smelling fresh until the end of the day—even in the summer.
19
Best Cream Deodorant
Deodorant Cream
Baking soda, kaolin clay, and tea tree oil team up in this classic natural deodorant formula to fight odor-causing bacteria and gently control sweat. Some fans claim it's still to date the only aluminum-free formula that's worked for them.
20
Drugstore Deal
Murumuru Butter and Rose Deodorant
Skin-Loving Ingredients
Great Value
Scent May Be Strong for Some
Packed with botanical ingredients like murumuru butter, corn starch, and rose extract, this deodorant is easy to wear and to find since it's on most drugstore shelves.
This content is created and maintained by a third party, and imported onto this page to help users provide their email addresses. You may be able to find more information about this and similar content at piano.io
Advertisement – Continue Reading Below