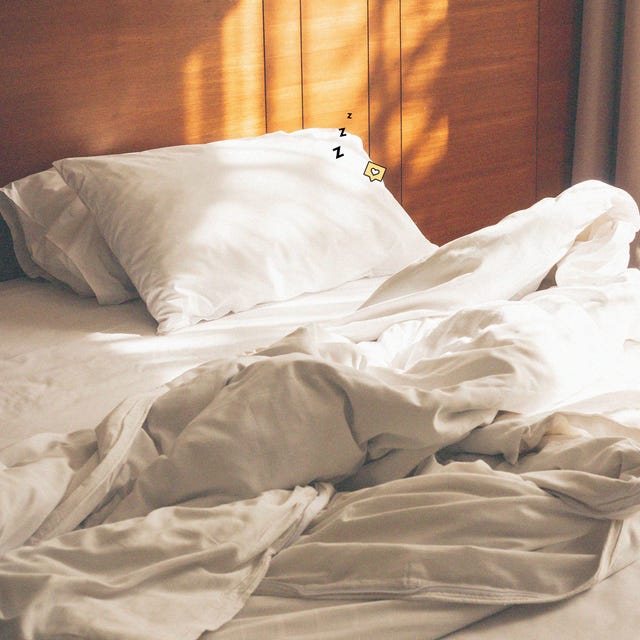 Getty Images
Okay, it's decided: 2022 is the year you truly get it together. And one easy place to start is upgrading your bedding. No shame if you've been sleeping on the same cheap sheets you've had since college, but trust me, it's time for an upgrade. With so many options out there — like linen sheets, silk sheets, bamboo sheets, and beyond — there's truly no reason you should still be sleeping on old scratchy ones. Luckily, we've rounded up some of the best bedsheets you can buy now.
We've included plenty of luxe options, but don't worry, there are also plenty of affordable high-quality sheets out there, because I get it, some of us are out here trying to stick to a budget. If you're looking for a total overhaul when it comes to your bedding situation, you can also get a nice mattress topper, a fluffy new comforter and some ~fancy~ silk pillowcases (which are better for your hair and skin, jsyk). And if you're a sweaty sleeper, we've got plenty of recs for cooling comforters and breezy sheets that will help you sleep comfortably. But if you wanna be all bundled up and cozy, flannel sheets just might be the move.
No matter what your ideal sleep vibe is, there's sure to be a set of sheets on this list that's perfect.
Advertisement – Continue Reading Below
1
these buttery-soft sheets
"The Regulator" Bamboo Sheet Set
Silky-soft
Moisture wicking
Ahem, I own these sheets and I honestly never thought I could love an inanimate object quite the way that I love this bamboo sheet set. They're cooling, wickedly soft, and so luxuriously silky.
Glowing review: I could say every good thing in the world about these sheets, but to save you guys the time I'll just say this: get these sheets, they're the best thing you'll ever sleep on!
2
these dreamy sheets
Signature Sateen Sheet Set
Super soft
Good for both hot and cool sleepers
Available in a ton of different colors
Please peep the 3,000-plus reviews and near-five-star rating. These bbs are a fan-favorite for a reason, and that reason is that they're alllll the things you'd want in a glorious set of bed sheets: cooling, hypoallergenic, and luxuriously silky.
Glowing review: So nice to slip into bed with these sheets – I don't get anywhere near as hot at night as I used too, and they are delightfully gentle on my sensitive skin.
3
These Super-Soft Sheets
100% Egyptian Cotton Sheets
Some reviews say they feel a bit thin
Get your regal on with these top-rated silky-smooth sheets made from 100% Egyptian cotton for a truly luxe feel. And the best part? They're still under $100, despite the high quality.
Glowing review: They're soft and luxurious, and feel even better than the ones in 5-star hotels I've stayed at. I'm so pleased I bought them. These were a fantastic buy at a great price. Highly recommend!
4
This Core Sheet Set
Classic Core Sheet Set
Available in a ton of different colors and prints
Comfortable for hot sleepers
Some reviews say it takes a few washes for them to feel soft
This staple sheet set comes in more than a dozen different colors and patterns, so you can easily find something to match your bedroom style. You'll feel like you're lounging in a bed fit for royalty, thanks to the breathable 270 thread count weave, which is ideal for hot sleepers.
Glowing review: Sleeping on a cloud, especially nice for hot sleepers and summer nights.
5
These Comfy Essentials
The Classic Sheet Set – Clay
Pre-washed for extra softness
Only available in a few colors
Ever slept on a cloud? No? Well, allow me to introduce you to these soft, silky sheets that'll have you staying in bed 24/7 (or at least wanting to).
6
These Striped Sheets
Striped in Natural Linen Sheet Set
Super soft and breathable
Very durable
Get softer with each wash
Can confirm: These linen sheets are so good. The subtle stripe is really cute without being over-the-top, which is perf. Plus this set is generously sized, so you don't have to play tug-of-war with your S.O.
Glowing review: My first set of linen sheets and I am IN LOVE! One of the best purchases I have made in my life.
7
This Insta-Worthy Set
100% Linen Sheet Sets
Available in 29 different colors
Made in the USA
Will last for years and years
Something about linen sheets is just so gorg—and this set from Linoto is no exception. Once you put these beauts on your bed, you'll wanna do a photoshoot ASAP.
Glowing review: You can tell that the quality and commitment from Linoto is unmatched. The sheets are so breathable and comfortable. I will never go to another company for sheets again, and I look forward to adding some more colorful options.
8
These Moody Sheets
100% Bamboo Luxury Bed Sets
Comfortable for hot and cool sleepers
Luxurious feel
Some reviews mention pilling after a few washes
Dark and moody, this bedding is ideal for adding a lil drama to the bedroom (if you don't have enough already).
Glowing review: We really enjoy these! Exceptional comfort and temperature regulation. I sleep fairly hot and my wife sleeps cold but we're both really happy with the bamboo and may never go back to cotton.
9
These Neutral Sheets
Oatmeal 100% Flax Linen Sheet Set
Tons of different colors available
Pre-washed for extra softness
For those who love a minimalist moment, try these oatmeal linen sheets atop your mattress. They're light, airy, and work well with any comforter you like.
Glowing review: They are positively the best sheets I have ever slept in, and the most beautiful. They are also a very generous size which is an added luxury.
10
these aesthetic sheets
Pastiche De Bouquet Sheet Set
Gorgeous pattern
100% cotton
Not available in all sizes
Not only are these floral-printed percale sheets so freaking adorable, but they're also super smooth, durable, and breathable.
11
These Lovely Linen Sheets
Parachute Linen Sheet Set
Breathable
Very durable
Available in all sizes, including Twin XL and California King
If you're the type of person who can't make it through summer without whipping out a linen dress or pants, then you need to incorporate the breezy fabric into your bedding, too. Parachute's linen sheets feel just as heavenly and come in nine (uh-huh!!) colors.
Glowing review: This is my first time buying linen bedding, and I love it. It's excellent at regulating temperature, and I sleep great with just the fitted sheet and the linen quilt.
12
This Belgian Linen Set
Saatva Linen Sheet Set
Luxurious feel
Great for hot sleepers
Durable
Larger sizes are more expensive
This sheet set from Saatva is a must for linen lovers. It's a step above a simple weave and stunning enough to make it onto an influencer's feed, hands down.
Glowing review: They get softer with every wash and are cooling, which I was looking for since I sleep hot.
13
These Gorgeous Lavender Sheets
Fitted Sheet in Lavender
Available in unique colors
100% cotton
Fitted sheet sold separately from other bedding
I never knew how much I needed lavender sheets until I saw this beauty. Btw, the organic cotton this set is made out of feels just as divine as glitzy hotel sheets.
14
These Bougie Bamboo Sheets
DreamFit Degree 5 Bamboo King Sheet Set
Have straps to keep the sheets in place on the bed
Very soft
Some reviews mention durability issues over time
Sure, this set is a tad on the pricier side, but these bamboo sheets are oh-so-soft, environmentally sustainable, wrinkle-resistant, AND machine-washable. In other words, worth every single penny.
Glowing review: Must buy if a quality, comfortable, luxurious sleep is what you want, look no further.
15
These Eco-Friendly Sheets
800 Thread Count 100% Extra-Long Staple Cotton
Some reviews mention tearing after a few months
If you're aiming to be more environmentally responsible with your purchases, then consider this set. It's made in a factory entirely powered by solar and wind energy. Plus, the packaging is plastic-free with these sheets arriving wrapped in a reusable tote!
Glowing review: These even put the hotel sheets to shame. I can't describe how amazing these are.
16
These Super-Luxe Sheets
4-Piece Silk Bedding Set
Super smooth feel
Durable
Very expensive
Require special care
Just when you thought sheets couldn't get any more high-end, here enters these 100 percent silk white sheets. They're pricey, yes, but also so smooth, you'll want to spend all day in between 'em. Just please, for me, kick your drinking-red-wine-in-bed habit first, OK?
Glowing review: The price is pretty steep to be honest and I have never had silk sheets so I was very skeptical. I am glad to say they live up to the hype. These sheets are by far the best I have every slept on. I do not want to ever go back.
17
These Affordable (and Top-Rated!) Sheets
Microfiber 1800 Thread Count Percale Egyptian Set
Budget-friendly
Comfortable
Some reviews say the sheets come off the bed too easily
If you haven't peeped the price tag, now's the time to do it. Amazing sheets don't have to cost you an arm, a leg, and your firstborn child. On top of this glorious price tag, these sheets have racked up nearly 1,700 top-rated reviews. So, yeah, they're that good.
Glowing review: The first time I slept on these sheets, I thought there's no way these can be so comfortable. I've never slept on silk sheets before, but these felt pretty darn close. They're breathable, soft, and lightweight.
18
These Non-Wrinkling Sheets
Printed Geo Sheet Sets, 500 Thread Count
Very comfortable
Breathable
Wrinkle-Resistant
Only available in one pattern
These are among the highest-rated sheets in Macy's entire collection. Customers rave about their cool design (you can mix and match colors), the fact that they don't wrinkle after washing, and the super-comfy Pima cotton fabric.
Glowing review: I really like these sheets. They don't wrinkle much after washing and are very comfortable to sleep on.
19
This V Affordable Set
6 Piece Hotel Luxury Soft 1800 Series Premium Sheet Set
Budget-friendly
Wrinkle-resistant
Some reviews mention the sheets arriving with loose threads
This set looks and feels way more expensive than the under-$30 price tag would have you believe. But don't take my word for it. Read through the literal thousands of five-star reviews.

Glowing review: These sheets are so soft. Have that slight heaviness that's just perfect. I just don't want to get out of bed. I am seriously in heaven with these sheets and that's no joke.
20
These Temperature Regulating Sheets
1000 Thread Count Temperature Regulating Antimicrobial 4 Piece Sheet Set
Comfortable for cool or hot sleepers
Antimicrobial
OEKO-TEX certified
Don't worry about being too hot or cold in these temperature regulating sheets. They've got you covered, literally.
Glowing review: These sheets feel like they belong in the most expensive hotel suite one can imagine! They are so soft and luxurious.
21
This percale set
Organic Crinkled Percale™ Sheets
Very comfortable
Soft
Eco-friendly
Wrinkled look can appear messy
These intentionally crinkled sheets are both super comfy and super chic. Made out of percale, the fabric is ultra-soft for a cozier sleep.
Glowing review: I am so impressed. These are so soft and comfortable and worth every penny. I expected that they would be nice, but wow.
22
These Soft-as-a-T-shirt Sheets
Modern Cotton Jersey Body Solid Sheets
Jersey material can pill after some time
If your favorite T-shirt could be sheets, this is what it would feel like. Not too fancy, not too thick (or thin), but just right. (Also, peep that Calvin Klein logo on the inside—can you say, subtle flex?)
Glowing review: High quality, very soft, fitted sheet. I honestly slept better than ever!
23
These Supima Cotton Sheets
Legends Hotel™ Supima® Cotton Percale Flat Sheet
Some reviews say the sheets didn't fit their mattress correctly
There are regular cotton sheets, and then there are Supima cotton sheets (aka the crème de la crème). These are the latter, and they're a favorite for the ~luxe~ feel, without the super luxe price tag.
Glowing review: These sheets are absolutely beautiful and feel luxurious. The feel is just amazing.
24
These Sateen Sheets
400 Thread Count Organic Cotton Sateen Sheet Set
Heavier weight
Crisp feel
Some reviews mention a rough feel
These cotton sheets are smooth as silk and have a cool, sateen finish, making them great for hot sleepers.
Glowing review: If you're looking for a great quality, luxury set of sheets that won't break your budget, do not pass these up!
25
These Cooling Sheets
Essential Sheet Set
Some reviewers say these sheets aren't as cooling as they hoped
NASA-backed technology keeps these sheets super cool—a must-have for hot summer months when your AC alone isn't enough. And if you're a hot sleeper in general, these are a great investment.
Glowing review: Most comfortable sheets we have ever used! Love them! We will be buying them again!
26
How to Choose the Best Bedsheets
When you're buying new bedsheets, there are a few important factors to consider:
Your ideal sleeping temperature. If you sleep hot, you'll want bedsheets made with breathable and/or cooling materials like bamboo to help keep you comfy. But if you're always cold, sheets made with warmer materials might be the move (flannel, cashmere, etc).

Your budget. I'll be real: high-quality sheets can be expensive. The good news is that nice sheets tend to last a long time, so it might be a worthy investment to splurge on. But if you're on a tighter budget, there are still plenty of good options.
Fabric and materials. Different materials bring different things to the table (er, bed). Whether you're a cool or hot sleeper, cotton is always a solid option. For summer or warmer climates, linen tends to be a favorite for that breathable, crinkled look. And you'll probably see percale a lot when it comes to sheets, which is a type of weave (usually in a cotton fabric or blend) that's crisp, cooling, and super breathable. If you have sensitive skin, bamboo sheets are hypoallergenic, making them a great option for those with sensitivities or allergies.
This content is created and maintained by a third party, and imported onto this page to help users provide their email addresses. You may be able to find more information about this and similar content at piano.io
Advertisement – Continue Reading Below