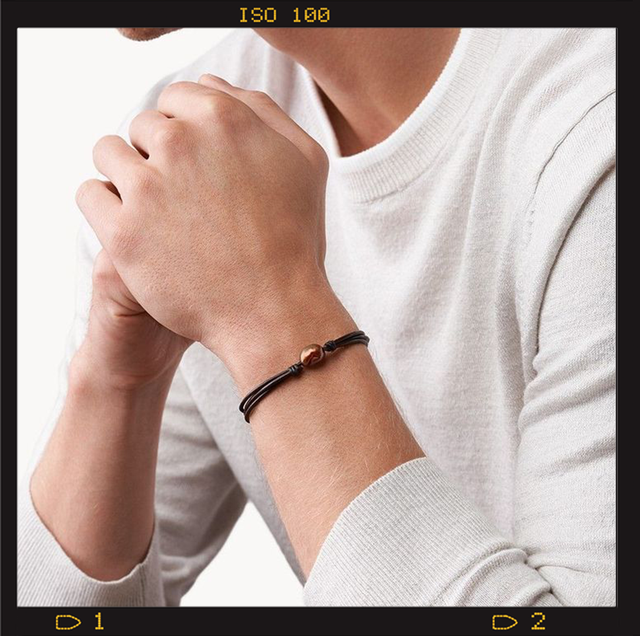 Courtesy
Attention! If you always buy two of the same generic gifts for men for Father's Day (one for your dad and one for your hubs), this is the universe telling you to stop that right now. Hobbies and interests aside, there's most likely a big age difference between your dad and husband. Getting them both the same gift might leave one uninterested or just flat out confused (your hubby probably doesn't want a refurbished cassette player, FYI). Instead, this is just a suggestion: Consider getting a little more personal this year with the Father's Day gifts for your dad and the one you pick out for your hubby. Because, TBH, the last thing your partner probs wants is to accidentally match with his father-in-law because you got them both the same sweater. Just sayin'.
Father's Day is swiftly approaching (ahem, June 19th!!), so I'd highly recommend getting on your gift shopping by having a look at the selects below—especially if you're a fellow procrastinator, like yours truly. And if you're having trouble with being more personable or aren't sure where to start, don't you worry because we got ya covered. There's something here for him, from experience and getaway gifts to everything he needs to whip up a celebratory dinner (or for you to do it for him—it is his day, after all).
Our top picks for the best birthday gifts for your husband/partner in 2022:
So whether he's a dad to actual human children or the co-parent to your furbabies, keep on scrolling to spoil your husband with one of these 41 fantastic gift ideas below that say, "Here's a special Father's Day gift that I picked out for you—specifically."
Advertisement – Continue Reading Below
a back massager
Back Neck Shoulder Massager With Heat
For all those times he wants his shoulders rubbed but you just can't muster up the energy to, there's this self-massaging device with a heated feature so your hubs can get a massage while you both relax.
Glowing Review: "It will get some interesting noises out of you, and you'll be sore for a day or two. It's the greatest. 10/10 will recommend to anyone who will listen."
Let's be honest, if he's a dad, he's got some questionable jokes on rotation. This gag gift is perfect for the guy who's always laughing at himself—even if he's the only one.
Glowing Review: "My husband needed adding to his repertoire of bad dad jokes."
a funny card
To Husband From Wife Father's Day Card
If you and your husband aren't into giving each other gifts, get him a card that speaks to your relationship. And slip a gift card in there, too, if you're feeling generous.
Glowing Review: "Super great card stock. Great product! Fast shipper!"
a putting green
Grassroots Par Three Putting Green
prob not satisfying for the ~pro~ golfers
Allowing indoor practice swings in your home is generous enough, but you could get him a putting green, too, to really make his day.
Glowing Review: "This is the best $35 I've ever spent on my game. It's the perfect size to fit in my living room and roll some putts while I watch tv."
a sentimental journal
My Life Story So Far
This journal is full of prompts your husband can use to write down and remember highlights from his life. It might seem like a gift for him, but it's also for future generations (wipes single tear).
Glowing Review: "I purchased this book for everyone in my family this year for Christmas, from my 101 year old grandmother that loves to write me letters detailing her childhood to my fiancé and I (in our mid-30s). I gave this gift to them [and] had everyone open them at the same time."
a drinking game
Metal Wall Mirror Metallic Finish
great for big and small parties
A board game and a beer? I can't think of anything his next guys' night would need more.
Glowing Review: "We played two times through and it gets more lively the longer you play. We did not understand the best way to play the 'Questions' square, so we made up our own task by giving a topic and stating related items. "
lawn games
Bocce Ball Set
Dads love lawn games that the whole family can play. So, this Bocce set is the perfect Father's Day activity—so what if you don't know the rules?
Glowing Review: "Very good quality. I've had these for over a year now with multiple cook outs and trips to the beach. They have lasted. The color is still there and they have retained their shape."
this sock subscription
Surprise Pair of Socks Subscription: Crew Socks
you can't choose the patterns
Socks are the ultimate gift to give a dad when you have no idea what to give them. Make it an even better gift with a subscription service that sends him a new pair each month so he can switch it up.
Glowing Review: "My husband looks forward to seeing what will be delivered each month. He loves different socks!"
some spicy sauces
Small-Batch Quarterly Hot Sauce Subscription
pay attention to spice levels
A hot sauce subscription is the perfect gift for the guy who's always down to try new spicy flavors.
Glowing Review: "This gift of hot sauce will end up in the top 5 of gifts! They received the first shipment and Char Man Verde was the big winner but there's something for everyone! They can't wait for the next package."
a meat thermometer
Instant Read Digital Thermometer
requires specialized battery
Speaking of meat… If the BBQ master doesn't already own a meat thermometer, make his life a little easier with one. All-Clad has such high quality (I can vouch!) that this will last forever.
this camping tool
Adventure Essentials Survival Kit
everything is high quality
This handy little tool has everything your camping-obsessed husband could need in a pinch: a flashlight, waterproof matches, water purification tablets, reflective trail markers, a compass, a candle, a wire saw, and more.
Glowing Review: "A slim, but sturdy survival kit for all sorts of scenarios. Open up all the surprises inside and see how many things you can do with the tools!"
an alcohol infuser
Liquor Infusion Set
This liquor infusion set will allow your husband to create his own flavors—perfect for the guy who loves craft cocktails.
Glowing Review: "Gave a review of the tequila infusing recipes. My brother's father-of-the-bride gift was perfect! Thank you Food 52 for finding this!!"
a cool bottle opener
MLB Game Used Baseball Bat Bottle Openers
If he loves overpriced beer at a baseball game, say no more. These bottle openers made from actual bats used in MLB games are the perfect gifts.
Glowing Review: "This product will be great in his man cave, to show off and use when he has his guys over for a game!"
this jumbo hammock
Extra-Large Double Parachute Hammock
If your husband hasn't started complaining about his back yet, a portable hammock is a great gift idea for the guy who loves to explore nature.
Glowing Review: "The extra bit of length, softness of the material, and thinness (tight weave and packability) of the straps put this hammock above the 2 similar ones I tried."
a cute mug
Dada Square Mug
Celebrating his first Father's Day? Give your husband this mug from the new baby. He'll love it almost as much as hearing their first word (it's almost always "Dada," isn't it?).
Glowing Review: "This is perfect. 1 day shipping, great seller. I hope to purchase more things in the future!"
a nice new robe
Men's Lightweight Jersey Robe
A light, jersey robe is perfect for the guy who loves his mornings with the family and lounging with you at night.
Glowing Review: "The material is awesome. Very soft. It is warm but not for cold climates. We live in Southern California where it rarely gets very cold."
a fresh pair of linens
Classic Core Sheet Set
comfortable and easy to wash
Play your cards right, and you could end up with a gift for Father's Day, too. A new cozy sheet set is something your husband will love—as well as you.
Glowing Review: "A staple. For a more luxurious kind of bedding, and this being the baseline end of Brooklinen, you can't go wrong. It's cool and crisp and a great first step into Brooklinen, and perfect for summer."
this durable speaker
SoundLink Micro Bluetooth Speaker
If you'll be spending Father's Day outside at the pool, lake, or beach, this waterproof and damage-resistant speaker would make the perfect gift—and one that he can enjoy long after the party's over.
Glowing Review: "Amazing sound quality for such a small device! It has decent bass and gets pretty loud! it is great for lounging around, showers, and to take anywhere! A great purchase!"
some new undies
Men's Cotton Stretch Megapack Boxer Briefs
If your husband could use some new boxers but would never buy himself any, take the opportunity to update his underwear drawer for Father's Day. Consider this pack, which comes with seven pairs, his new day-of-the-week undies.
Glowing Reviews: "It's like enveloping your gonads in a bath of aloe on a hot day. Except the aloe isn't sticky and there's a cool breeze blowing gently between your legs, wicking away the moisture and providing ultimate comfort."
this clever carrier
Printable Father's Day Beer Labels Bottle Labels + Carrier Art + Bottle Cap Art
The best gift you could give some dads is a free afternoon to do whatever they want and a six-pack of beers to take with them. This box is a like a bottle carrier and Father's Day card rolled into one.
this cocktail recipe book
The Ultimate Bar Book: The Comprehensive Guide to Over 1,000 Cocktails
This recipe book full of tonsss of cocktail recipes (a thousand, to be exact) is perfect for any dad who needs a sec to wind down after the kids are put to sleep.
Glowing Review: "It's so extensive and organized, it's impossible for you to not find something you want. I'm almost ashamed to say that this is my most read book, but it's so damn helpful that I'm proud of it."
costs extra for premium features
Just because you don't *technically* have kids doesn't mean you can't shower your husband with gifts for Father's Day. Dog dads are dads, too! Get him a treat-dispensing pet camera "from the dog" that the whole family will enjoy.
Glowing Review: "I love being able to watch my pug literally just sleeping for seven hours a day and my coworkers really enjoy the constant updates of me telling them where my pug is sleeping and forcing them to watch his small, fawn body laying in the same spot."
a custom steak box
Bi-Monthly Steak Box
better for smaller families
If he's a man of meats or seriously loves to grill, set him (and you) up with a steak subscription box. He'll be able to pick out his favorite cuts of meat every other month, making it such a great option for planned family dinners or date nights. Fun fact: My husband and I had this for a while, and it made dinners an absolute breeze. Plus, we learned how to cook steaks the ~right~ way, and who doesn't want that??
this workout gear
Powersuit
If the guy's an athlete and still likes to train like one, he would love this full-body weighted suit for working out to help improve his speed.
Glowing Review: "This weighted onesie will definitely take the intensity of your training to the next level. Suit fits true to the size chart, so go up a size if you're on the line so the zipper doesn't pop."
this leather cord bracelet
Men's Leather Brown Mother of Pearl Bracelet
If your hubby's style is more rugged than flashy, this leather cord bracelet with a brown pearl detailing would suit him best.
Glowing Review: "I got this for an anniversary gift for my husband. He loved it. It is not too bulky and the extra link is great to make sure it fits. You can remove it for smaller wrists."
this compact camera
Nikon Z 5 Camera with 24-50mm f/4-6.3 Lens
super-super-high quality photos
If your hubs is eager to travel again, spoil him with this Nikon camera so he can capture alllll the mems. Its compact design makes it perfect for traveling without all the extra bulk, and it comes equipped with loads of cool features—like, 4K UHD video, time-lapse photography, and seamless connectivity to your smartphone (so you can either transfer content or control your camera without having to touch it).
Glowing Review: "Here's the bottom line on this model. It is the same Nikon quality you know, love, and expect at a much more attainable price point."

a bag of coffee beans
Rise & GRND Coffee Blend
might need to go have them ground
If he loves his early mornings but has a hard time waking up, this bag of medium-roast coffee beans with a creamy toffee flavor will help him out.
Glowing Review: "This coffee is DELICIOUS…it is so rich and delicious. I typically drink my coffee with creamer, but I am reducing the amount of times I do that because the natural flavor is so good."
a gift card for home improvement
$50 Gift Card
lets him pick his own gift
no point of contact for order issues
Dads love a good project, especially a home project. If he's always coming up with reasons to go to the hardware store, get him a gift card to use while he's there.
new sunnies
Frames Tenor 55mm Audio Sunglasses
If you trust your husband not to lose his sunglasses at the first opportunity, get him this pair of headphones-and-shades-in-one so he can listen to music anytime he wants.
Glowing Review: "I bought these Bose glasses few weeks ago, best thing ever I did. Love it and I wear it every day."
a meat bouquet
Salami Bouquet
You already know the way to his heart. This box of salami samples is a great gift for any meat-lover.
Glowing Review: "This was sent as a gift and called 'insanely good!' by the recipient. Order shipped fast. Added a separate order of cheese to go with this and was most appreciated."
This Beatles print
Revolver Album Cover Framed Art Print
customizable and fast shipping
frame looks a little thin
Huge Beatles fan? Gift him a print of the best Beatles album cover ever (Don't @ me). And if Revolver isn't his favorite, Redbubble has sooooo many different prints of album covers and musicians to choose from.
Glowing Review: "I was surprised just how well the print was framed, the matting incredibly crisp."
these non-dad sneakers
Ultraboost 22 Shoes
comfortable for all-day wear
might need to go up a half size
If he's running after the kids all day long, he's going to need a supportive pair of running shoes like these to do it in.
Glowing Review: "Top notch comfort and looks great! Great for long walks as well as runs in the park."
this pair of jeans
Munir Monogram Print Straight Leg Jeans
If the guy lives in jeans, he'll appreciate a new slim-fit pair designed with a cool monogram pattern. (Also, psst, it's a gender-neutral design if you wanna borrow/snag one for yourself.)
a nice timepiece
Vitae London Elmington Bracelet Watch
Whether he insists on always being on time or he's always running late, a new watch would make a great Father's Day gift for him. I got my husband a similar watch a few Father's Days ago, and he's worn it every day since.
this smart thermostat
Nest Smart Thermostat
What do dads love more than keeping an eye on the thermostat? Literally nothing. Connect this bad boy to Wi-Fi, and he can change the setting from his phone.
Glowing Review: "The ability to change the temperature away from the actual unit, whether in another room or away, makes it perfect. I love the ability to turn on the air or heat before I get home. Totally worth getting."
this super soft hoodie
Gray 1977 Hoodie
I mean, you're gonna need something to steal from him and cozy up in yourself, am I right? This fashion-forward hoodie is def it.
this fun graphic tee
Dinosaurs! Tee
high quality and fun designs
He prob has a bunch of (sports-related) tees, so spice things up a bit with a fun graphic pattern that goes with all his jeans. This one, which (full disclosure) is designed by a very talented friend of mine, is just goofy enough without looking silly.
Glowing Review: "10/10 will buy again. Happy with quality of shirt and doesn't feel like cheap scratchy garbage."
these timeless flats
Alejandro Woven Slip On
stretches a little with wear
Does he have dress shoes that pinch his feet and make him miserable? Enter these Nisolo flats. Not only are they very ethically made (peep the sustainability label for all the details) but they are like a warm snuggle for his feet.
Glowing Review: "Wore to a wedding in Mexico. They were incredibly comfortable right out of the box and both lightweight and breathable. These are definitely now my go-to summer wedding shoes!"

this portable pizza oven
Portable Outdoor Pizza Oven
I mean. A splurge? Yes. Worth it, to watch him geek out over the artisanal pizza he's about to make? Yup. Double worth it, because you get the chance to enjoy some delicious pizza? You betcha.
Glowing Review: "I am a retired restauranteur and a permanent food nerd. I did a ton of research to select the right pizza oven for myself…This box nails it!! So easy to fire up for propane or wood and cooked—literally—perfect pizza from first time, which would rival any trattoria."
this portable charger
Portable Charger
So, he's always on his phone, but he never remembers to charge it. This charging keychain (that's inside a luggage tag—how brilliant is that??) is a must.
Glowing Review: "Traveling between 2 offices and attending a ton of meetings, you don't always have the opportunity to charge your phones.The portable charger has saved me so many times! It stays with me every day during my busy weeks!"
an outdoor adventure
Jungle Retreat Camping in Bali
can be an intense experience
Maybe he's one of those guys who lives for a great hike. Treat him to an epic trip (yes, this is an actual, planned-out trip, not just lodging) with amazing experiences that'll get his heart pumping.
Glowing Review: "This was such a beautiful way to experience Bali. Highly recommend if you're after something low-fuss, mindful, and in a stunning natural location."
How do I spoil my husband on father's Day?
There are a couple of splurge-y options on this list, or you can bundle some of the gifts together for a ~one-of-a-kind~ gift basket. The key here is to give him something he won't expect (if he's into surprises, that is, some people just wanna know what they're getting in advance) and something that won't immediately start collecting dust. In my experience, getting him plates and utensils, unless they're for drinking or grilling, just aren't going to get used. Each item on this list has been used and loved—or specifically requested—by a hubby in our lives.
What can I do for my husband on Father's Day?
If your budget is tight or you'd rather gift an experience (fancy!), why not one of the available Airbnb trips? Or get something that makes his life easier, through some sort of customizable kitchen implement. When in doubt, even if it's something small, customization via monogramming or other personalization is the way to show him he's special.
Here's how we chose all these cute selects.
Cosmo's fashion team is constantly curating the internet to bring you the best, most relevant options like it's our job (because it is, heh).
We have pretty high standards when it comes to clothing and accessory recommendations. Each of our shopping articles adheres to the 15 Percent Pledge. And you better believe we read those product reviews (and test many of the brands IRL) so you don't have to. You're welcome!
This content is created and maintained by a third party, and imported onto this page to help users provide their email addresses. You may be able to find more information about this and similar content at piano.io
Advertisement – Continue Reading Below