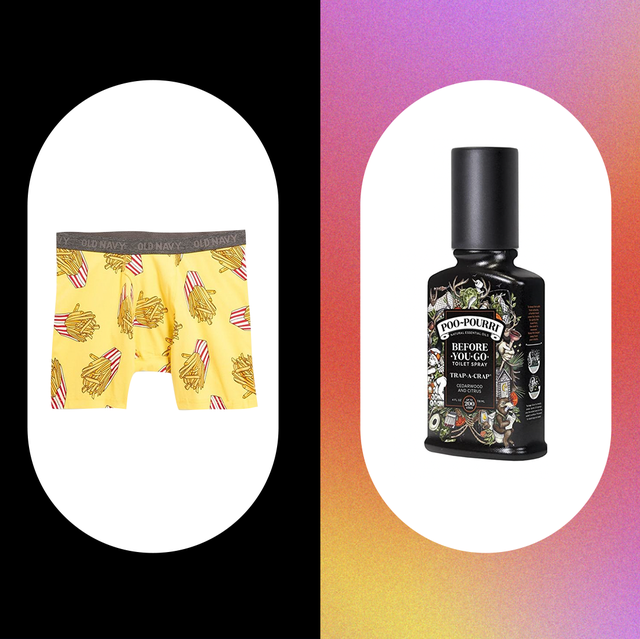 Courtesy
Let's cut to the chase: Gift shopping for men is, quite possibly, among the most challenging tasks to ever exist. I'm not sure why, but picking out the *perfect* present for your boyfriend, dad (Father's Day is creepin' up!), friend, coworker, or whichever male acquaintance feels like the Olympics of shopping. There are so many hurdles and questions to consider: What do they want? What do they like? What are they actually going to use? It's overwhelming, okay?! And IDK about you, but going the easy route with a gift card has its limits. Eventually, you wanna get the guy an actual gift with, like, some type of heartfelt value. But also, gift-giving doesn't have to be so serious that you stress more about it than you enjoy it. That's why funny gifts for men are the perfect compromise.
Think about it: A silly, not-too-serious gift is a great solution for when you're not sure what to get 'em, but you still want to communicate that you gave it enough thought. And of course, if he happens to be a truly funny guy who deserves an equally-as-hilarious present, then it works out even better. By getting humorous and down-to-earth with your gifts, you can break the ice and laugh together, and who doesn't want those ~positive vibes~ when sharing a gift with someone?
But not all funny gifts for men are gag gifts—some are actually kind of, dare we say it, useful! Whether it's an entertaining card game or a decorative pillow that speaks to his unique personality, there's a thoughtful, light-hearted, and easy-to-shop-for gift out there for you (and we love the sound of that!). Keep scrolling for 45 funny gift ideas for men that will definitely earn a laugh—or at least a slight chuckle and sweet smile.
Advertisement – Continue Reading Below
for the whiskey fan
Golf Cart Decanter and Glasses Gift Set
The golfer (and whiskey lover!) in your life is gonna get a kick out of this cool decanter set-up.
for the one who's always eating on the go
Saucemoto Dip Clip
They can kiss their eating-and-dipping-in-the-car struggles goodbye with this sauce holder that they can attach to any air vent in their vehicle.
for the basketball fan
Uncommon Goods Basketball Wastebasket
Make throwing their trash away more interesting with this wastebasket that looks like a basketball hoop.
for the one who needs to relax
USAGA 28 Fingers Head Massager Scalp Massager
What they're missing in their life is a head massager. Period. They'll be thanking you!
for the man who needs more self-care
Jaxon Lane Bro Mask
If they've been stealing your expensive face masks, get them this award-winning pack of sheet masks that'll give them that glow. (BTW, each face mask comes in two pieces so guys with beards can just use half—and not have an awkward, slimy beard…)
for the sweet tooth
Personalizable M&M'S Gift Jar
What's better than regular M&M's? M&M's that have custom pictures or messages on them!!
for the clean freak
FineInno Mini Crumb Vacuum Cleaner
Tiny, portable, and compact. Any clean freak will rejoice when they see this smol vacuum that can suck up even the tiniest piece of dirt or crumb.
for the guy obsessed with back scratchies
Extendable Cactus Back Scratcher 2-Sided
You won't have to scratch those hard-to-reach places on their back anymore when you give them this back scratcher. One side has more intense spikes for those really itchy parts, and the other has more moderate ones if they just need a light relief.
for the marg lover
InBooze Classic Margarita Cocktail Kit
Get them this fun cocktail kit that has all the ingredients to make up to 10 (!!) delicious margaritas.
for the beardo
The Cut Buddy Shaping & Styling Tool
It's hard to maintain the shape of a beard. (I mean, I can only imagine.) But that doesn't have to be a ~thing~ for the facial-haired wonder in your life anymore, thanks to this shaping tool that'll help guide them when they're shaving their facial hair!
for the guy into grooming
Ballsy Activated Charcoal Ball and Body Wash
This body wash purportedly helps "keep the funk off his junk." But once you get past the straightforward name, it's a surprisingly pleasant combo of essential oils, plant extracts, and activated charcoal that gives a deep clean and has a fresh smell.
for the jokester
Lanee Higgins and Davon Ford Winsults Roasting Card Game
Does he live for a good roast? Then he will love this card game full of lighthearted insults. Thick skin is definitely required to play this one.
for the guy with a sweet tooth
Ben & Jerry's Ice Cream Pint Lock Protector
People go to desperate lengths to protect their Ben & Jerry's pint. This literal combination lock keeps other people out and is probably the most brilliant invention, um, ever?!
for the one who cares about ~ambiance~
Boy Smells Cowboy Kush Candle
Get him a candle that smells like his favorite plant. (Wink, wink.) Plus, this scent is subtle enough for him to have guests over who won't raise a brow but will appreciate its calming aroma.
for the proud pup parent
House Dogge Blessed Dog Hoodie
If dogs are man's best friend, then getting something for his dog is essentially getting something for him, too. You know he'll be the talk of the dog park with his pup outfitted in this hilarious (but also v. on-trend) hoodie.
for the beer lover
Uncommon Goods Shower Beer Holder [Grey]
A handy shower beer holder so he never has to go without his favorite brew. Both funny and practical? Sign us up.
for your S.O.
PurpleRoseHouse Custom Face Boxers
Nothing says "Happy anniversary!" quite like a pair of custom boxers featuring your face all over them.
for fans of the office
TheTrophyShopJC Custom Dundie Award
For all The Office fans in your life, we promise he will L-O-V-E this custom Dundie Award. Have it engraved with his name, and you can trust he will treasure (and display) it forever.
for the king of dad jokes
Uncommon Goods Emergency Dad Jokes Mug
Make his mornings easier with this handy mug that offers up fresh dad joke inspiration for when he's not fully awake yet.
for the highly caffeinated
Blk & Bold Medium Roast Blend
While there's nothing inherently funny about coffee on its own, this smooth roast coffee is perfect when paired with a funny mug. Both funny and useful? Yes, plz.
for the matcha drinker
Golde Make Your Matcha Kit
Or if he's more of a matcha guy, gift him this kit to save him from spending all his money on $7 lattes.
for the fries fan
Old Navy Fries Boxers
Whether he wears boxers every day or just to sleep in, these ones printed with fries (aka the best form of potato in existence) are both hilarious and cozy. They come in other fun food patterns, if you wanna stock up!
for the chore-averse
Xunlong Microfiber Slippers
Can't get him to clean the floors? Well now all he has to do is simply open the package, slide his feet in, and get to steppin' (and moppin')!
for the guy with thinning hair
Hims Hair Loss Kit
Does he regularly joke about how his hairline is lookin' a little patchy? Then a hair loss kit makes for a funny-but-thoughtful gift that might do his thinning strands some good.
for the guy with a green thumb
Jungalow New Leaf Hook Pillow
The gardener in your life will get a laugh out of this leaf-shaped pillow that also looks just really cool. It makes for the perfect conversation starter and is also incredibly comfy—perfect for nap time!
for the car-obsessed
Chemical Guys New Car Smell Air Freshener
Nothing beats the smell of a new car. Since you're not buying him one though (lol), give him this freshener that will give his current ride that same addicting scent.
for the sock aficionado
Happy Socks Thumbs Up Sock
If he likes to reply to your texts with emojis, give him these brightly colored thumbs-up socks. And then maybe he'll get the message that you'd appreciate longer sentences from time to time, just sayin'!!
for the techie
ToiLight Toilet Night-Light Tech Gadget
This cool LED motion-activated bowl light automatically turns on when you approach. No more feeling around in the dark for the light switch! It's actually kind of, um, practical?!
for the frequent flyer
The Cocktail Box Co. Portable Cocktail Kit
Give him everything he needs to make his favorite cocktail on any flight. He'll be like a modern day Don Draper, minus the being a bad person thing. (This also comes in two other kits if he's not into Old Fashioneds, FYI.)
for the wannabe mixologist
Teaspressa Instant Cocktail Sugar Cube Set
Your guy can create a cocktail in a few seconds flat by simply plopping one of these sugar cubes into his glass of vodka or gin. No fancy mixology skills required.
for the dad who shouldn't quit his day job
The Love Gifts, Share A Book of Dad Jokes
I mean, this book is pretty much the perfect gift for all the dads out there who think they're professional stand-up comedians. But we still love 'em though!
for 'the office' fan
K T One The Office Sequin Pillow Cover
Hilarious or terrifying? You decide, but we think this sequin pillow that reveals a very close-up look of this classic The Office scene will become the highlight of his home.
for the practical
Pre de Provence Soap on a Rope
Soap on the rope is just as silly as it is practical. No more slippery bars falling out of his hand or dissolving away in a watery dish!
for the forgetful
Tile Mate
If he's always misplacing his keys (or phone or wallet or anything), get him a tracking tile. It's super easy to use—just attach to whatever item he's always losing and then you can keep tabs on it no matter where it ends up.
for the chill drinker
Sea Stones Upcycled Granite Whiskey Chilling Stones
He can simply pop these in the freezer and enjoy them with his favorite beverage. One that's preferably "on the rocks," naturally.
for the quintessential millennial
Lingo Millennial Slang Play Cards
Who comes out on top in a head-to-head battle of millennial slang? It's time to find out! There might be some obscure phrases even the most millennial of millennials doesn't know about…
for the man who loves wine
PortoVino DayPack Backpack
This backpack discreetly holds two bottles of wine (or any beverage) that dispense from a removable, easy-to-use BPA-free party pouch. Your next camping trip just got waaaaaay more interesting!
for the aspiring sommelier
Maison Noir Wines 2020 Knock On Wood Chardonnay
Is the guy you're shopping for saving up to have his own personal wine cellar one day? Or maybe he's always ordering the bottle for the table? He will absolutely appreciate this Chardonnay with a witty name.
for the sauce-obsessed
Sriracha Keychain Gift Pack
So he's obsessed with Sriracha. I mean, same. Treat him to this sauce and keychain bottle that he can fill with his favorite sauce when he's on the go and needs some spice in an instant.
for the foodie
Trufflin Black Truffle Hot Sauce
Is there such a thing as too much sauce? We think not. Step it up a notch and gift him this fahncy truffle-infused Sriracha. In fact, get yourself a bottle, too! It's that tasty.
for the whiskey man
Danielle Martin Whiskey Soaps
Oh, he loves whiskey, you hear? Then this set of whiskey-scented soaps means he will never go without his favorite drink, even in the shower.
for the sentimental man
Personalized Photo Collage Tie
If he loves sharing pics of his family or his glory days in college, give him a tie that puts those memories on display. It'll truly be a piece that people talk about for years to come.
for the beer lover
Jelly Belly Draft Beer Jelly Beans
Any brew fanatic would be grateful for a bag of jelly beans in his favorite hoppy flavor. Yes, they're alcohol-free, but that's probably a good thing, right?
for the super-sensitive smeller
Poo-Pourri Before You Go Spray
Without a doubt, this is the best spray to eliminate any odors that he may need to cover up. You can thank us later.
for the wilderness man
Uncommon Goods Fishing Pole Campfire Roaster
What's better than a standard s'mores stick? Something that looks like a fishing pole but that you can roast hot dogs on, too. It's the novelty item you didn't know you needed, tbh.
This content is created and maintained by a third party, and imported onto this page to help users provide their email addresses. You may be able to find more information about this and similar content at piano.io
Advertisement – Continue Reading Below