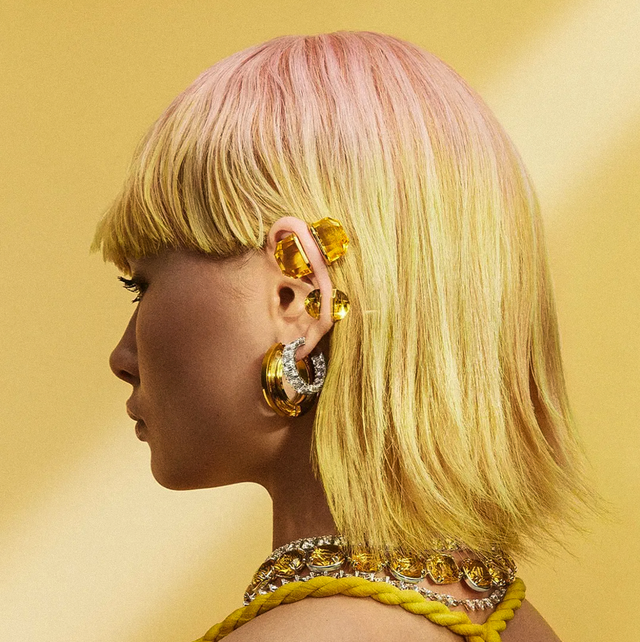 Swarovski
Everyone has different tastes in jewelry, and all of 'em are totally valid! Some people are into gold looks and some are fans of silver—while others might love to mix and match all types of metals and materials. At the end of the day, one thing we can ALL agree on is that earrings, rings, and necklaces are the key to completing any outfit. A pair of statement hoops, a choker, or stacking ring set can add some subtle (or not-so subtle) shine and take your ensemble to the next level. I mean, it is such a weird feeling on the extremely rare occasion that I do leave the house without anything in my lobes, around my neck, or on my fingers. You always want to have a lil extra sparkle!
Of course, if you're in the market for a shiny new thing to add to your already-impressive collection, sifting through the endless jewelry brands out there can seem daunting. So here, we've rounded up 50 need-to-know jewelry brands to make your online shopping experience sooo much easier. With all the prettiness your eyeballs are about the witness, you're bound to find at least one designer you absolutely love.
Want (read: need) even more jewelry shopping ideas? We've got you covered on all the gorge Black-owned jewelry brands and the top summer 2022 jewelry trends that'll have ya looking like a certified accessory expert. We hope you pick out something nice for yourself!
Advertisement – Continue Reading Below
Auvere
Double Cone Stud Earrings
Talk about fine jewelry. These beautiful designs are made with 22-karat gold. What more could you ask for? Designer Gina Feldman Love is all about symmetry and harmony in her pieces.
Aaryah
Premi Drop Necklace
During the pandemic, designer Megan Kothari pivoted her jewelry brand Aaryah to focus on engagement rings and bridal-specific pieces, but she still offers other treasures that aren't just for weddings, like this gorgeous lapis lazuli pendant necklace here. Her designs are inspired by her ties to India, and she comes from a family of diamond wholesalers, so she's an expert in the space.
Mateo
14-Karat Gold, Diamond and Pearl Earrings
Matthew Harris of Mateo is a self-taught jewelry designer hailing from Montego Bay, Jamaica, and living in NYC. His brand is known for incorporating pearls, like these luxe huggie earrings here.
Pamela Love
Aegean Pendant
Pamela Love started her eponymous jewelry line in 2007, and her designs often feature "celestial, spiritual, and terrestrial motifs" to emphasize the ritual of wearing jewelry. For example, this pendant is her interpretation of fish amulets popular in (and since!) ancient times.
Justine Clenquet
Dana Earrings
Justine launched her namesake label in 2010, and every design is handmade in France. Celebs like Olivia Rodrigo and Charli XCX are fans of this brand, and it's easy to see why, thanks to the combo of mixed metals, asymmetrical style, and edgy aesthetic.
Lizzie Fortunato
Demy Earrings
Twin sisters Lizzie and Kathryn Fortunato started the line more than a decade ago, which often features mix materials like these quartz, aventurine, and mother-of-pearl earrings. It also offers handbags, scarves, belts, and more accessories that are just as breathtaking.
Emma Pills
THE OG Earrings
Australian designer Emma Pillemer started this affordable label that features so many trendy pieces, like these pop-tab-inspired earrings.
Oma the Label
Eseosa Earrings
You'll find more where these paperclip earrings (and ear cuff!) came from at Oma the Label. Founded in 2018 by Neumi Anekhe, a New York-based fashion stylist, the brand's pieces are all on the affordable side, but look like they cost a pretty penny.
Designer Jennifer Matchett began making her jewelry out of vintage Italian acetate and is located in Atlanta, Georgia. Her actually-affordable acetate creations have gained a pretty large following among fashion editors and influencers.
Agmes
Gold Small Twist Stud Earrings
Sisters Jaclyn and Morgan Solomon founded AGMES, which draws inspo from organic shapes and architecture. How fun are these squiggly studs?
Fun fact: Michelle Obama's "VOTE" necklace that she wore at the DNC was designed by this label. The personalized styles are its signature, but if you're in the market for plain ol' chains, consider this delicate gold necklace.
Adore Adorn
Gigi Enamel Ring
This brand doesn't skimp out on color as evidenced by this bright aqua enamel ring.
Notte Jewelry
Cotton Candy Heart to Heart Necklace
Say hello to this romantic necklace! Created by Jessica Tse, a former accessories trend director, Notte's pieces have a kitschy flair, with smiley face and chili pepper pendants that are balanced by vivid gold metals and stunning crystals.
Jennifer Meyer
18-Karat Gold Lapis Lazuli Earrings
Jennifer Meyer hoop earrings are a fave among celebs, but the designer also makes equally stunning stud earrings.
Missoma
Harris Reed In Good Hands Pearl Necklace
The London-based brand offers tons of gorgeous designs with colorful gemstones and gold vermeil, so you can find jewelry that fits the exact aesthetic you're going for. Founder Marisa Hordern sources stones and crystals from all over the world including Thailand, India, and Hong Kong.
Jenny Bird
Evil Eye Layered Necklace
Canadian designer Jenny Bird launched her namesake label in 2008. Her sleek, sculptural aesthetic makes her designs ones you'll have for years in your jewelry collection.
Third Crown
Arc stud earrings
Third Crown's gold pieces are structural, and while the brand is known for its interlocking chain styles, it also makes more minimal pieces like these arc studs.
Mother of pearl! Octave is known for using that specific natural material, as well as stunning stones like jade, jasper, and aventurine.
Fry Powers
Jane Silver, Enamel and Crystal Earrings
These pieces are handmade in New York City, and designed to stand out with their vivid hues.
Designer Christina Tung has some of the best beach-inspired jewelry out there, and each creation is made from recycled and natural materials.
We Dream in Colour
Butterfly Garden Earrings
A fun, whimsical vibe is what you'll find when shopping at this label. Oversized drop earrings that include flower, star, cloud, and moon motifs will delight anyone who loves statement jewelry.
Luv AJ
The Stardust Statement Hoops
Designer Amanda Thomas got her jewelry line into stores when she was just 16. You've probably seen Kendall Jenner or Bella Hadid sporting her edgy gold designs, and great news! They're also very much affordable, which is a bonus.
Jennifer Zeuner
Aline Herringbone Necklace in Silver
Jennifer's namesake brand is based in Boca Raton, Florida, and offers bold enamel pieces as well as simple, more dainty pieces like this herringbone chain. Many of her creations are available in silver, gold, white, and rose gold so you can stick with one metal or mix them up.
Ettika
Keep It Simple Ring Set
This label is inspired by that sunny Los Angeles weather and features gold styles, like this ring set, as well as resin, embellished, and crystal designs that definitely make a statement.
BonBon Whims
Gold Plated BonBon Drops
Get in on those Y2K vibes with this jewelry brand that serves up all the nostalgia. Its sparkly pieces will remind you of the items you had in your middle school jewelry box—but way more elevated.
Khiry
Tiny Khartoum Hoops Embellished in Sterling Silver
Jameel Mohammed founded the label in 2016, and it molds gold vermeil and sterling silver into beautiful architectural shapes, like these graduated hoop earrings with orbs.
Bea Bongiasca
Gold, Silver and Enamel earrings
Though they are an investment, Bea's loopy styles definitely deserve space in your accessory collection. It often mixes colorful enamel with equally bold gems. Wavy, baby!
Shashi
Petite Bow Earrings
This brand's designs are super fashion-forward, especially when it comes to what's trending on Instagram. Shashi has no shortage of delicate necklaces, rings, and earrings, all at accessible price points.
Kendra Scott
Ott Friendship Bracelet in Gold
Founder Kendra Scott designed her first line in 2002, and since then, her namesake label has become instantly recognizable. Her pendant jewelry is arguably her most popular style, but you'll have a plethora of other options to choose from, like this sophisticated friendship bracelet.
Monica Vinader
Alta Capture Charm Earrings
From chain earrings and necklaces to fun friendship bracelets and colorful gemstones, Monica Vinader has it all, and in a variety of price points so you can find your perfect style. Personally, I'm obsessed with these earrings because the bottom links open so you can add any charms to them or wear them plain.
Gorjana
'Chloe' Mini Strand Necklace
Gorjana Reidel and her husband, Jason Griffin Reidel, founded the brand in 2004, and opened their first brick-and-mortar store in 2016. This strand style has a 4-star rating with 20+ reviews.
BaubleBar
Mini Alidia Ring
If you like matching your accessories with your vibe on a day-to-day basis, hit up BaubleBar. The brand has tons of vibrant options featuring crystal embellishments, nautical shells, boho hoops, bold beaded pieces, and more. In short, basically everyone can find that standout piece they've been looking for here.
8 Other Reasons
8 other reasons X Sofia Richie Two Tone Layered Necklace
Kylie Jenner, Jordyn Woods, and other celebs like Hailey Bieber, Bella Hadid, and Rita Ora have sported this affordable brand. Basically, if you're looking for on-trend designs, like this two-tone necklace, but still want to save money, it's worth looking into.
Kate Spade New York
Disco Pansy Stud Earrings
If you're a fan of colorful enamel or pavé jewelry, then Kate Spade is perfect for you. The brand's whimsical accessories often feature hearts, animals, flowers, cute sayings, and, of course, its signature spade logo.
Cult Gaia
Valence Gold-Plated Leather Hoop Earrings
Known for its trendy Instagrammable bags and beachy clothing, Cult Gaia's nature-inspired jewelry has gained almost as much popularity.
Wolf Circus
Collier Sheldon – Bleu
This Vancouver-based label is run by women, and while the pieces are typically made using recycled sterling silver or bronze, this baroque pearl style features colored glass beads. Pretty, right?
Maison Miru
Collette Chain Earrings
The New York City-based brand offers a variety of earrings, including studs, "suspenders," huggies, and hoops, but it also has playful charm necklaces, statement rings, and delicate bracelets.
Because Mejuri is a direct-to-consumer label (i.e., it cuts out third-party retailers), it's able to offer designs with 14-karat gold, ethically sourced diamonds, gemstones, and pearls at way lower costs than usual. Everything is so dang gorgeous (I mean, just look at this choker!) and is made for layering and stacking.
Tiffany & Co.
Return to Tiffany® Heart Pendant in Silver,
Tiffany needs no introduction, but in case you need one, the brand has been around since 1837(!!!), and stars from Audrey Hepburn to Lady Gaga have worn its jewelry. Its most iconic designs include the tag charms with that signature "Tiffany blue" shade.
The Last Line
Peach Hand Carved Fruit Hoop
This direct-to-consumer brand is all about stacking on the bling. If you have multiple piercings, the sparkly earrings are perfect for piling on. Plus, they're sold as singles, which is ideal for mixing and matching. It also offers equally eye-catching necklaces, rings, bracelets, and even anklets.
Stone and Strand
Diamond Drizzle Drops
Another fine jewelry brand without the crazy markups is Stone and Strand, which is based out of New York City. Your ensemble won't feel complete without wearing its super-dainty pieces—they'll seriously get you all the compliments.
Roxanne Assoulin
Daisy Gold-Tone Beaded Necklace
If you're obsessed with bold hues, then Roxanne's jewelry is so up your alley. Her cheerful, almost childlike aesthetic is why she's gained such a cult following in the fashion sphere. Her beaded jewelry is reminiscent of the accessories you probably made at summer camp.
Chan Luu
Petite Crescent Grey Pearl And Labradorite Mix Silver Hoop Earrings
Chan's childhood growing up on the beaches of Vietnam greatly influenced her jewelry aesthetic. Many of her designs look like you could've picked them up right from the ocean, including these charm earrings.
Swarovski
Lucent Hoop Earrings
Love yourself some shimmery crystals? Then obviously, Swarovski is the place for you. The brand has been around since the 1800s and has some extremely gorgeous necklaces and earrings, including these bold crystal earrings.
Maria Black
Vogue Single Huggie Hoop Earring in Silver Hp
Maria creates all the jewelry for her namesake label in her Copenhagen-based studio. She's known for her uniquely shaped designs that feature spirals and curves, but they also have a minimalist look.
Catbird
Opal Spring Fairy Earring
Alison Lou
Butterfly 14-Karat Gold and Enamel Single Earring
Designer Alison Chemla is known for her fine jewelry, but when she launched her playful, more affordable "loucite" collection last year, they quickly went viral. She's also known for her cute enamel pieces, like this trendy butterfly earring.
Brinker & Eliza
Confetti Necklace
Founded by a mother (Brinker) and daughter (Eliza) duo, the brand's inspiration comes from their time collecting sea glass on the beach and skiing in the winter. Many styles include pearls, shells, beads, and vibrant stones if you're looking for a go-to piece of jewelry for any season.
Timeless Pearly
Crystal and Gold-Plated Ring
If you have eclectic taste, Timeless Pearly is right there with ya. Its asymmetrical earrings, colorful necklaces, and bold rings are made to be stacked, mixed, and matched for a maximalist vibe.
Adina Reyter
14k Gold Large Pave Curve Necklace
Another of Meghan Markle's favorites is this brand. In 2001, Los Angeles–based Reyter launched her line, which features beautiful diamond jewelry with a geometric flair, like this curved pendant.
This content is created and maintained by a third party, and imported onto this page to help users provide their email addresses. You may be able to find more information about this and similar content at piano.io
Advertisement – Continue Reading Below