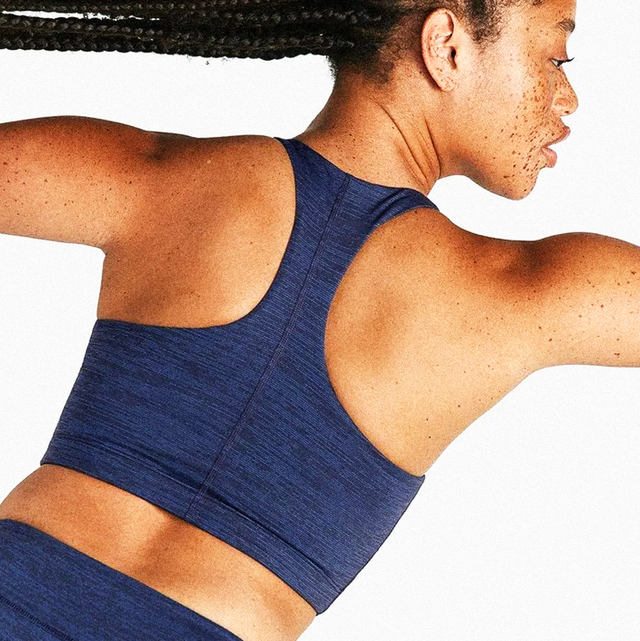 Courtesy
Squeezing in a good workout during your busy day can definitely seem like an impossible task—but figuring out what clothes to wear to the gym shouldn't have to be. If your drawer of workout gear is less-than-inspiring, it might be time to liven it up a bit with some new pieces you'll actually be excited to pull out and wear. Of course, comfort, support, and functionality all come first when choosing what to wear. But (!) while you're putting in all that hard work, it doesn't hurt to look (and thus, feel) your best, too. So, whether you're looking for soft fabrics, breathable material, a flexible stretch that moves with you, a stylish 'fit, or all of the above, these 52 activewear brands will have you covered while you're breaking a sweat.
From top-rated leggings brands and workout clothes on Amazon to clothing lines with the most supportive sports bras, these are hands down the best activewear brands of 2022. Expect to find both trendy items, like TikTok-famous leggings, and classic sportswear brands in the mix—because the best workout outfits have a little bit of both. Now, get to shopping!
Advertisement – Continue Reading Below
Bold cutouts and cool catsuits, anyone? GIGI C is a go-to for the cutest swim and sport styles. We're loving the chic silhouettes like this unique, sleek romper, and the prettiest bright blue hues in their latest collection.
Fourlaps
VITALITY SPORTS BRA
We are here for premium sustainability! Not only is Fourlaps doing its part to help the environment, they're doing so v fashionably. You can easily mix and match every piece in the brand's collection, and we love how Fourlaps' activewear has all sorts of practical storage details (hello, functional pockets and zippers).
Reboot & Co.
RENDER SPORTS BRA
This brand's polished designs are perf for that upcoming yoga retreat, with some fun styles for channeling your inner boxing superstar, too. This elegant cutout bra top is too cute just to only sweat in, though; it's practically begging to be styled with some palazzo pants for brunch. Besides stellar all-black pieces, the brand's muted tones are so elevated; you'll want to collect 'em all!
If you like your fitness clothes to feel like fashion, you *must* check out this line. From unitards, to one-shoulder sports bras, and cool crops, these pieces can be worn at the gym or dressed up and layered with the rest of your wardrobe for everyday wear.
Dfyne
Origin Medium-Support Sports Bra
This activewear company offers a streamlined assortment of gym clothes so you can get straight to business and keep your shopping as focused as your workouts. Pick up a pair of highly supportive, squat-proof leggings, then grab a matching sports bra in the level of support you need, and your set is set.
Gym Shark
Vital Seamless 2.0 Long Sleeve Crop Top
This UK-based activewear brand has a pretty big following in the US, all thanks to the carefully constructed clothing that'll carry you through any workout, no matter the intensity. Take the compression set shown here. Who knew shorts and a crop top could be so supportive?
Glowing Review: This is super comfy and fitting," writes one Gymshark stan. "The Vital Seamless collection is by far one of my favorites—it's the perfect amount of stretch and support and all colors are GORGEOUS! It does rise up a little when you're raising your arms fyi."
TLF Apparel
Tempo Ribbed Workout Sports Bra 2.0
This activewear brand makes what they call "gym-to-street gear," so if you're someone who lives in your workout clothes, this is the line you need to checkout for your wardrobe. You'll find all the basic must-have pieces for all weather conditions as well as trendier designs, like this touched deep-V workout top, here.
NVGTN
Slate Blue Curve Leggings
On this activewear site, get ready to scroll through endless leggings, shorts, fitness tops, and bras in tons of styles and colors. Seriously, options for days! The seamless legging style shown here comes in 23 other colors, so you'll never run out of options. Perfect for the person who knows what they like and wants one in each color. There's a new drop coming mid-June 2022—in the meantime, check out their IG!
Lorna Jane
Tuck Front Phone Pocket Bike Short
You can feel good about shopping from this ethical athleticwear line. Expect to find sports bras for all intensity levels, tracksuits, loungewear, sweats, leggings, shorts—basically, everything you need to wear at the gym, plus warm-up gear to wear on your way there.
Set Active
Sportbody The Dress
Set Active might be famous for their monochrome matching sets of activewear and loungewear, but don't forget to check out their stand-alone pieces as well—like this active dress with built-in bike shorts. Pick a colorway, then shop the tons of styles to put together your ideal outfit.
ULTRACOR
Ultra High Legging
Brace yourself because once you get your hands on a pair of these patterned leggings, the compliments won't stop. Not your boring activewear, this brand focuses on fun prints and patterns (exhibit A: these shiny star pants). And they're not just for looks, either. This pair of leggings is constructed with high-quality compression fabric that has built-in shapewear for extra support and structure.
Glowing Review: "These are power leggings," says one reviewer. "They're amazing quality and just the right amount of compression to hold everything in place when you're working out. Whether it's cross fit, pure barre or pilates these leggings won't roll at the waist or slide down in the crotch. Well worth the money."
livi
LIVI High-Rise Wicking Capri Legging – Strappy Hem
Look to Lane Bryant's activewear line for all your low- and high-impact pieces, whether you're just running errands or running miles. Made from sweat-wicking, stretch fabric and available in a wide range of sizes to ensure the absolute best fit, you can feel comfortable in these workout clothes, no matter what.
Beyond Yoga
Lift Your Spirits Sports Bra
If you're a yogi, you already know (and love) this brand. There's a fine line between cozy leggings that do nothing and compression tights that suffocate you, and this brand found that perfect sweet spot of support and comfort.
Lululemon
Align Pant II 25″
For leggings that feel like butter, turn to Lululemon. All their products are top of the line in comfort, style, and performance. Personally, I can't stop raving about these Align leggings, but I know I'm not alone. If you know, you know.
Glowing Review: "I bought these as my first pair of Lululemon leggings and I am hooked," writes one reviewer. "I love everything about them! I am glad I tried them on before buying. I originally picked a size 2 but they were definitely tight. I got a 4 and they are perfect."
Full Court
Palm Leaf Windbreaker
If you want to look luxe while you're breaking a sweat, shop anything from Full Court. They've got sweatshirts, bras, tennis skirts, and more that look sooo high fashion.
Parks Project
Angels Landing Recycled Hiker Short
I've never met a pair of leggings as comfy as these from Parks Project, guys. And this gorgeous pattern in muted desert hues is just…*chef's kiss*. The brand recently released its activewear line that is inspired by parks all over the country. A big perk: Every item purchased from them gives back to the park it's named after.
Core 10
High Waist Yoga Full-Length Legging
Not only are Core 10 workout pieces super stylish, they're also suuuuper easy on your wallet. A pair of high-waisted leggings for under $30? Say. Less.
Glowing Review: "I love they way these leggings fit," says one reviewer. "They are so comfortable I can wear them all day, from shopping to work to workout. These leggings also look great dressy with a tunic or lounging in a tee shirt. The hidden pocket in the waistband at the small of the back is convenient and can hold a key and a credit card easily. I love these leggings so much I have 4 pairs now."
TSUTAYA
Racerback Sports Bra High Waist Shorts Set
Two-piece sets are always the move, whether you're just following an exercise video in the middle of your bedroom or stretching in your backyard. Get this affordable look from TSUTAYA on Amazon, and also check out their array of leggings and shorts.
Glowing Review: "I ordered a small and these are probably the most comfortable leggings," says one reviewer. "Definitely feels like a gym shark dupe. I love the blue color and I might have to order more colors haha. The shirt is a perfect crop I think to the high waisted pant, love love love these!"
Melt Fit Active
2nd Skin Mint Leggings
Shop at Melt Fit Active if you're into fun colors, patterns, and designs. These bright pink leggings will make you stand out while you're on a run or hitting the gym.
icyzone
Workouts Tank With Built-In Bra
Hit up Icyzone for this genius two-in-one tank and bra situation, and if you want to buy packs of workout clothing for a good deal.
Glowing Review: "I had to review as soon as I tried it on," gushes one customer. "This is cute and supportive (unlike my ex). I am 5'1, 150lb ish…short and thicker build. 36 C or tiny D. I went with medium and am super happy! Anything smaller would not have fit my breasts (it was very snug, but I think it helps with support), and anything larger would have been too loose and looked baggy. When I brought it out of its packaging it looked like it might be too big, but it actually fights comfortably. Can't wait to wear it jogging or to the gym. :)"
RBX
Skort with Attached Bike Shorts and Pockets
RBX has some of the trendiest activewear looks in the game and the fact that they're on Amazon (hi, Prime shipping) is just the icing on the cake. Side note: I know you're dying to go for the tennis skirt/skort trend and ya gotta have this one in your closet.
Glowing Review: "Love this skort," writes a reviewer. "I'm 5'2" and wear a size 12. Ordered a large and it fits great! Great length, not too short. Bike shorts underneath fit comfortably around my legs and don't ride up. Nice waist band, doesn't roll down. Love the light weight fabric. Very comfortable fit overall. Just ordered a second one in beige."
Zoezi Sport
Malaika Ribbed Seamless Legging in Pink
I'm in loveee with this pastel pink hue on these Zoezi Sport leggings! You can find more soft-colored bottoms, bras, onesies, and more that will up your workout style on their site.
Just My Size
Active Pieced Stretch Capri
Leggings from Just My Size have a superb stretch to them. Plus, you can find a bunch of choices in all sorts of different colors and designs.
Glowing Review: "I used these tights in my fitness journey," says one reviewer. "They didn't roll down but I would definitely size down in my next purchase. Perfect for my plus-size gyols."
Pru Apparel
Phini Leggings
An acronym for power, representation, and unity, PRU Apparel is all about bright hues, patterns, and giving you a workout 'fit that'll make you feel your most confident.
Outdoor Voices
Move Free Crop Top
Outdoor Voices was created in 2014 with your old-school rec center in mind. "Remember back to your YMCA days?" the brand's founder asked in an interview. "That's the kind of activity that we want to capture." Theirsignature color-blocked leggings and bras are a celebrity fave, but the functional details like zip closures and mesh backing will get you through even the most intense workout. You also get a pretty cool tote bag with any purchase—just sayin'.
Glowing Review: "The perfect balance of support, modesty, and fashion, says a reviewer. "I love that I can dress this up as a fashion top or wear it to spin class! So versatile and a great fit for somebody with a larger chest but smaller ribcage."
eleven by Venus Williams
Jupiter Warrior Workout Skirt In Multi Snake
Yes, the Venus Williams. Her line of activewear isn't just made for playing tennis—you can wear it for any kind of workout. Between the colorways and cool features like hidden pockets and mesh inserts, this will become your new comfy uniform.
Culture Fit
ZIGZAG CAPRIS: BLUE ANKARA
Breathability is key when you're sweating up a storm, and Culture Fit's designs definitely meet that criteria with the fabric and mesh panels for max airflow; plus, they feature West African print designs so you'll be so colorful while getting your flow on.
Glowing Review: I was elated when I received my leggings just one day after placing the order," writes one reviewer. "The quality of the material is excellent, and they are truly squat-proof. I would definitely purchase from this company again."
Soley Fit
Nzinga Shine Bodysuit
Founded by ABC News reporter Stefania Okolie (in the middle of a pandemic, no less!), this new activewear brand has some ultra-chic pieces, like this shiny one-shoulder cutout body suit. Zendaya is also a fan, so that's pretty high praise, IMO.
This plum color is so cute! Roam Loud, founded by Toyin Omisore, has tons of options and fun hues from colorblocked leggings to pink joggers.
Glowing Review: "These fit perfectly," writes one reviewer of these Yanta leggings, which also come in more neutral shades like olive green and navy. "If I don't watch myself, these pants and this top will be all that I wear all week. "They fit perfectly. The material is outstanding. No joke! Roam Loud is the real deal!"
LAPP
Seamless Cropped Jacket
Model Leomie Anderson founded LAPP in 2016, and the brand's activewear has a futuristic vibe thanks to cool graphic designs and colorblocking. It also features graphic sweatshirts, sports bras, and more if you're into bold logos.
You'll want to get all of the matching sets at Varley's so you can be the most stylish person at your workout class. The brand's prints definitely pack a punch and put a twist on classic ones but you'll also fall in love with their solid, pastel color ways.
Girlfriend Collective
Plum Compressive High-Rise Legging
You've prob seen this brand all over your Insta feed, and for good reason. Its bright sets are so eye catching and the inclusive sizes range from XXS-6XL. Really. You can even choose your inseam length so the fabric doesn't scrunch at your ankles, and the fabric (made from recycled water bottles!) is wildly soft—just trust all the 3,000 reviews of these leggings.
Glowing Review: "These are my fave leggings from GC," says one reviewer. "They feel firm when you first pop them on and over time they become like second skin. They are thick enough but still very flexible and they definitely keep their shape. I live in these leggings and have them in so many colors."
Aerie
OFFLINE By Aerie Real Me High Waisted Crossover Legging
Yes, you love Aerie for its bralettes and underwear, but the brand also has some amazing activewear, like these crossover leggings you can work out (or lounge) in. The prices are also affordable, and the brand offers a wide variety of sports bras and leggings. I mean, even Olympian Aly Raisman is a fan!
Glowing Review: "As an athlete and avid weightlifter I am always looking for leggings that fit my athletic build," writes a reviewer. "I bought Lululemon and they constantly fall down at the waist. I bought these and I have them in 3 colors and I love them for the gym or any activity."
CARBON38
High Rise Full-length Legging in Takara Shine
CARBON38's website has a bunch of trendy workout clothes, but it also has its own namesake brand that has sleek styles, like this electric blue set with a stunning sheen and cross-back details on the top.
Splits59
Venus High Waist Rigor Skort
If you're into an old-school vibe—think retro '70s and '90s gym gear—then this is totally in your lane. You can also find flared leggings and tie-dye prints if you love making a statement.
onzie
High Rise Bike Shorts
Onzie has some of the best bike shorts out there (they're seriously so soft!) available in v fun prints like this red-and-black leopard one. It's based in Venice Beach so it definitely channels the low-key but trendy vibes of California.
Glowing Review: "These bikers are amazing," says one reviewer. "They stay put so well. I don't have to pull them down at all while doing HIIT workouts. They're soft and they're just so dang cute.
SweatyRocks
Two Piece Outfits Tie Dye Crop Top Leggings Set Tracksuit Multicolour L
This Amazon fave has a bunch of quality activewear at prices your bank account can handle. It has more of a streetwear aesthetic, like this cool dyed set with cutouts at the neckline, for instance, so you can wear its pieces as a casual weekend look too.
Terez
Navy Camo Stripe Hi-Shine Leggings
Love you some OTT patterns and colors? Then shop from Terez. The female-founded New York City brand boasts hundreds of styles featuring prints like plaid, florals, camo, and even mesmerizing swirl ones seen here.
Alo Yoga
Moto Legging Pants
Yogis everywhere can attest to the quality of Alo Yoga's pieces; the fashionable cutouts, colors, and seam placement are really just an added bonus. Leggings come in sizes 00 to 14 and will feel like a second layer of skin—without sticking to you when you sweat.
Year of Ours
Airbrush Bike Shorts
Year of Ours, a Los Angeles-based company, offers designs for every type of scenario, whether you're working up a sweat, running errands, or just relaxing. The brand also has sweat sets, shorts, bodysuits, tops, and more if you like the athleisure vibe. It also recently launched extended sizing, so you can find styles ranging from XXS to 2X.
The brand Alala was inspired by the streets of New York City so that even your workout clothes make you look put together when you walk out the door. It offers styles with mesh details (like this textured sports bra, here), breezy openings, and woven textures that make even a solid-colored matching set not so basic.
Good American
Seamless Ribbed Leggings
When Khloé Kardashian first launched Good American in 2016, it focused on denim, but it has since expanded into activewear. The styles come in sizes XS through 4XL and feature bold colors like this neon green, and prints like leopard and tie-dye, but there are also more subdued, solid styles with black, white, and metallic color blocking.
Sweaty Betty
Athlete Seamless Long Sleeve Top
Sweaty Betty launched in 1998 as a response to all the "masculine and shapeless" activewear at the time. The label's got you covered for every type of activity including yoga, tennis, skiing, or swimming, but if you're a runner who isn't deterred by cold weather, then you'll definitely want to check out the thermodynamic styles. They'll hold in the perfect amount of warmth without causing you to completely overheat.
Glowing Review: "I love this shirt," raves one reviewer. "It's tight fitting but really hugs your body which is good for when I'm working out. Very stretchy material. If you're unsure I would say size up."
ActiveZone
Responsible Leggings With Side Pockets
ActiveZone has a wide variety of athleisure, but it also offers supportive sports bras fit for low-, medium-, and high-intensity workouts. Don't forget to check out the breathable, soft basics and layering pieces for colder temps.
Puma
FormKnit Seamless High Waist 7/8 Women's Training Leggings
If you're all about lightweight, breezy materials, Puma is for you. Pieces feature everything from flat seams for reduced irritation on the move to breathable lining when you're sweating up a storm.
KORAL
Attract Rev One Shoulder Cropped Top
Koral activewear is not only moisture-wicking, anti-pilling, quick drying, and antibacterial (to name a few benefits), it's also edgy and stylish enough to wear throughout the day. If you have things to do even after squeezing in a workout, you'll look cute without having to schlep a different outfit to the gym.
Nike has a plethora of activewear, and the brand's offerings are protective and functional, from lightweight windbreakers and sherpa jackets to breezy running shorts and simple logo tees.
ADIDAS
Plus Size Side-Stripe Leggings
The classic label's aesthetic is sporty and functional, but it also includes some very fashionable pieces. Take these side-striped leggings, for instance. The style feels very trendy, but it still has all the support and structure you need while breaking a sweat, too.
Glowing Review: "These are stylish leggings and have very comfortable fit," writes a reviewer. "I love this entire collection. I have the leggings, and sweat suit in pink and green. Although true to size, I sized up. I like the extra room in the jacket."
Athleta
Conscious Lace Crop D -DD+
You won't ever want to wear anything else once you experience the softness of Athleta's fabrics. If you're looking for activewear that not only does the job (i.e. wicks sweat, stays in place, etc.) but also happens to be insanely comfortable, then this is the brand for you.
Glowing Review: "I'm obsessed with all conscious crops, declares one excited reviewer. "However, this one is the MOST comfortable! Was unsure about the lace..thought it might be scratchy..not at all. It's my favorite!"
Zella
Twist Around Renew Sports Bra
Zella's styles are pretty traditional when it comes to color, but it does have trendy pieces, like this twisted top here. The label is perfect for those who appreciate simplicity combined with subtle details like mesh paneling or reversible designs.
Glowing Review: "I don't often rip the tags off of something immediately after trying on, but I did for this," confesses one reviewer. "Beautiful color, beautiful style, love the twist and it gives a touch of lift. The material is on the slightly thicker side and is soft, not like a sweat wicking sports bra for intense workouts. I am tall with a very long torso so it was truly a long line bra for me, so if you're short, it may fit more like a crop top. Def recommend regardless though!"
The Upside
leopard-print sports bra
The Upside is an Australian activewear company that offers cute and cheery prints but also doesn't skimp out on technical performance. You'll definitely make a statement wearing its styles featuring adjustable straps and drawstrings, removable cups, and rubber seams that prevent slippage.
Universal Standard
Next to Naked Bodysuit
Universal Standard is known for its inclusive sizing and minimal designs. Its activewear collection, which launched in January 2018, is no exception. The simple silhouettes (like this bodysuit, for instance) are perfect if you're no-fuss, but the bold primary and secondary colors of its pieces still lend a sense of style.
Glowing Review: "This bodysuit melts on," muses one excited customer. "It is so soft and comfortable; I am in love! I will definitely be purchasing other colors as well. Buy it!"
What's the difference between sportswear and activewear?
Fun fact: there's apparently a difference between sportswear and activewear. (Crazy, we know!!) These two categories are often used interchangeably—many of us (retailers and brands, too) think of sportswear and activewear as the same thing, but they're technically not. They both involve being active (duh), but sportswear is specifically for…well, ya know, sports. Activewear clothing is created for transitioning from workout gear to chill mode. Essentially, activewear is versatile, cute, comfy gear that's ideal for casual settings and couch vegging, though you can obvi segue from Netflix marathons to namastes in your activewear if the mood strikes.
And, get this: activewear isn't the same as athleisure. The purpose of athleisure isn't exercise but solely style and comfort. Think "it looks like I went to the gym but this is really ~fashion~." But whether you call it sportswear, activewear, or athleisure, one thing stays consistent across these three often-interchangeably used terms: maximum comfort while looking stylish!
Here's what to look for in an activewear brand:
The activewear brands we included in this fab list are highly-rated by customers, very anti-wedgie and/or won't ride down on ya. There are squat-friendly tights, tons of lightweight and moisture-wicking materials, and sports bras that'll keep your girls in place (say goodbye to painful jumping jacks). Bonus: many of these brands are sustainable! While choosing activewear is ultimately about your personal style more than anything else, those aspects are also some things to look out for!
This is how we chose the best (and cutest) activewear brands for ya:
Cosmo's team of digital fashion experts—which includes Fashion Features Director Rachel Torgerson, Fashion Editor Tarah-Lynn Saint-Elien, and Contributing Fashion Features Director Alexandra Ilyashov—have decades of combined experience in the industry. They spot relevant trends on the runway before they even hit your TikTok FYP or Insta Explore Page and conduct research across retailers of all kinds—testing many brands IRL—to bring you the best clothing and accessory picks for every season. Basically, we've curated the internet to bring you the chicest options like it's our job (because it is, heh).
Each of our shopping articles adheres to the 15 Percent Pledge and includes products for all sizes. We read through SO. MANY. REVIEWS. to put together this list of the very best activewear brands to shop. We also considered breathability, comfort, durability, and of course, trends!
This content is created and maintained by a third party, and imported onto this page to help users provide their email addresses. You may be able to find more information about this and similar content at piano.io
Advertisement – Continue Reading Below