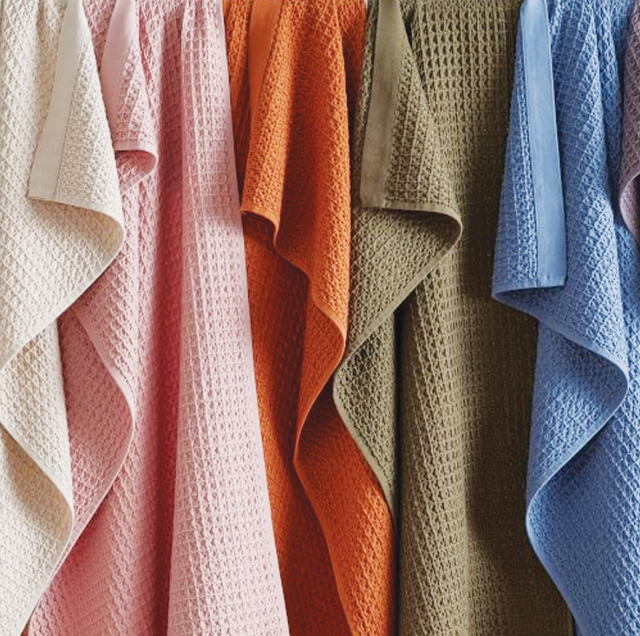 Courtesy
Luxe bath towels are truly the secret to any bathroom aesthetic. So if you're still drying off with the same ratty, pilling, or face wash-bleached towels your mom bought you for your college dorm (and no judgment if you are), it miiiight be time for a little linen refresh.
If you're in the market for new bath sheets, allow me to offer up an option that very well may change your life forever: waffle towels. Waffle-weave fabric is superior to others for many reasons—the first being that it's chic as hell. Similar to the breakfast waffle that we all know and love, waffle-weave fabrics have an indented texture that resembles a honeycomb. This design makes for hella breathable bath towels that dry quickly, exfoliate the skin, and absorb water better than standard bath towels.
Below, you'll find some of the best waffle towels on the market, with some sustainable options that have multiple colorways, fun fringed edges, and so much more. Take a scroll and prepare for your bathroom game to be forever changed for the better.
Advertisement – Continue Reading Below
1
Best for Plushness
Parachute Home Waffle Towels
Available in a set
Free of synthetic dyes
Can become discolored from certain skincare ingredients (like benzoyl peroxide)
Not as breathable as other options
Sometimes, you just want your bath towel to feel like a nice, warm hug (life can be hard, okay?). And for those moments you need this thiccc pick.
Parachute obviously knows what they're doing when it comes to bed sheets, but they're also at the top of their bathroom game. Their waffle weave towels are some of my favorite bath items from the brand because they're extra plush and beyond absorbent. The honeycomb weave is minimalist but still chic—turning even the tiniest apartment bathroom into a certified spa.
Sexy Specs:
Colorways: 4
Materials: 100-percent long staple Turkish cotton
Glowing Review: You never realize how someone complimenting you on your towels can make you smile till you have a set of Parachutes waffle towels in the spare room!
2
Best Set
American Dawn Textured 6-Piece Bath Towel Set
Re-enforced side hems
Organic cotton
Comes as a set
Affordable
May shed during first few washes
Not as soft as other options
Why buy one expensive towel when you can buy six for the same low low price? If you're in the market for an inexpensive-yet-luxe set of waffle towels, you're going to want to click this here link. For just $44, you'll get two bath towels, two hand towels, and two washcloths, all with a horizontal-diamond waffle texture.
And don't start thinking these towels are going to fall apart after a few uses because of their under $50 price tag—these babies have reinforced side hems for durability, and can withstand both a trip through the washing machine and a tumble dry.
Sexy Specs:
Colorways: 6
Material: 100 percent cotton
Glowing Review: Love them and they don't leave fuzz on your skin when you use them like some towels do!
3
Best for the Eco-Friendly Bather
Ettitude Waffle Towels – Set of 2
Hook loops for hanging
Hypoallergenic
Sustainable
May shrink in the dryer
Thinner than other options
These towels were designed to be as gentle to the earth as they are to your skin—and We. Love. That. The geniuses at Ettitude (who are super committed to sustainability, FYI), definitely blessed the planet and our bathrooms when they made these towels: They're super freakin' soft and luxurious, plus they have a convenient loop for hanging (if you've ever had your clean towel slide off a hook onto the dirty ground, you get why this is so important). They're also made from 100-percent bamboo fiber, so they're free of harmful chemicals that might bother folks with sensitive skin.
The honeycomb waffle design draws in moisture in an instant, and the fabric is gentle on the skin, making these towels perfect for turning yourself a human burrito after a bath, shower, or dip in the pool. Looking for matching hand and face towels? You're in luck—they're also available as a set.
Sexy Specs:
Colorways: 6
Material: 100-percent bamboo lyocell
Glowing Review: I feel like an adult who purchased high-quality linens and that makes me feel good. I love how soft it gets after washing. And it doesn't take on a mildew-type smell like traditional towels I would have bought when I lived in a dorm.
4
Best ~Trim~
Zara Overlock Waffle-Textured Towel
Thick, plush material
Re-enforced side hems
Available in a set
Not many color options
May shrink in the dryer
This towel has no right to be this fashionable. But here it is, making me wish I could turn it into a cute cropped tee. Maybe it's because it has a sweet lil lettuce-edge design, or maybe because it's from fashion powerhouse Zara, which is known for making fab pieces that won't destroy your budget. (Much like this towel!)
Available in either a cream color with brown edging (seen here) or a chocolatey brown with matching edging, these babies have a deeply dimpled pattern that rivals a good ol' Eggo (you know the look). This pattern is like a thick, plumped-up waffle you can wrap your entire body in post-shower. Want to deck out your entire bathroom with the same design? Good news: you can also buy it as a face and hand towel.
Sexy Specs:
Colorways: 2
Material: 100 percent cotton
5
Best Fringed
Allswell Stonewashed Waffle Towels
Softer with every wash
Available in a set
Breathable
Thinner than other options
May shrink in dryer
If you told me this towel was a $200 luxury blanket, I'd probably believe you (and then look for a discount code because I'd want to buy it immediately). But it's not a blanket, and you definitely don't need a promo code. Nope, this pretty pick is just a bath sheet with a dream—and it's only $35 (that sound is your wallet sighing in relief).
The details are what make this bad boy so special: The fringe around the edges looks extra luxe, the tight grooves in the print make for quick water absorption, and the material itself was put through a special stone-washing process to make it feel over-the-top soft. And, as you can probably tell from the photo, it's also quite thin and breathable, so hot weather bathers…this one's for you.
(Psssst. If you really wanna spoil yourself, check out this bundle with the matching waffle bathrobe and slippers.)
Sexy Specs:
Colorways: 3
Material: 100 percent cotton
Glowing Review: I've wanted to try a waffle towel for a while, and turns out these are absolutely perfect for those muggy summer mornings. Crisp and cool and super-drying—I love them!
6
Best Linen
MagicLinen Linen Waffle Towel Set
Comes as a set
Handmade
Softer with every wash
Colors may vary from how they appear online
Thinner than other options
This pick also comes as a set (with one hand towel, one face towel, and one bath towel), but it deserves your attention for another reason. These towels, handmade by a small business owner on Etsy, are crafted from extra-soft linen—a material known for being naturally super-absorbent, as well as releasing moisture quickly. That means if you wrap yourself up in one post-shower it'll wick the water off your skin fast and then dry itself quickly as well, so you'll never have to worry about your towel getting damp and mildewy.
Beyond its practicality, I love how understated and pretty these towels are. If the dusty pink color seen here doesn't match with your bathroom decor, fear not. The set is also available in 10 other colors.
Sexy Specs:
Colorways: 11
Material: 53 percent linen, 47 percent cotton
Glowing Review: Wonderful size and feel. I usually can't find bath towels that go all the way around my body but this one does with room to spare. All of the towels dry quickly and are comfortable to use. Really great especially during the summer!
This content is created and maintained by a third party, and imported onto this page to help users provide their email addresses. You may be able to find more information about this and similar content at piano.io
Advertisement – Continue Reading Below