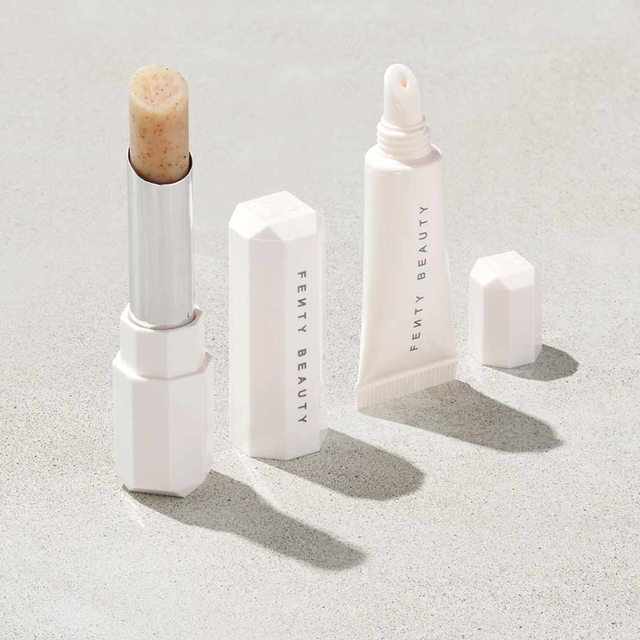 fenty beauty
If your friend is tying the knot—whether it be next year or next month—you've probably already pondered what gifts would be absolutely perfect for her. Because if there's one thing to know about impending nuptials, it's that they involve a lot of wedding gifts. From the bridal shower to the actual wedding day, there are ample opportunities to bless the bride with something she'll love. And, considering bridal showers typically happen earliest on a calendar of wedding events, we'll start there. (First things first, after all.)
The easiest thing to do is get the bride something from her registry—but if you're trying to be more creative, go for something that will help her start her new life with her partner. Think kitchenware, travel essentials (for the honeymoon, obvs), or some luxe bed sheets. Or, you can opt for something more personal, like a customized necklace or stack of stationery. The goal is simply for the bride to love the gift—and hopefully use it more than just once.
With that said, here are 63 extremely chic and unique bridal shower gift ideas to browse. So for those who accidentally wait to snag a gift until the registry is totally picked over, you have a saving grace (okay, 63 saving graces). You're welcome.
Advertisement – Continue Reading Below
this retro luggage set
Mark and Graham Terminal 1 Carry-On and Checked Luggage Set
What's a honeymoon trip without chic, monogrammed suitcases? And if they're into the vintage vibe, they'll be all over this set.
this sleek wine chiller
Vinglace Wine Chiller
Every household should have a wine chiller handy, IMO. It's sooo much more convenient than leaving it in the fridge! Get them this luxe one that they can customize (maybe add their new last initial to it if they're changing their name).
this chic ring holder
kate spade With Love Ring Dish
A dainty ring dish will come in handy whenever they take off their bands and need a safe place to put 'em.
these pretty porcelain mugs
Uncommon Goods The Kissing Mugs
Have you ever seen a cuter mug set? I think not. Mornings spent as newlyweds are about to get so much sweeter.
this itty-bitty plant
Hey Botany Hoya Kerrii
It's not just any plant, it's a heart-shaped plant! So on brand, am I right? She'll love this lil green bb whether she's a first-time plant parent or she's got a whole garden full of greenery.
this fab flask
Brumate Glitter Flask | Ice White
You already know that a glam flask is on the checklist for the bachelorette party. And this sparkly one from Brumate for sure has her name written all over it.
this brightening moisturizer and serum bundle
TULA Skincare Vitamin C Brightening Kit
She probably wants super dewy and glowy skin on her big day, and this brightening kit from TULA can help her achieve that!
this slinky robe
Nap Loungewear Classic Kimono Drawstring Robe
Every bride-to-be needs a chic and comfy ~getting-ready~ robe. She'll love this long breathable one that has deep, spacious pockets and a high drawstring waist.
this fun card game
Life Sutra Couple Connect Game
Bring some spice into their dates with a card game for couples.
this baking set
Ayesha Curry Nonstick Bakeware Set
Bakeware is def something they won't wanna spend money on, but 100 percent need. This set comes with a baking sheet, two cake pans, two cookie pans, and a loaf pan for a super affordable price.
this fancy pajama set
Eberjey Malou TENCEL Modal Short PJ Set
This ~fahncy~ PJ set (in bridal white, no doubt!) is a must.
this sparkly claw clip
Emi Jay X REVOLVE Bride Clip
Gotta rep the new title. This hair clip with "Bride" written out in sparkly rhinestones is perfect for clipping back her hair as she gets ready on the big day.
this e-reader set
Amazon Kindle Essentials Bundle
Trust me, while on her honeymoon, she'll love getting to read all her favorite books poolside with this e-reader. Not only does this bundle come with a Kindle, but it also includes a power adaptor and fabric cover to keep it charged and protected.
this recipe book for two
The Newlywed Cookbook: Fresh Ideas & Modern Recipes for Cooking with & for Each Other
If they love spending quality time together by cooking, a book with more than 130 recipes will put their kitchen to good use.
This Bridal Gift Box
BOXFOX Something Blue Gift Box
Gift her "something blue" in the form of this themed gift box with pens and notebooks so the couple can write their vows—while eating champagne-flavored gummies, of course. It also comes with an emergency kit for any wardrobe issues that might happen on the big day.
This Lacy Gown
Anya Lust Lumina Lace Gown
They'll swoon over this French lace gown with a train that's perfect for the honeymoon or anytime they're feeling fancy.
This Stunning Jewelry Case
Rellery Weekender Jewelry Case Pearl White
Wowee, this jewelry case is gorgeous. Not to mention, it's perfect for storing that wedding ring when it's not being worn.
These Personalized Notecards
Gurls Talk Reflections Notecard Set
It's always a good idea to have personalized stationery on-hand—whether it's for thank-you notes or letters to a friend. Get a set of 10 personalized for your fave bride-to-be for just $28.
This Everyday Bag
HOBO Prima Tote
Never underestimate the power of an everyday tote. Big enough to carry around everything you need, this pick from HOBO is a winner.
this stunning cardholder
JW PEI The Card Holder
A gorgeous little cardholder, like this ice blue bb, would go great with that bag, too! Plus, peep the under-$20 price tag.
This Ring Holder
CraftMonkees Genuine Marble Ring Holder Cone
The couple needs a place to store their rings while cooking, sleeping, and bathing, and what better way to do that than with these modern marble ring holders?
These Champagne Glasses
Set of 4 Etched Gold Rim Handcrafted Champagne Flutes
Wedding season calls for a whole lot of toasting, and the soon-to-be-married couple would love to sip some bubbly out of these cool champagne glasses.
This Luxe Diffuser
Vitruvi Stone Essential Oil Diffuser
This diffuser is not only a piece of stunning art in and of itself, it'll also fill the bride's home with dreamy scents all day long.
This Sleep Set
Slip Beauty Sleep To Go
A good night's sleep before the big day is necessary, and a silk pillow and matching eye mask (which she can also take with her on the honeymoon trip) will be greatly appreciated.
this underwater phone case
Willbox Waterproof Protective Case
If you know the bride is headed on a tropical honeymoon, this waterproof phone case (which lets you totally submerge your phone in water while diving or swimming) makes for a seriously cute gift.
This Clever Kitchen Gadget
Wonderffle Stuffed Waffle Iron
Every newlywed needs a waffle maker, and the new couple will really enjoy cooking breakfast together with this one that makes delicious stuffed waffles.
These Blue Light Glasses
The Art of Snore Blue Light Blocking Reading Glasses
Everyone needs a good pair of blue light glasses, especially if you're staying up all night perusing wedding inspiration on Pinterest.
This Insta-Worthy Pan
Our Place The Always Pan
This Always Pan is designed to replace eight (!) different pieces of cookware, so this is definitely a one-and-done gift.
This Lip Care Set
Fenty Beauty Pro Kiss'r Lip Care Set
Keep the bride's lips ready for new marriage make-outs with this Fenty lip care set.
These Fancy Slippers
patricia green Daisy Pouf Slippers
Her feet will be SO thankful for these uber-soft slippers. The padded sole and cozy material make these a dream to walk in.
This Electric Kettle
Fellow Stagg EKG Electric Pour-Over Kettle
Whether they like tea or coffee or both, they could use a stylish kettle that heats water lightning-fast and keeps it at the same temp with a degree-control dial.
This Aesthetic Haircare Travel Set
R+Co One-Way Ticket Kit
Not only is this set of haircare totally aesthetic, but you're also ensuring that the bride has travel-friendly products ready to go for her honeymoon.
This Gorg Woven Tote
Hat Attack Luxe Stripe Tote
Along with those haircare minis, a woven tote is a must for any beachy honeymoon. Plus, she can use it on all her vacations later!
This Sleek Carry-On
Béis The Carry-On Roller
Honestly, luggage is a classic wedding gift for a reason. It's so endlessly practical—and this carry-on is also cute to boot.
This Retro Toaster
Smeg 2-Slice Toaster
Liven up their kitchen with a cool vintage-looking toaster. There are also tons of color options so you can match it to their space.
This Lovely Candle
Harlem Candle Co. 22k Gold James Baldwin "Love" Luxury Candle
Once they've finished enjoying this romantic rose- and sandalwood-scented candle, they can use the holder as a glass for sipping cocktails.
This Minimal Bath Towel Set
Parachute Home Fouta Stripe Towels
On the surface, bath towels might seem like a boring present, but the feeling of using a fresh new one is arguably the best in the world, and these striped Parachute ones dry so fast.
This Passport Cover
Eccolo World Traveler Travel Passport Cover Case
If the couple has international travel plans in the works, a cute textured marble case will complete their airport style. This one also comes in 13 other colors and designs.
This Personalized Necklace
BYCHARI Diamond Initial Necklace
If she's all about accessories, she'll be obsessed with a cute personalized necklace with her initial on it along with a delicate little diamond.
This Fun PJ Set
Print Fresh Houseplants PJ Set
Save the lingerie for her bachelorette party, and give the bride some comfy pajamas for her bridal shower. Not every night is a lace night, right?
This Crisp New Sheet Set
Riley Home Percale Flat Sheet
Everyone loves a set of fresh sheets! This cooling percale set comes in eight other shades and feels like you're sleeping in a hotel bed.
This Top-Rated Perfume
YVES SAINT LAURENT Mon Paris Eau de Parfum
A scent inspired by Paris? Sign me up. With notes of jasmine, raspberry, cedarwood and more, this deliciously fruity fragrance makes the perfect gift.
This Glam Pouch
Stoney Clover Lane Glam Small Pouch
Perfect for carrying around cosmetics and other essentials, you can't go wrong with this adorable Stoney Clover Lane pouch.
These Dainty Hoop Earrings
Oma the Label The Epa Hoops
Give a bridal shower gift they don't have to share—in the form of small 18k gold-plated double-hoop earrings.
This Weighted Blanket
Bearaby Tencel Napper Weighted Blanket
Give the gift of a great nap with this chunky weighted blanket.
This Gallery Photo Frame
Wood Gallery Frames – Natural
They'll have plenty of pics from the big day, so gift a nice frame that'll make any heartwarming picture the centerpiece of a room.
This Soap and Cleaning Set
Mrs. Meyer's Clean Day Peony Scent Kitchen Basics Set
Cleaning supplies are boring but necessary. This hand and dish soap and countertop spray, however, will have their home smelling like fresh peonies.
This Fancy Cutting Board
Anolon Pantryware White Marble and Teak Wood Serving Board
A marble cutting board that's just as decorative as it is functional (it's also nonporous for easy cleaning) is basically an essential for any newlywed couple.
This Cute Eye Mask
Band.o Getaway Eye Mask – Heart Eyes
Nothing is quite as frustrating as trying to sleep on a plane that's way too bright. This eye mask makes snoozing a whole lot easier.
These Gorgeous Geode Bookends
West Elm Agate Stone Bookends
Make sure their books are kept upright and organized with a pair of sparkly geode bookends. The neutral shade will complement any color scheme in their home.
This Pretty Vase
Dial White Shiny Vase
They can fill this vase with their favorite flowers or simply use it as added decoration around their home.
This Dried Bouquet
Urban Stems The Claire Dried Bouquet
And what better present to go with that vase than a gorgeous dried bouquet? They look just as pretty as flowers with zero effort. They won't worry about watering these at all and they'll last foreverrr.
This Metallic Duffle
Calpak Luka Duffel
This metallic duffle is just too adorable to pass up. It's perfect for weekend getaways or storing essentials for a long flight.
This Sophisticated French Press
Secura Stainless Steel French Press Coffee Maker
A stainless steel French press is a gift that keeps on giving, because they can use it over and over again with their favorite kind of coffee.
This Unique Floral Pillow
Jungalow Primavera Hook Pillow
If you know the bride well enough to gift her home decor items, you can't miss with this gorgeous floral pillow.
These Salt and Pepper Holders
Hotel Collection Set of 2 Modern Marble Condiment Bowls
Who knew seasoners could look this pretty? The couple will definitely want to keep these marble ones on display.
These Wood and Marble Coasters
Set of 4 Alphabet Marble and Wood Coasters
Make sure none of their new furniture gets a dreaded water stain by getting them a gorgeous set of wood and marble monogramed coasters.
This CBD Bath Bomb
Lumi Bloom Cherish Bath Bomb Plus CBD
After all that wedding planning, every bride deserves to sit back, relax, and enjoy a soak in the tub.
This Decorative Wine Rack
VonShef Gold Freestanding Wine Rack
The newlyweds will have more wine and champagne than they'll know what to do with—buy them an elegant gold wine rack to keep them all organized.
These Classy Organizational Canisters
LEAVES AND TREES Stackable Kitchen Canisters Set
Their kitchen pantry will easily become their favorite room of the house thanks to these sleek reusable jars. They can store and organize coffee beans, nuts, and spices—and look pretty at the same time.
This Fancy New Vanity Mirror
Fancii VERA
Perfect for any makeup guru, this luxe mirror has three dimmable LED settings and a 30-min auto-shutoff.
This Epic Casserole Dish
Great Jones Hot Dish
Kitchenware isn't always the most exciting gift category, but this casserole dish is actually so fun. Who knew?
This Lily-Scented Candle
Diptyque Lys Scented Candle
A lit candle can make even the most barren space feel more homey, especially when it smells like a fresh bouquet of lilies.
How we chose these bridal shower gifts
Cosmo's shopping team is constantly curating the internet to bring you the chicest, trendiest options like it's our job (because it is, heh).
We have pretty high standards when it comes to recommendations. Each of our shopping articles adheres to the 15 Percent Pledge and includes picks for all styles. And you better believe we read those product reviews (and test many of the brands IRL) so you don't have to. You're welcome!
This content is created and maintained by a third party, and imported onto this page to help users provide their email addresses. You may be able to find more information about this and similar content at piano.io
Advertisement – Continue Reading Below