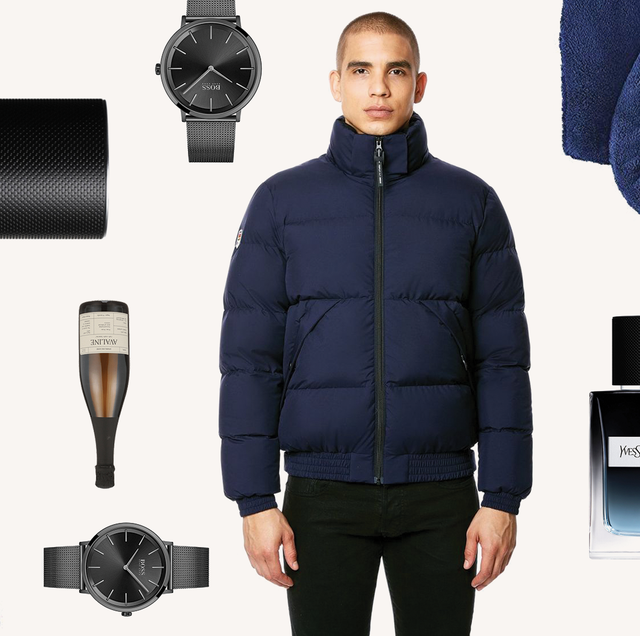 Courtesy Image
Whether it's your first anniversary or you're celebrating 15 years together, all anniversaries are significant milestones worth celebrating. Of course, some couples take this as an opportunity to go all out with a lavish and romantic date night, while others may prefer to go the more low-key route with a sweet movie date or cozy night in. Either way, a lovely and thoughtful anniversary gift for your significant other can show them just how much you care. Butttt if the pressure of finding the perfect present is beginning to set in, let us help you out.
No matter if you're shopping for your partner, boyfriend, or hubby, you're bound to find something he'll love on our extensive list of 68 different anniversary gifts below. From sweatpants and robes for the pair who loves staying in, to sunglasses and a cool camera for the adventurous couple, this list has something for every kind of relationship to help celebrate your special bond.
Advertisement – Continue Reading Below
1
a mini polaroid
Instax Mini 90 Instant Film Camera
If your guy is all about photography, he'll seriously love this aesthetically pleasing mini polaroid. He can take it with him on your next adventure together and catch all your memories on film.
2
a sling bag
Charter North/South Crossbody With Hybrid Pouch
Elevate his style with this chic crossbody that can go with anything in his wardrobe.
3
a nice pair of pj's
Men's William Pajamas
Sure, he might like sleeping in his old college T-shirt and shorts, but he'll love upgrading to this classic and cozy pajama set.
4
a gourmet gift basket
California Craft Beer Gift Basket
If he's really into all the different beers out there, he'll love this luxe meat and beer basket from Hickory Farms. It features six different beers from some of California's best breweries and two snack packs of beef with yummy chips and salsa.
5
a punching bag
Nevatear Training Bag 100lb (EA)
Level up his at-home workouts with this premium heavy-weight punching bag. He can practice regular sparing or give it a few jabs to let off some steam.
6
a potted plant
Braided Money Tree Grove Bonsai
Let your guy flex his green thumb with this mini Bonsai tree. It comes with a chic ceramic planter that would look so nice in his office.
7
a cozy pair of joggers
Cotton Blend Sweatpants
If his aesthetic is all about being cozy 100 percent of the time, then he'll seriously appreciate these must-have joggers in his wardrobe.
8
a v sexy book
"…In Bed" Challenge Book
There's nothing boring about this little black book, which is filled with sexual challenges that'll spice things up between you and your partner.
9
a box of date ideas
A Box of Date Night Cards
With this gift, you'll find 51 unique date ideas so you'll never run out of ideas.
10
this portable fireplace
Personal Concrete Fireplace
Ummm s'mores anytime, anywhere?! I'm sold.
11
a silver ring
Slim Rectangular Signet Ring
If his wardrobe needs a little edge, this grey titanium ring with a matte finish should do the trick.
12
a DIY beer kit
Beer Making Kit
Yes, he's a beer aficionado, but has he ever tried to make his own? This kit includes all the essentials to brew his own IPA, including grain, hops, and yeast—and it also comes in five other types.
13
these hotel-inspired slippers
Le Classic Slippers in Smoke Shearling
Replace (and dare I say upgrade) his beloved hotel slippers with these cuties. Padded foam insoles make them even more comfortable than the ones he stole on your last vacation, plus they're durable enough to wear to the corner store.
14
a tie gift set
Premium Men's Silky Necktie Gift Set
A single tie is, uh, not the most thoughtful anniversary gift in the world. But a color-coordinated tie set complete with lapel flowers, socks, and pocket squares? Now we're talking.
15
these brightly-colored socks
New Classic Socks Gift Set
The name says it all—these bright and bold babies will bring a smile to his face every time he puts them on.
16
this clean wine
Sparkling Wine
When in doubt, wine! We love Avaline's not-too-sweet, not-too-dry sparkling blend, which is made using organic grapes.
17
a pressure relief pillow
TEMPUR-Cloud Breeze Dual Cooling
Whether you're buying one for yourself or gifting it to someone you love, super-luxe pillows are a form of self-care. This one provides Tempur-Pedic's signature adaptive support and has layers of gel on both sides for a cooling effect.
18
this do-it-all pan
Always Pan
File this under Viral Products That Are Actually Worth the Hype. This cult-favorite pan (which was designed to replace eight traditional pieces of cookware) will cut his pile of dirty dishes in half.
19
a duffle bag
Crossover 2 Duffel Bag
Let's be honest—his go-to bag has seen better days. Help him retire his old duffel and upgrade with this super sleek one.
20
trendy gym shoes
Cloudswift Running Shoe
Again, I'm sure his gym shoes have also seen better days. Upgrade his dirty trainers to these super clean, super stylish running shoes.
21
a pair of shades
Cloos x Brady Pacifica Sunglasses
These brown sunnies stand out, but thanks to the tortoise pattern, they'll look so effortless on him. Plus, if he stans Tom Brady, he'll feel extra cool in these, considering they were designed by the man himself.
22
a streetwear beanie
Hand Off Wool Rib Beanie
If your S.O is a street-style aficionado, stop here. Add to cart, now.
23
a streetwear tee
Black 'FG' T-Shirt
If you want to complete the look, this tee from luxe streetwear brand Fear of God is the thing to buy at the moment. If you're lucky enough to get your hands on a piece, snag it while you can. They sell out faaaaast.
24
a cooling sleep set
The Bamboo Cooling Sleep Set
Everybody needs a go-to pair of PJs to feel all comfy and cozy in. This bamboo pair from Bed Fellow Dreams is super soft and cooling for hot sleepers.
25
cbd gummies
Old Fashioned Hemp-Derived CBD Gumdrops
If he's been wanting to dip his toes in the CBD world, or he's already a pro, gift him these gummies that taste like an incredible Old Fashioned.
Does he admire his beard in the mirror for what seems like ~forever~? This set by Every Man Jack has everything he needs to keep his facial hair looking luscious.
27
a cigar box
Carbon Fiber Matt Finish Wood Humidor with Hygrometer
If your boo is a big cigar kinda guy, buy him this cigar humidor box that is sure to keep his beloveds in pristine condition. If you're looking to score extra points, complete the box with a set of cigars to really bring the gift home.
28
a designer wallet
Meisterstück Wallet
A wallet is an everyday essential, and people tend to keep theirs for years at a time. If his is looking a little rusty, upgrade him to this beautiful and classic Meisterstück design.
29
a massage gun
Theragun Mini Massage Gun
If he's the kind of guy that always asks you for a back rub, gift him a Theragun. It's a gift to him and you.
30
a steak delivery
Great Steaks Sampler
If either of you is gifted in the kitchen, splurge on some top-of-the-line wagyu meats to cook up a gourmet meal for your anniversary dinner.
31
an everyday upgraded T-Shirt
Seaside Summer T-Shirt
Might want to get this cotton stretchy T-shirt in a color that goes with most of his wardrobe, because this is one he'll want to wear all year long.
32
everyday slides
Arizona EVA
You can do no wrong with a pair of black slides that he's sure to wear on the daily.
33
luxe shaving cream
Supreme Cream Triple Cushion Shave Lather
Men can and do appreciate skincare just as much as everyone else.
34
a luxe razor
3-Blade Razor
…and he'll need a luxe razor to go with his top-of-the-line shaving cream.
35
GPS golf watch
Approach S62 Premium Golf GPS Watch
A golf lover will totally geek out over this GPS watch. Yes, it's a splurge, but if you're celebrating a special milestone, it's well worth it. Not only does it tell you how far you are from the next hole from over 40K courses across the world, it's like having a virtual caddy on your wrist.
36
luxe leather sneakers
Capri in Olive
If he's been searching for that perfect "everyday shoe" (i.e., one that looks dressy and casual at the same time), then he'll so appreciate a low-top leather pair.
37
trendy joggers
Pro Slim Fit Joggers
Luxe and fashionable sweatpants never hurt nobody.
38
leather slippers
Ascot Leather Slippers
Upgrade his slippers to this leather pair. They're chic yet cozy.
39
outdoor rain gear
Rain Defender Relaxed Fit Jacket
If he's an outdoorsy guy, he's probably been eyeing a good-quality, water-repellant coat for a while and would very much appreciate this one.
40
a new set of boxers
Apollo Trunk 4″ (3-Pack)
Girls love lingerie, guys will appreciate a new set of boxers just as much.
41
a weighted robe
Weighted Collar Fleece Robe
If you got him a weighted blanket for a past anniversary and he still loves it as much as he did when he first opened it, gift him a weighted robe this year. The collar of this soft, fluffy robe weighs 3 pounds to give him all the comfort he needs in the morning.
42
a cozy pullover
Clifton Hoodie
Everybody needs a good ol' classic hoodie in their closet that they can dress up or down.
43
a set of glasses
Carre Square Scotch Glasses
Whether he's a Scotch, whiskey, or bourbon guy, these handmade glasses are the best way to sip on his favorite booze.
44
a premium whiskey
Uncle Nearest 1856 Premium Whiskey
…and of course, he'll need a good bottle of whiskey to complement those new glasses.
45
cocktail ice molds
Silicone Ice Ball and Square Maker
46
a cocktail recipe book
Whiskey Cocktails Leather-Bound Book
…I mean, while we're at it.
47
a compact trimmer
Beard Trimmer
Whether he's a sucker for sleek design or in need of new clippers, he'd love this cordless trimmer. Now if only he could remember to clean up those little hairs and clippings…
48
an electric grill
Electric Smokeless Indoor Grill
If the dude loves grilling so much he would do it 365 days a year, get him this indoor grill so he can.
49
hiking boots
Mountain 600 Suede Waterproof Hiking Boots
Plan a weekend hiking trip to celebrate your anniversary, and wrap up a pair of these classic boots to get him excited about your adventure together.
50
a quiet coffee grinder
Ode Coffee Grinder
True story: I'm celebrating my anniversary in a couple of days and got my hubs this *quiet* coffee grinder that works for pour-overs, French presses, cold brews, and more. Hope he's not reading this RN.
51
a shower speaker
Moxie Bluetooth Showerhead Speaker
If the guy is always bringing his phone or speaker into the bathroom so he can jam out or catch up on a podcast while he showers, he needs this hybrid showerhead and speaker. Yup, you read that right. The showerhead not only blasts hot water, but it also syncs up to Bluetooth to blast music.
52
a classic watch
Elmington Bracelet Watch
A watch with a cool blue face and stainless steel band will totally be up his alley. It'll complement all his outfits, and he won't want to leave the house without it.
53
a watch carrying case
Watch Travel Case
…and the best way to wrap that new watch? With a watch roll that he can reuse while traveling. And for all of you celebrating three years, it's made of vegan leather, too!
54
a beer of the month box
Beer Drop Ultimate Membership
If he knows every beer by heart, inside this box, he'll find some new and exciting flavors that may take a spot on his list of favorites.
55
a bluetooth turntable
Cruiser Deluxe Portable Turntable
Whether he's an avid record collector or has always wanted to get into vinyl, get him a retro suitcase turntable he can set up anywhere around the house.
56
Glass Topper Cocktail Smoker
If your man loves to experiment with alcohol, buy him his own cocktail smoker so he can DIY a luxe drink at home.
57
a custom skincare kit
Skin Transforming Kit
His skin's about to become soooo smooth. Designed for all skin types, pick a moisturizer (facial shea butter or cocoshea revitalizing cream), then let the vitamin C serum and cleanser do the rest of the work to lock in moisture and leave his face glowing.
58
a DIY ravioli kit
DIY Ravioli Kit
Whether you plan on surprising him with homemade ravioli for dinner or wanna challenge yourselves to learn the craft of pasta-making together, get this kit that has everything you'll need.
59
an at-home putting green
Grassroots Par Three Putting Green
An at-home putting green for practicing would be much appreciated for someone who's looking to improve their short game.
60
a luxe pen
Cross Century II Translucent Rollerball
Spending close to 100 bucks on a pen probably has never crossed your mind (mine either). But aren't the best kind of gifts ones that you would never buy yourself?!
61
a pair of comfy sweats
CloudKnit Sweatpants
If you two are a couple of homebodies, a cozy pair of sweatpants would definitely be his thing.
62
a brand new sheet set
100 Percent Linen Sheet Set
There's arguably nothing that feels better than going to sleep with fresh sets on the bed. This white set goes with almost any decor.
63
an acoustic guitar
DR-100 Acoustic Guitar in Vintage Sunburst
It's never too late to pick up a new hobby. Whether he's a beginner or he has some practice under his belt, he'll love a top-rated acoustic guitar—especially in these standout colors.
64
a skin serum
Power Recharging Night Pressed Serum
If your guy's into skincare, praise him. A night serum that gets rid of dullness, fine lines, and wrinkles is something he'll love—especially when he can sleep with it on.
65
a classy decanter
Glass Decanter with Wood Stopper
If he's into whiskey, he'll definitely enjoy a statement decanter that'll make any vintage that much smoother.
66
an earthy cologne
Y Eau de Parfum
Even if fragrances might not be his thing, one whiff of this (with its notes of sage and bergamot) will totally change his mind.
67
a compact wallet
Slim Leather Card Holder
He's been needing a new wallet for a while, so now's the perfect time to get him a slim leather one that easily fits in his pocket.
68
Cashmere Lined Leather Gloves
This content is created and maintained by a third party, and imported onto this page to help users provide their email addresses. You may be able to find more information about this and similar content at piano.io
Advertisement – Continue Reading Below