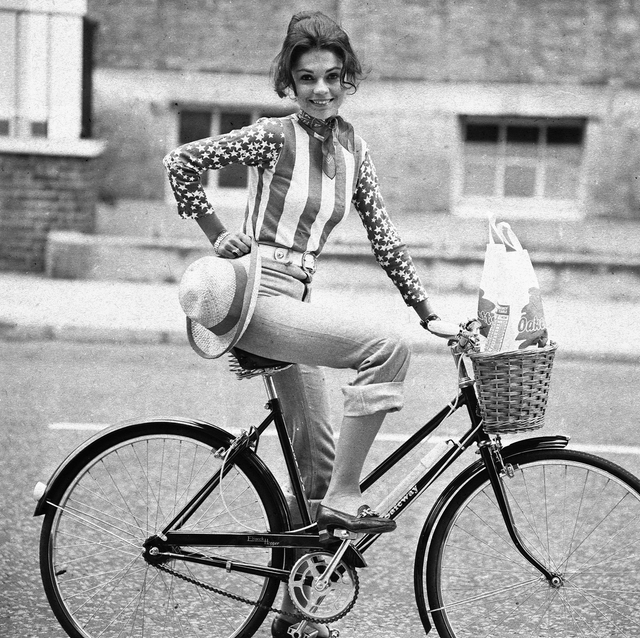 Getty Images
TBH, shopping for a bike can be a bit overwhelming. There are a lot of different types to choose from surprisingly—and if you're someone who's just looking for a simple (and cute!) beach cruiser bike you can take out for a casual spin, it might take ya some time to sift through all the bicycle options stores have to offer. I know you probs don't wanna put in all that work (who does?), but making sure that you get the right one for you is important. So, that's why I've gone ahead and put together a list of only the best cruiser bikes worthy of your eyes. And you betcha they're high quality and really freakin' pretty.
Below, you'll find the best cruiser bikes the internet has to offer. All of them have their own flexes—whether it be storage space, shiny chrome fenders, or water-resistant tires—but each of them has incredible reviews that will easily convince you to get one of these gorgeous bikes for yourself.
Our top picks for the best cruiser bikes in 2022
This is the year where we are OUTSIDE, people, and you deserve to treat yourself to one of these fab cruiser bikes. Summer will be so much more fun with one! Promise! Oh, and make sure to get a helmet with your bike purchase because #safety.
Advertisement – Continue Reading Below
this bright bike
Huffy Good Vibrations Women's Cruiser Bike
needs certain tools to assemble
If you're looking for a cruiser bike that has ~old-fashioned~ brakes (aka pedal ones) and not hand brakes, go for this pretty pastel one. It's got a padded seat so your tush is comfy no matter how long the ride is and fenders (wheel coverings) to protect your bike tires from rain.
THE REVIEWS: Great buy! My mother-in-law loves it. It rides comfortably and she loves the old brake system with the pedals, not the new hand brakes.
this seven-speed one
Schwinn Wayfarer Adult Bike Hybrid Retro-Styled Cruiser
sturdy, steel frame
chrome fenders
limited lifetime warranty
may be difficult to put together
Don't underestimate this retro-style bike! It's actually a seven-speeder—which means it's super powerful and can ride in tricky terrain thanks to its gears. You have the ability to shift into lower gears for uphill moments and higher gears for downhill rides and flat roads.
THE REVIEWS: Once assembled, the bike has a solid, smooth, quiet ride, if somewhat "vintage" in its feel. The riding position is very upright with just some very slight forward lean. There is not a lot of space between the seat and the backswept handlebars, which is fine if you are not expecting a racing position. The bike seems to encourage taking one's time and looking around to enjoy the ride. It feels efficient and secure, though not what I would call "nimble." I think this would make a great bike for a college campus, paved trails, and urban commuting for short to moderate distances.
this one great for chill rides
sixthreezero Around The Block Women's Beach Cruiser Bike
rear rack
comes in a bunch of fun colorways
some reviewers say it squeaks during use
Now if you want a simple but high-quality bike, I recommend this single-speed gem by sixthreezero that's ideal for casual, short-distance rides.
THE REVIEWS: This is the first time I've ever bought a bike from the internet and I couldn't be happier!! Not only was it really easy to put together, but it's also just such a wonderful bike! It's smooth and responsive, and the handles are great. I love it. And for the price, I'm honestly amazed. I love everything about it, especially the fact that the rack is part of the frame. Not only does it make it sturdy and secure, but it also meant I didn't have to buy and assemble a separate rack. I just attached a milk crate to the rack with zip ties and it's a perfect basket for groceries, my backpack, and whatever I need to haul.
this one you can put alllll the stuff in
Wdminyy Beach Cruiser Bike
some buyers have said the seat could be more comfortable
Love a bike with tons of storage! How about this cute cruiser that has the most adorable basket and a rack on the back?
THE REVIEWS: I love this bike! It's so smooth and lightweight.
this one that you can ride rain or shine
Priority Bicycles Priority Coast
weather-resistant grips and seat
sturdy double kickstand
reflectors
Trust that this ultra-light, luxe bike will give you smooth rides time and time again because of its rust-proof aluminum that can live through any type of weather.
MY REVIEW: Something I look for in a bike is whether or not they have reflectors. I WANT to be noticed when I'm out and about, pedaling through the town so I don't get hit by a car or something. And I love that this bike has them all over it.
this one that pretty much *comes* built
ACEGER Womens' Cruiser Bike
adjustable saddle
soft leather handlebars
no place to hold belongings
The fact that this gorgeous cruiser bike comes 85 percent already assembled is enough to sell me, TBH. I mean, the less work, the better! Who's with me?
MY REVIEW: Um, how could one not love the fact that there's a bike that comes delivered to their house pretty much ready to ride? I'm all for a product that barely needs assembly, so hearing that it's practically ready to go is music to my ears.
this electric option
Hyper Bicycles E-Ride Electric Bike
easy to change from electric to self-pedaling
powerful
some say the seat is too high
Fan of biking, but hate the pedaling part? I. Get. You. Invest in this fab electric bike that can go up to 20 miles per hour with minimal pedaling needed. You can choose one of its seven speeds depending on how fast or slow you want to go. Let's give it up for technology!!
THE REVIEWS: This is the most comfortable bike I have ever owned. It has plenty of speed and power. Beautiful and retro, it was exactly what I was looking for and I got it for a reasonable price. I'm very happy that I purchased this bike. It arrived in excellent condition and was easy to assemble. I love the way this bike can sense when extra assistance is needed. It's very user-friendly!
this one that can fit two rides
Kulana Lua Tandem Adult Beach Cruiser Bike
Quality may vary, according to the reviews
Why bike alone when you can bike with a buddy? Get this uber cool tandem bike that allows for two people to cruise around together.
THE REVIEWS: We bought this tandem not expecting to use it that often until our children were bigger. But it's incredibly easy to drive and we are able to hook up our children's trailer and pull it with ease. As my husband said, "This is the best thing we've ever bought." And "We should get rid of our personal bikes." The seats are extra wide for a bicycle and are comfortable. However, your rear still gets sore after a six-mile ride. We love this bike and we would highly recommend it!
this top-rated helmet
Heritage Bike & Skate Helmet
vegan leather straps
free accident replacement
Make sure your noggin is safe and secure in a helmet. Bonus points if it's cute! This one comes in 14 colors and has a magnetic buckle, seven air vents, and three cooling channels for breathability. Safety must always come first, friends!
THE REVIEWS: It's a good helmet and my head can still breathe. The straps are so easy to adjust and I love the magnets as opposed to pinching buckles. Once it's on, I tighten it up one turn in the back, and it's snug over my delicate coconut.
Are cruiser bikes good for beginners?
Definitely! Cruisers are great for beginner riders. These specific bikes are made for chill, flat rides that don't require any intense pedaling. They're super comfortable, durable, and are made for easy activities like daily exercise, errand-running, or leisurely rides. So if you're looking to learn how to bike (it's never too late!), or you're on the hunt for your first ~adult~ two-wheeler, a cruiser bike is for sure the move.
How to choose a cruiser bike for you
Obviously, you won't like or feel comfortable riding just any cruiser bike, so you wanna make sure you know what you want before you start shopping. Here are some things to keep in mind.
Consider the size
JSYK: Bikes are not one-size-fits-all, so it's essential that you find one that fits you best (and make adjustments to the seat and/or handlebars if needed) so that you can avoid injury and just generally ride comfortably.
To find out which bike size is best for you, you can check the size chart (based on your height) on the bike brand's website. Most will have one.
But if you want to get more specific than that, you can measure your inseam (aka the distance between your crotch and ankle) and compare it to the bike's standover height (aka the distance between the ground and the top of the top tube). Generally, you'll know if a bike is too big for you if your inseam measurement is shorter than the standover height.
Consider the speed
FYI: The "speed" of a bike has nothing to do with how fast or slow it goes. It actually refers to the gears which enable riders to maintain a safe and comfortable pedaling speed no matter what kind of terrain they're on. So if you know you'll only be cruisin' on flat grounds, stick with a single-speeder. Or if you think you may hit some bumpy hills at some point, maybe you wanna look into getting a three- or seven-speeder. Those ones have low and high gears that you can adjust based on where you're riding.
Consider the storage options
Having a place to put your belongings while you're biking is key, and if you agree, you should consider a cruiser that's got a front basket or a back rack. They're small and v handy accessories that can help you out a lot!
Cosmo's shopping team is constantly curating the internet to bring you the chicest, trendiest options like it's our job (because it is, heh).
We have pretty high standards when it comes to recommendations. Each of our shopping articles adheres to the 15 Percent Pledge and includes picks for all styles. And you better believe we read those product reviews (and test many of the brands IRL) so you don't have to. You're welcome!
This content is created and maintained by a third party, and imported onto this page to help users provide their email addresses. You may be able to find more information about this and similar content at piano.io
Advertisement – Continue Reading Below