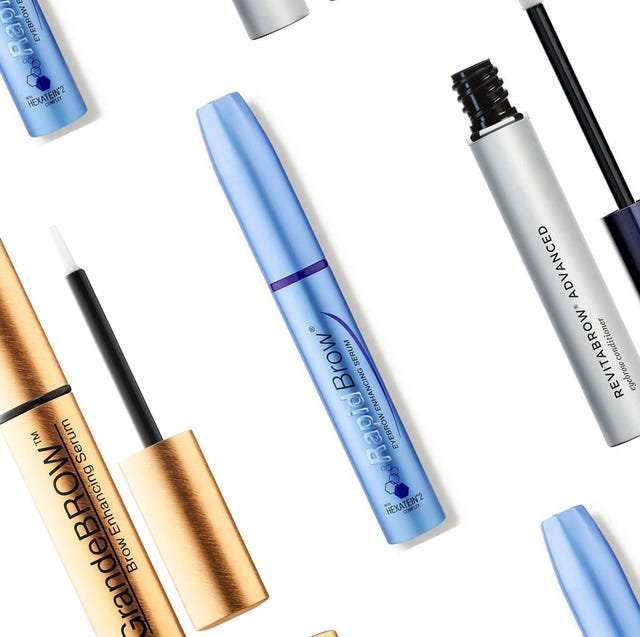 Brows can lose their fullness over the years, and your tweezers aren't entirely to blame. Hair thinning can be caused by a variety of hard-to-control factors, like diet, stress, and hormones. But a brow pencil isn't your only weapon in the fight against hair fall. The best eyebrow growth serums are designed with a blend of ingredients like peptides, natural extracts, antioxidants, and amino acids to nourish the hair follicle and help support healthy hair growth. "The ingredients that are used for eyebrows are similar to those used for eyelashes," Dallas-based dermatologist Elizabeth Bahar Houshmand says. "Some ingredients I recommend are peptides to promote healthier lashes, which can lead to enhanced thickness and length; amino acids to help with hair breakage; hyaluronic acid, vitamins A, B5, C, and E to protect and condition the hairs; and botanical ingredients like white tea, licorice, and rose to support the health of your brows. "
Just as with lash serums, a brow serum needs to be applied diligently and religiously—sometimes twice a day—for several months to achieve noticeable results. If you experience any itching, swelling, or redness in the area, discontinue the use and get in touch with your doctor. "These are signs you could be allergic to the ingredients," Houshmand warns.
If you find that the results are too subtle for your situation, you might want to pair a brow serum with something a little stronger. "Minoxidil or Rogaine can help with brow growth," Washington, D.C.–based dermatologist Sarika Snell says. "It promotes the anagen growth phase of the hair follicle. I tell patients to use it once per day and wash their hands with soap and water after applying it, so they don't grow hair anywhere else on their face." For even more brow-growing power, you can ask your doctor for a prescription to Latisse, the gold standard of hair-regrowth treatments.
Ahead, we ask the dermatologists to weigh in on the very best eyebrow growth serums that really work—shop their top picks below.
Advertisement – Continue Reading Below
RevitaBrow Advanced Eyebrow Conditioner Serum
Multiple derms mentioned RevitaBrow as their top pick. "It has peptides, biotin, lipids, and panthenol which in combination can condition and strengthen brow hair while preventing brittleness and leading to shine and fullness," Florida-based dermatologist Matthew Elias says.
GrandeBROW Brow Enhancing Serum
Ophthalmologist-tested and approved, this serum contains amino acids, conditioners, and antioxidant-packed botanicals to condition and protect your brows. You'll notice fuller, healthier brows in as little as six weeks (but keep using it for even better results).
Both an eyelash and brow serum
With more than 46,000 glowing reviews on Amazon, this dual lash-and-brow serum promises healthier, shinier, fuller brows in as little as two months of daily use. The blend of peptides and botanical extracts helps support hair growth without irritating your skin or eyes. At $25 per bottle, it's also significantly less expensive than other brow serums.
Both an eyelash and brow serum
Created by New York City plastic surgeon-to-the-stars Lara Devgan, Platinum Long Lash is a powerful serum that can also be used on brows. In just 14 days (that's right, two weeks), a clinical study showed a 25 percent increase in hair length. In 60 days, patients averaged a 45 percent increase in new hair growth. Those numbers speak for themselves.
RapidBrow EyeBrow Enhancing Serum
Ophthalmologist- and dermatologist-tested
RapidBrow applies clear and helps set brows in place, so think of it like a brow gel with benefits. You'll notice healthier, fuller brows after you finish the first tube.
This brow serum is created by the hair growth experts at Vegamour, and contains a natural vegan formula that's safe enough for every day use. It also aims to give its users visible growth results after 30 days of regular use.
KUSH Lash + Brow Enhancing Serum
This eyebrow serum has kush in its name for a reason: its powered by quinoa, peptides, and hemp-derived cannabis seed extract to keep brows and lashes supremely hydrated for optimal growth.
Lash & Brow Booster Serum
Here's another lash and brow serum that gives short, sparse hairs a boost, and uses a vegan formula with ingredients like green tea, saw palmetto and nettle root to combat thinning.
Features a flocked-tip applicator for hard-to-reach areas
Sephora customers swear by this popular lash and brow serum to enhance brows in need, since it features a flocked-tip applicator to seamlessly reach areas between your brow hairs.
This content is created and maintained by a third party, and imported onto this page to help users provide their email addresses. You may be able to find more information about this and similar content at piano.io
Advertisement – Continue Reading Below