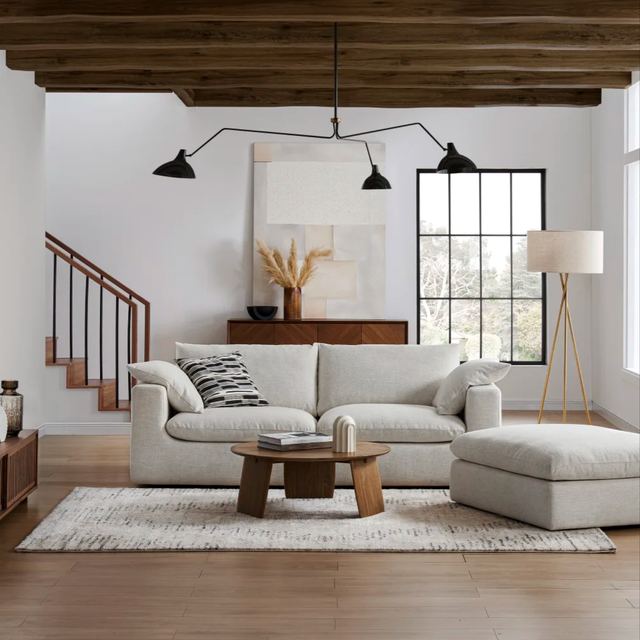 Courtesy
When you close your eyes and think of the perfect mid-day nap, what do you see? The Restoration Hardware Cloud Modular Sofa, perhaps? Well, sorry to burst your bubble, but that lil viral sensation—with its oversize seat and back cushions stuffed with super-soft goose feathers—starts at about $10,000. Painful, right?
Luckily, plenty of home brands (including West Elm, Wayfair, Amazon, Castlery, and Crate & Barrel) have launched their own more affordable versions of the Timothy Oulton–designed cloud couch since it first launched in 2015. And we've found the crème de la crème! Presenting: the nine best cloud sofa sectional dupes on the market and where to buy this cheap furniture. Categorized by their low-profile, streamlined silhouettes, rounded edges, and (you guessed it) cloudlike cushions, these are some of the comfiest and chicest couches money can buy.
Our picks for the best cloud sofa sectional dupes of 2022
Aside from the chic aesthetic and lounge-worthy design, the RH cloud sofa sectional dupes on this list have unique features like deep seats, feather-filled and memory foam cushions plus water-resistant and stain-proof fabric covers. They're so good, in fact, you'll totally forget they're not the real deal!
Advertisement – Continue Reading Below
Best Chaise Sectional
West Elm Haven 2-Piece Terminal Chaise Sectional
Handcrafted to help sustain skilled artisans
Removable legs
Sits very low to the ground
The concealed support legs bring a whole new meaning to "cloud sofa," am I right?! I mean, this streamlined sectional—which features sink-right-in cushions that are filled with a down alternative—literally looks like it's floating.
Best linen sofa
Castlery Dawson 3 Seater Sofa
Easy to clean
Lightweight blend of linen and polyester
This feather-filled bb earned a perfect score in Castlery's softness and comfort categories. One reviewer described it as "sturdy, attractive, and blissfully comfortable," adding, "She's the one!"
Best sofa with wide arms
Crate & Barrel Oceanside 90″ Wide-Arm Sofa
Available in 34 different upholsteries
Made using FSC-certified wood from forests that are responsibly managed
Sits very low to the ground
Deep cushions crafted from high-resiliency foam make this cloud sofa dupe incredibly lounge-able, while wide arms serve as comfy lil perches (yes, they're sturdy enough to sit on!).
Best corduroy sofa
AllModern Lonsdale Sofa & Chaise
Reversible
Features removable foam-filled cushions
One reviewer said the cushions flattened over time
AllModern's version of the cloud sofa features an unexpectedly chic corduroy fabric that's as cozy as it looks. But beware if you have a busy schedule because the brand said, "You're bound to get to binging once you have a seat in this reversible chaise."
Best sofa for spillers
Mario Capasa Feathers Sectional
Water-resistant and stain-proof fabric
Removable covers
Some reviewers said delivery was delayed
If we're judging based on the cloudlike puffiness, it's safe to say these HD memory foam and fiber blend cushions take the cake. Plus, the pine wood frame on this stylish Mario Capasa design is durable and comfy AF. "I could sit on it all day and I never want to get up," one reviewer wrote.
Best sofa for lounging
West Elm Modular Harmony Modular Sectional
Made with extra durable kiln-dried wood
High-density polyurethane foam cushions
Sectional pieces attach via alligator clips
Behold West Elm's "most comfortable sectional ever." Hey! They said it, not me. No, but seriously—on the brand's softness scale from 1 to 5 (5 being the firmest), this modular sectional earned a 5.
Best customizable sofa
Wayfair Custom Upholstery Emilio 90″ Sofa
Looks just like the picture
Some reviewers said it ships faster than expected
One reviewer said there are large gaps between the seat cushions
The high-quality craftsmanship of this under-$1,000 option impressed reviewers—as did the comfort level and low-profile silhouette. Oh, and did we mention it's available in more than 50 different fabrics?!
Best for Small Spaces
Article Abisko Quartz White Right Sectional
Sturdy yet easy to assemble
Modern design
Some reviewers said it stains easily
If you like the cloud sofa aesthetic but don't want a sofa that sits low to the ground, add this Article sectional to your cart! The size makes it ideal for small spaces.
Best Price
Stone & Beam Westview Loveseat Sofa Couch
Also available in leather
Deep seats
Fast and easy delivery
Some reviews said the cushions need to be fluffed/rotated often
Skeptical of buying a couch from Amazon? You're not the only one! But hundreds of reviewers were pleasantly surprised by the cozy plush cushions, timeless style and color, and overall durability.
Why is the cloud couch so popular?
The cloud couch from RH is so popular because…well, have you seen the damn thing? She's absolutely stunning!
No, but in all seriousness, the $10,000+ sofa—designed by Timothy Oulton in 2015—is beloved for its streamlined aesthetic and out-of-this-world comfort. The plush cushions are filled with goose down, plus the low-back silhouette and broad arms are completely sinkable. Like, before you know it, you'll have taken a four-hour nap or binge-watched an entire series.
What's more, the luxury accent (which is a favorite among celebs like Kendall Jenner and Kerry Washington) is also completely customizable. With three modular components to choose from (a corner, an armless section, and an ottoman) and the ability to configure your cloud sofa however you want, the shape and size possibilities are endless.
RH describes the furniture phenomena as "a modern marriage of versatility, perfect proportions, and massive comfort," and we think that's pretty accurate. Okay, now do you get the hype?
How to choose the best cloud sofa sectional dupe
Consider your budget
Whether you're looking for the real deal or a dupe, cloud sofas are a major investment. And just because the options on this list cost less than $10,000, doesn't exactly mean they're affordable by any stretch. It's all relative, ya know?
Soooo, the first step in finding your perfect couch is to determine your budget and shop accordingly. Pro tip: If you want to stay under $1,000, try Wayfair or Amazon (the Stone & Beam Westview Loveseat Sofa Couch is under $900!).
Choose an upholstery fabric that's best for you
Want a neutral-toned couch that'll last ya forever and work with a variety of color palettes? You'll love the Mario Capasa Feathers Sectional. Or maybe you're looking for a jewel-toned pop of color to anchor your living room? Try Crate & Barrel's Oceanside 102″ Sofa (available in 34 fabrics) or West Elm's Harmony Modular Sectional (available in basketweave, velvet, linen, chenille, and twill fabrics). Either way, you've got options! And this list has 'em all.
Determine your desired height
As I mentioned earlier, Oulton's original design sits low to the ground and looks like it's floating (hence the name!). Naturally, this means it'll be a long way down every time you go to sit on one of those cushy cushions—especially for you tall folks.
If this sounds like something that'll bother you, choose a modified dupe like the Article Abisko Quartz White Right Sectional or one with removable legs like the West Elm Haven 2-Piece Terminal Chaise Sectional.
Hanna Flanagan is the associate shopping editor at Cosmopolitan with four years of experience researching, writing, and editing stories that range from living room rug ideas to best mushroom lamps. She's an authority in all lifestyle categories but is an expert when it comes to saving $$$ on trendy furniture and home decor thanks to the joyous experience of moving into three different New York City apartments in just three years *cries*.
Anyway, she regularly tests and analyzes home products for style, form, functionality, and comfort, while working with the industry's top design experts to assess new launches and spot trends.
This content is created and maintained by a third party, and imported onto this page to help users provide their email addresses. You may be able to find more information about this and similar content at piano.io
Advertisement – Continue Reading Below