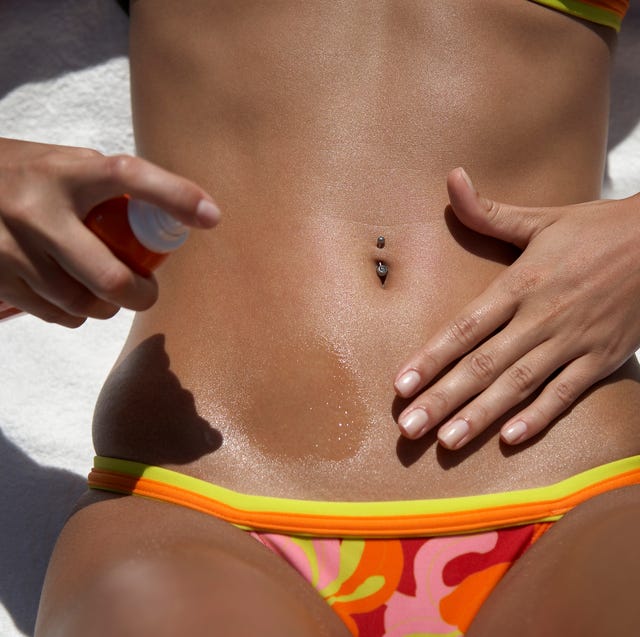 Bambu ProductionsGetty Images
With summer right around the corner, we anticipate you'll be spending a lot more time outdoors soaking up the sun. To help keep your skin protected from harmful UVA and UVB rays this season (and into the next), Amazon is having a timely sale on a number of their top-rated SPF picks, from coveted brands like EltaMD, Banana Boat, Neutrogena, Hawaiian Tropic, and more. During the blink-and-you'll-miss it sale now through May 27, shoppers can save up to 43 percent on best-selling products for face and body that are great for spontaneous hikes, beach and pool trips, or just a casual sunbathe. And since these markdowns are exclusive to Amazon, they're especially ideal for Prime members already looking to overhaul their summer beauty rotations. Here, we've pulled together our short list of the best sunscreens to snag on rare sale at Amazon before time runs out.
Advertisement – Continue Reading Below
BEST EXPERT-APPROVED SPF
UV Clear SPF 46 Face Sunscreen
EltaMD
$39 $31.20 (20% OFF)
This dermatologist-favorite zinc oxide sunscreen won't leave behind a white cast on darker skin tones.
BEST HYDRATING SPF
Tinted Sunscreen with SPF 30
CeraVe
$15.99 $13.97 (13% OFF)
Over 13,000 Amazon customers agree: This tinted, hydrating mineral SPF 30 sunscreen is definitely worth the buy. It features three types of ceramides, plus hyaluronic acid and niacinamide to lock in moisture while calming your complexion during sun exposure. As a bonus, this sunscreen is also recognized by the National Eczema Association as an effective broad-spectrum SPF for those with the skin condition.
BEST SPF FOR SPORT
Ultra Sport SPF 30 Broad-Spectrum Sunscreen
Banana Boat
$10.99 $7.97 (27% OFF)
Whether you decide to go surfing at the beach this summer or power-walk through your neighborhood park, this reef-friendly sunscreen is both water- and sweat-resistant for ultimate protection.
BEST SPF FOR K-BEAUTY ENTHUSIASTS
Hydro UV Defense SPF 50+
LANEIGE
$30 $25.50 (15% OFF)
Here's a popular face sunscreen from one of our favorite K-Beauty brands, formulated with centella asiatica to help soothe potential sun irritation.
BEST SHEER SPF
Ultra Sheer Dry-Touch Sunscreen
Neutrogena
$11.99 $8.97 (15% OFF)
It's no secret that some sunscreens tend to feel a little on the greasy side, which is why we highly recommend adding this dry-touch SPF 70 lotion to your shopping cart.
BEST SPF FOR SENSITIVE SKIN
Pure and Simple SPF 50 Sunscreen Lotion
Coppertone
$9.99 $8.97 (10% OFF)
Since this bare-bones mineral-based sunscreen is hypoallergenic in addition to being fragrance-free, it's a safe choice for those with super-sensitive skin.
BEST TINTED SPF
Solarie UV Mineral Multi-Defense Tinted Sunscreen Fluid
Eau Thermale Avène
$30.52 $25.60 (16% OFF)
If you're in the market for a sunscreen that does a little more than protect against UV rays, consider this sale on Avène's tinted sunscreen fluid, which also shields against blue light.
BEST MINERAL SPF SPRAY
Mineral SPF 30 Sunscreen Spray
Sun Bum
$17.99 $13.90 (23% OFF)
Save 23 percent on this beloved mineral sunscreen spray that one Amazon satisfied customer says is a "great product and provides incredible sun blockage. It's worth the money for sure."
BEST MATTIFYING SPF
Matte Effect Sunscreen Lotion
Hawaiian Tropic
$11.99 $6.85 (43% OFF)
This matte sunscreen from Hawaiian Tropic is perfect for combination and oily skin types since it uses sea minerals to absorb excess face oil and leaves behind a matte finish.
BEST SPF FOR BABIES AND KIDS
SPF 50 Baby Sunscreen Spray
Babyganics
$27.59 $17.68 (36% OFF)
Although this set of paraben-free and dermatologist-tested mineral sunscreen sprays is formulated for babies, parents in need can also benefit from its gentle UV protection.
BEST SPF FOR SCALP
Organic Scalp Spray & Hair Sunscreen Mist with SPF 30
$52 $41.60 (20% OFF)
You'll get two SPFs with this deal on a popular set of scalp sunscreens from COOLA. Not only is the mist water-resistant for up to 80 minutes, but it also works to minimize UV-related hair color fading.
This content is created and maintained by a third party, and imported onto this page to help users provide their email addresses. You may be able to find more information about this and similar content at piano.io
Advertisement – Continue Reading Below