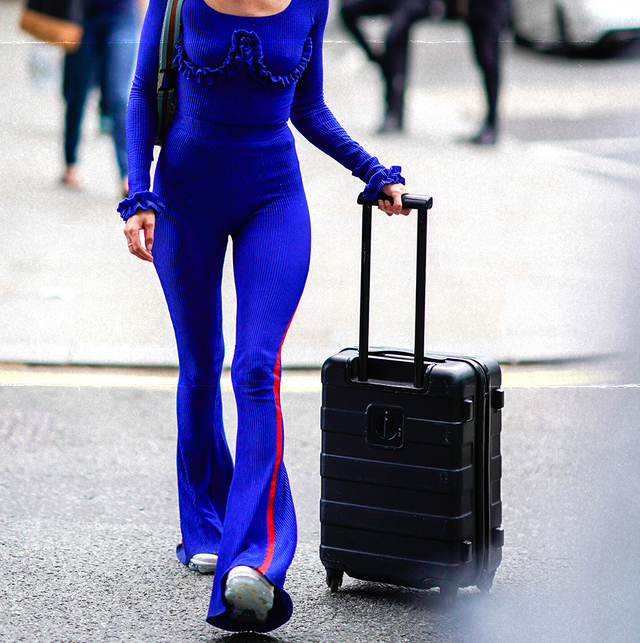 Getty Images
IDK about you, but when I travel—whether overseas for two weeks or a few hours away for a girl's trip—I pack the crème de la crème of my closet. I just can't bear the thought of leaving my all-time favorite outfits behind because I like to be prepared for any and all vacation activities. Sound familiar? If you can relate, here's my number one piece of shopping editor advice: Invest in a really good suitcase to protect your shit!
And to help you out, I've outlined some of the best luggage on Amazon for every type of trip and budget. From backpacks, carry-ons, and lightweight suitcases to hardside luggage, soft shell suitcases, and luggage sets, the items on this list are durable enough to withstand any and all travel curveballs (and god knows there's a lot of 'em 🙃).
These Amazon must-haves are not only built to last, but they also feature innovative organizational features, expandable designs to fit everything ya need, quality wheels, plenty of pockets and dividers, and sturdy handles. This means you'll never have to leave beloved clothes behind or worry that they'll be damaged during travel. You're welcome!
Our top picks for the best luggage on Amazon of 2022
If you're getting ready for a big vacation or just need to replace an old suitcase, keep reading for the chicest and most durable luggage on Amazon.
Advertisement – Continue Reading Below
Best backpack
Bostanten Leather Laptop Backpack
Two side pockets
Comfortable shoulder straps
This backpack is nice and compact, yet roomy enough to fit all your work trip essentials, including a laptop, notebooks, a water bottle, sunglasses, an iPad, charging cables, and more. Plus, it's available in nine different colorways.
THE REVIEWS: This backpack is gorgeous! Big enough to fit a laptop easily but small enough to take in places like work and stores without you looking like a student or hiker," writes one reviewer. "It's lightweight, has lots of pockets, and a lightly padded laptop compartment inside. It looks very durable and well-made. The straps are slim and comfortable (they don't dig into your shoulders)."
Best for long trips
Samsonite Freeform Hardside Expandable
10-year limited warranty
Features a built-in ID tag
Light colored shells might show scratches
This one's got all the bells and whistles you need for a long vacay, including a cross ribbon and divider for easy packing, plenty of pockets, and a super-strong shell.
THE REVIEWS: I absolutely love this suitcase. It's sleek and compact but still fits quite a lot of clothes. I used it for a trip around Europe," one reviewer writes. "It held up great and the ease of wheeling in any direction was such a big help. It's also very lightweight which was so handy when carrying upstairs."
Best for big airports
Amazon Basics 21-Inch Hardside Spinner
Expandable for up to 15 percent more packing space
Organized interior
If your top priority when shopping for luggage is finding one that rolls easily, add this hardside spinner to your cart. Trust: You'll be zooming through the airport with ease. Oh, and it's flight attendant-approved!
THE REVIEWS: "I'm a flight attendant so obviously I travel a lot. I've been searching for a chic, easy to roll hard suitcase that can handle an enormous amount of use," writes one reviewer. "I just received my suitcase this week. Currently, I'm traveling for the first time with my new suitcase and I LOVE IT!!! It rolls with complete ease!!! It's sturdy too!! My arms and back feel absolutely zero stress. It feels like it's floating! My smaller bag is attached to the top and it still feels weightless."
Best splurge
Delsey Paris Chatelet Hardside Luggage
Lightweight
Soft-grip handle
Wait! Before you freak out about the price, let me explain: this lightweight and durable vintage-inspired baby features a 100 percent polycarbonate shell, which means it won't crack or break (no matter how hard you are on your luggage).
THE REVIEWS: Stylish and beautiful bag, both inside and out," writes one reviewer. "I purchased both the brown and white versions of this bag—the white for me and the brown for my 16-year-old son. The interior of these bags is so nice, even my son noticed. Now THAT is a compliment! Both sides are zippered and the fabric is a soft brushed cotton-like fabric."
Best Carry-On
Hanke Carry On Luggage
Ideal for weekend getaways and work trips
Thick and comfortable handle
This carry-on is not only incredibly cute, but it's also surprisingly functional, thanks to innovative design features like the do-it-all front pocket. The clever compartment has a padded laptop section, an iPad pocket, and a two-zipper interior pocket to keep books, headphones, and other miscellaneous items nice and organized while you fly.

THE REVIEWS: "I'm very impressed with this suitcase. It's so well constructed and beautiful. The piece's shape offers a unique and practical appeal," one reviewer writes. "I'm so impressed with this bag. I will be buying the larger variation."
Best set
Travelers Club Midtown Hardside 4-Piece Luggage Set
Available in five different colorways
Fully-lined interior
Some reviewers say the handles are flimsy
If you really just need to replace all of your luggage—from duffles, to carry-ons and suitcases—consider investing in a matching set like this one. It comes with a spinner suitcase, carry-on spinner luggage, a boarding tote, and a toiletry bag, and each one features an expandable design so you'll have plenty of room for the essentials (plus everything you probably….definitely…don't need but reallyyyyy want to bring).
THE REVIEWS: "Must buy! I am obsessed with everything about this luggage set," one reviewer writes. "The color and quality are great!"
Best soft shell
American Tourister Belle Voyage Softside Luggage
Flexible soft shell
Smooth rolling
If you like a classic softside suitcase, this lightweight one with gold hardware is elite. It's huge and has tons of exterior pockets, plus it expands up to 1.5 inches, so over-packers have nothing to worry about.
THE REVIEWS: This is my dream suitcase! For the first time, I was able to fit clothes for a whole week, three pairs of shoes, a hairdryer, a brush, and toiletries in one suitcase comfortably. And it is beautiful and well made," writes one reviewer. "I love that it is NOT split in half so that it is easy to use in a small space. It is easy to wheel even on MOST carpets."
Best for organization
Verage Suitcases Sets
Comes with a removable mesh bags
Extra-large back wheels for easy rolling
Not as durable as other hard shells
Whether you choose this two-piece set, the three-piece one, or just the carry-on, this scratch-resistant luggage won't disappoint. It's got 360-degree spinning wheels, built-in hooks, and a removable mesh bag for easy packing.
THE REVIEWS: "Elegant and spacious, this luggage has everything you need. Made with smooth and strong material, there's a clear difference from the cheap luggage out there. From my experience, quality luggage like this would cost three times the price," one reviewer writes. "And the best part about it is the sturdiness. I had fine China in there and I was worried it would break, but after a long day of dragging and dropping there wasn't a scratch. Overall, this is AWESOME luggage for all purposes."
Best value
Coolife Luggage Expandable Suitcase
Quiet spinning wheels
Available in three different sizes
One reviewer says the wheels are unstable
With the ability to expand for up to 15 percent additional packing capacity, the 28-inch version of this bad boy is another great option for big trips. And the other options are pretty nice too—one person who purchased the carry-on size said they were able to fit "nine outfits, three pairs of shoes, a makeup and jewelry bag, belts, underwear, seven pairs of headbands, and face masks." Ummm okay, I'm sold.
THE REVIEWS: "This suitcase has gone through a couple trips/vacations and has taken everything that TSA, luggage handlers, hotel personnel, and whatever else the world of travel can throw at it in stride," writes one reviewer.
Is hard shell or soft shell luggage better?
Hard shell luggage isn't necessarily better than soft shell or vice versa—it's all about preference, and there are pros and cons to both! Here's everything you need to know: Hard shell suitcases are better for protection, butttt they're difficult to squeeze into tight spaces due to the stiff exterior. Whereas soft shell luggage can easily be maneuvered to fit into the overhead bin of a plane (for example) but it won't always protect fragile or breakable items inside.
How to choose the best luggage on Amazon
Determine your average length of travel
Are you someone who takes one big vacation per year? Or do you prefer short trips and weekend getaways? If it's the latter, consider investing in a carry-on and a backpack like the Bostanten Leather Laptop Backpack. If it's the former, you'll instead want to choose one big suitcase with lots of space like the Samsonite Freeform Hardside Expandable or the American Tourister Belle Voyage Softside Luggage.
Consider your favorite way to travel
As you probably already know, checking luggage can be hit or miss. If you prefer flying over driving or taking a train, definitely consider purchasing a hardside suitcase. The tough exterior will survive the, uh, not-so-smooth journey from being checked in to being loaded onto the plane.
Hanna Flanagan is the associate shopping editor at Cosmopolitan with four years of experience researching, writing, and editing stories that range from the best high-waisted jeans for women to Bridgerton season 2 lingerie dupes. She's an authority in all fashion and lifestyle categories who regularly tests and analyzes products while working with the industry's top design experts to assess new launches and spot trends.
This content is created and maintained by a third party, and imported onto this page to help users provide their email addresses. You may be able to find more information about this and similar content at piano.io
Advertisement – Continue Reading Below