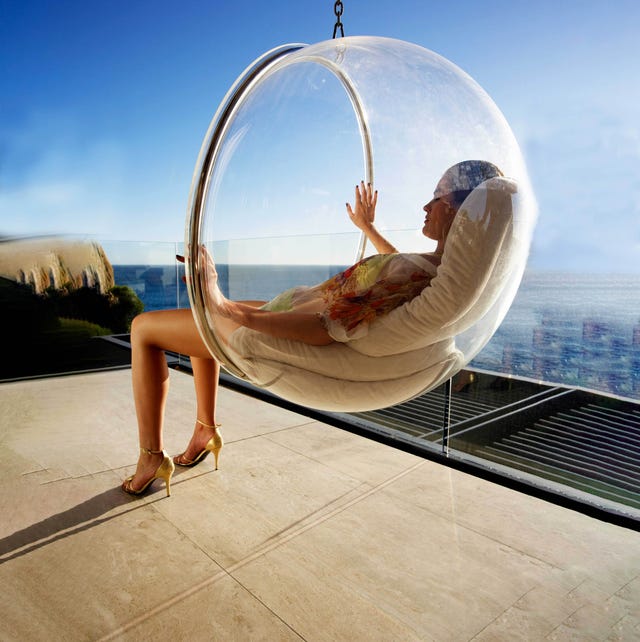 Getty Images
If you're lucky enough to have your own outdoor space—whether it's a deck, a patio, or a full backyard—you should know I'm very jealous. I absolutely insist you make the most of it by adding some outdoor decor items, and in my (somewhat) professional opinion, an outdoor hanging chair, swing, or hammock should be at the top of your wishlist too.
Whether you're looking for a trendy rattan swing, a wicker bench, or a soft woven hammock, the list below has an outdoor seat that'll transform your space into a relaxing oasis that's perfect for reading, journaling, meditating, pondering the meaning of life…you name it. Just add an outdoor grill or an outdoor rug and boom! You've got the ultimate summer 2022 hangout spot.
Our top picks for the best outdoor hanging chairs of 2022
Ahead, comfy and relaxing hanging chairs, swings, benches, and hammocks you'll want to live in all summer long.
Advertisement – Continue Reading Below
Best woven
AllModern Ander Papasan Chair
Best when used under an awning or covered patio
Bring your Bohemian-inspired oasis to life with this woven two-person chair.
THE REVIEWS: "Such a pretty chair! Great fabric and fast shipping," writes one reviewer.
Layden Indoor/Outdoor Wicker Hanging Egg
Available in three colorways
Free nationwide shipping
Professional installation required
This teardrop-shaped chair is as cozy as it is durable. If you're in the market for coastal outdoor furniture, add the blue and white striped one to your cart.

THE REVIEWS: "Mount these chairs to the ceiling and feel like a kid again every time you sit in one," one reviewer writes. "Beautiful, well built, and so fun!"
Best indoor/outdoor hanging chair
Berrien Orville Wicker Hanging Nest Chair
Can be used indoors or outdoors
Your butt will love love love this basket-like chair (and the plush, water-resistant cushion that comes with it!).
THE REVIEWS: "So cute! Perfect addition to my little reading nook," writes one reviewer.
Best for relaxing
LimboImports Hanging Chair
Good customer service, according to reviews
The cotton canvas fabric is soft and breathable
Some reviews say there were shipping delays
If you're looking for something more casual, consider a hammock hanging chair. This one—which features handmade crochet fringe and wooden beads—will add some texture to your space.
THE REVIEWS: "Absolutely in love with our swing!! We've received so many compliments, and it's comfortable as well," writes one reviewer. "It's such a great finish touch to our patio. Thank you!! ❤❤😍"
Best rattan
SERENA & LILY Hanging Rattan Chair
Hanging hardware is not included
In case you haven't heard, rattan furniture is back and better than ever. If you're as obsessed with the decor trend as we are, make sure to snag this pretty little chair—it features a sculptural frame and a scooped seat that's practically begging to be paired with your favorite throw pillow.
THE REVIEWS: A decor essential for aspiring coastal grandmothers everywhere, this hanging chair literally cradles you as you float. A dream if you ask me!
Best pod-shaped hanging chair
Pod Hanging Outdoor Chair with Cushion
Expensive
Expected to ship in August
Ummm, suddenly my work-from-home space absolutely needs an outdoor hanging pod. Anyone else?
THE REVIEWS: "I have been eyeing this hanging chair for years now. I finally pulled the trigger when it was on sale and the only thing I regret is not getting it sooner. When I purchased it was delayed by four months due to the pandemic, which I expected. When it did get delivered, the process was easy," writes one reviewer. "Love the neutral color. It goes well with many different interior styles. I really appreciate that this can be used outdoors if we ever decide to put it on the patio or move, making it an investment piece that grows with you."
Best budget
Chihee Hammock Chair Swing
Some reviews say the rope is poor quality
This bb won't take up very much space, plus it's quick and easy to hang inside or out.
THE REVIEW: "I love this chair and will be ordering another one," writes one reviewer. "My son was the first to purchase one for under his loft in his dorm and loves it. I have two yoga swings and used the anchors for that to secure it to the ceiling. It's so comfortable. I did put pillows in it for more support in the back and bottom."
Best bench
SERENA & LILY Hanging Rattan Bench
Holds up to 500 pounds
Heavy duty loop and rope
Cracking may occur if left in direct sunlight or a dry environment
If you live with family or roommates, try a hanging bench (instead of a chair) so the whole crew can lounge!
MY REVIEW: This elegant chair looks even more expensive than it is, and it'll be the star of the show at your next backyard soiree.
Best for reading nooks
Dakota Fields Chair Hammock
Comes with lights
Indoor/outdoor design
You, plus this hammock, plus a brand new book equals heaven, am I right?
THE REVIEWS: "I love this cool hammock! It was easy to install, and it looks great on our patio! It appears to be plenty sturdy. The lights wind around wherever you want to place them and are run by an easy-to-use battery pack," one reviewer writes. "I've always wanted one of these but wasn't sure I'd like it in real life. With Wayfair's great customer service and easy return policy, I thought it was the perfect way to try it out. Definitely a keeper!"
Best splurge
Lemons & Me Ubud Swing
Heavy duty rope included
No assembly required
Doesn't come with cushions or pillows
The modern, hand-woven design will bring all the beach vibes to your bedroom or your backyard.
MY REVIEW: Dare I say this is the absolute chicest hanging chair on the market?
Most comfortable hanging chair
SONGMICS Hanging Chair
Doesn't come with hardware
The big fluffy cushion provides plenty of support for your back, legs, and arms, while the tassel details will add a homey, cozy aesthetic to your space. Oh, and it's also available in gray!
THE REVIEWS: "I bought this for my 10-year-old granddaughter's room. She loves it and spends hours in it," one reviewer writes. "Whether she's watching TV, reading, or doing homework, that's where you will find her. I'm even thinking about one for my room. It's comfortable and very sturdy."
Best hanging chair with a pattern
Sunnydaze Outdoor Hammock Chair
Comfortable polycotton material
Neutral colors will compliment a wide variety of decor
It's a hammock with freaking armrests. Need I say more?
MY REVIEW: Portable, lightweight, and affordable, this black-and-white striped beauty is the cooler (and more space-efficient!) version of your classic hammock.
How much weight can hanging chairs hold?
On average, one-person hanging chairs can hold up to 300 pounds. But make sure to check the product description box (and reviews!) when shopping online, as weight limits vary from chair to chair. (For example, this Hanging Rattan Bench from Serena & Lily can hold up to 500 pounds because it's designed to be used by more than one person.)
How to choose the best outdoor hanging chair
Determine your budget
Furnishing an outdoor space can get real expensive, real quick! So If you need an affordable hanging chair, consider a woven hammock, since structured rattan and wicker options tend to be more expensive.
Think longterm
If you're shopping for a short-term rental, you'll probably want a hanging chair that's easy to install (and take down when the time comes). So steer clear of heavy chairs that "require professional installation" or ones that don't come with hanging tools. You should also consider purchasing a chair that's marketed as "indoor/outdoor," just in case your next apartment is patio-less. Whereas, if you've found your forever home, investing in a more permanent outdoor hanging chair for your backyard might be worth it.
Hanna Flanagan is the associate shopping editor at Cosmopolitan with four years of experience researching, writing, and editing stories that range from the best high-waisted jeans for women to Bridgerton season 2 lingerie dupes. She's an authority in all fashion and lifestyle categories who regularly tests and analyzes products while working with the industry's top design experts to assess new launches and spot trends.
This content is created and maintained by a third party, and imported onto this page to help users provide their email addresses. You may be able to find more information about this and similar content at piano.io
Advertisement – Continue Reading Below