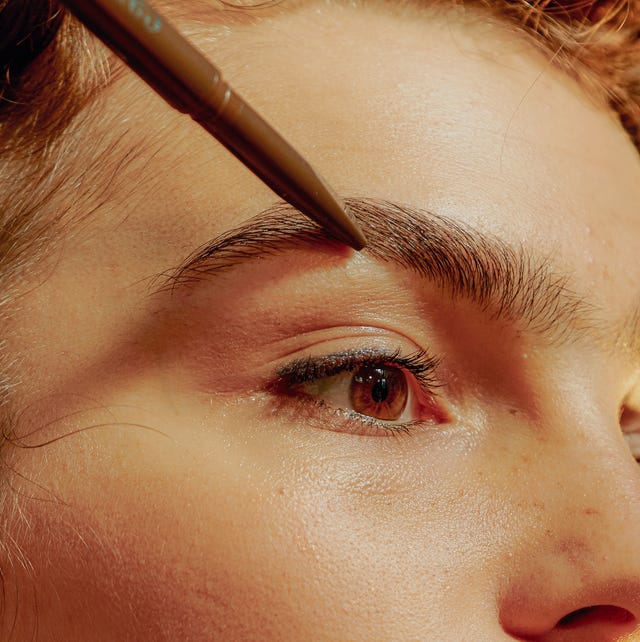 Caroline Tompkins / Refinery29 for Getty ImagesGetty Images
With so many options available, it can be tricky to narrow down which of the best eyebrow pencils is actually worth adding to your rotation. Some pencils are designed with ultra slim shapes that make it a breeze to mimic your natural hairs, while others feature slanted edges, or a bonus product in combination with a pencil for added brow customization. "It's all about big, fluffy brows without harsh edges," celebrity makeup artist at The Wall Group Katrina Klein previously told BAZAAR.com of this year's dominant eyebrow trend. Using a brow pencil—and the help of its handy spoolie brush to keep hairs in place—is one of the quickest ways to add a boost of volume and definition to a few sparse areas, or generally thin brows. From tried-and-true brands like Anastasia Beverly Hills, Benefit Cosmetics, Valentino Beauty, and more, we've pulled together 15 of the very best eyebrow pencils you can find on the market.
---
Advertisement – Continue Reading Below
BEST BACKSTAGE-INSPIRED BROW PENCIL
Diorshow Brow Styler Ultra-Fine Precision Brow Pencil
Ultra-fine tip for hair-like strokes
More than 1,200 Sephora customers agree: this backstage-inspired retractable brow pencil is a must-buy for natural, yet polished runway-ready brows.
BEST TRIED-AND-TRUE BROW PENCIL
Precisely, My Brow Pencil Waterproof Eyebrow Definer
One of the top-selling pencils at both Ulta and Sephora, this ultra-precise pencil from Benefit is best for faking natural-looking hairs. Use it on areas where you're sparse, then soften the lines with the attached spoolie. The best part? This tiny pencil is sturdy, so you don't have to worry about it breaking off.
BEST BUDGET-FRIENDLY BROW PENCIL
Brow Stylist Definer
This best-selling eyebrow pencil from L'Oreal retails for under $10, and has a super-fine tip that makes it easy to create thin, hair-like strokes.
BEST MULTI-TASKING BROW PENCIL
Brow Trio Eyebrow Liner
Includes both a brow pen and liner marker
This is more than just a brow pencil—it's basically a transformer. On one end is a spoolie, and on the other is a brow liner that's ideal to sketch in a few flicks of "hair." And under the spoolie? A third product: an angled pencil, which is ideal for elongating shorter brows.
BEST NATURAL FINISH BROW PENCIL
Brow Harmony Pencil & Gel
Rare Beauty by Selena Gomez
Another of our favorite dual-ended products, this pencil provides soft, blendable lines that look natural when brushed through. It also nicely features a tinted brow gel that can be used alone or with its accompanying pencil.
BEST HYDRATING BROW PENCIL
Fine Eyebrow Pencil Automatique
Here's an Amazon's Choice recipient and editor-favorite pencil that's made in Japan, and contains a blend of moisturizing ingredients like vitamin E, squalane and jojoba for a smooth application.
BEST CUSTOMIZABLE BROW PENCIL
Estée Lauder The Brow Multi-Tasker
Another multitasker, this beloved 3-in-1 pencil includes an angled tip that creates both thin and thick lines, plus, hidden brow powder to further define and fill-in sparse areas. Use its built-in spoolie to brush through and soften your work.
BEST HAIR-LIKE BROW PENCIL
Brow MVP Ultra Fine Brow Pencil & Styler
With a bevy of shade options for blondes, brunettes, and redheads, you're practically guaranteed to find a perfect match in this ultra-fine pencil from Fenty Beauty.
MOST POPULAR BROW PENCIL
Brow Wiz
This artist and editor-beloved brow pencil has a cult following for a reason. One satisfied Sephora customer writes, "I've been using this for years. It is quick, easy, foolproof, and looks great every time. You just can't go wrong with this and it actually makes a huge difference to your appearance."
BEST CHUBBY EYEBROW PENCIL
The Brow Pencil
Created by makeup legend Bobbi Brown, this eyebrow pencil is completely waterproof, which means it's especially ideal to wear to the pool or the beach.
BEST DRUGSTORE EYEBROW PENCIL
Micro Brow Pencil
Ultra-fine tip for hair-like strokes
This drugstore favorite contains a long-wear formula and teeny tip that makes it difficult to go overboard when filling in your brows.
BEST PRECISION BROW PENCIL
Arch Brow Sculpting Pencil
Angled tip for added definition
The angled pencil has the hold of a wax, precision of a pencil, and impact of a powder. Use the flat end to fill in larger areas in need and its pointy tip to create a few one-off strokes at the front of your brows.
BEST UNIVERSAL BROW PENCIL
Brow Power Universal Brow Pencil
Here's a coveted pencil from IT Cosmetics that comes in four universal shades suitable for a wide range of hair colors. Its formula is designed to not only mimic the look of natural eyebrow hair, but adjusts to its color based on the amount of pressure you use to fill them in with.
BEST ECO-CONSCIOUS BROW PENCIL
Brow Lift Eyebrow Pencil
Long-wearing (up to 16 hours)
In addition to being smudge- and humidty-proof, this eyebrow pencil is vegan, waterproof, and refillable, which plays a small role in cutting back on environmental beauty waste.
BEST LONGWEAR BROW PENCIL
Perfectly Defined Long Wear Eyebrow Pencil
Over 300 Nordstrom customers swear by this top-rated pencil that includes a flat side to fill in the head of your brow, and a pointed tip for short strokes that define its arch and tail.
This content is created and maintained by a third party, and imported onto this page to help users provide their email addresses. You may be able to find more information about this and similar content at piano.io
Advertisement – Continue Reading Below