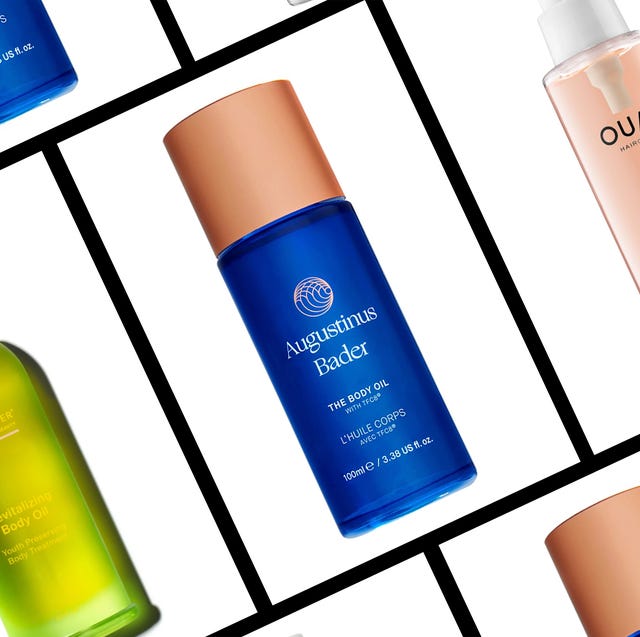 Images courtesy of Credo Beauty/Augustinus Bader/Sephora
While the best body oils can be used all-year round to moisturize dry skin, their lightweight yet deeply nourishing formulas are especially ideal to use during warmer months as part of a more streamlined beauty routine. Just like your favorite tinted moisturizer, body oils tend to be equal parts moisturizing and illuminating, and feature softening ingredients like squalane, grapeseed oil, and more to keep skin looking and feeling supple.
Better yet: These body oils are made to quickly absorb into the skin without leaving excess residue behind, with some featuring dry-touch formulas to minimize stickiness. Whether you're looking for an all-over oil that can be used head to toe, or just one that intensifies your bronze-y summer glow, we've pulled together some of the best body oils on the market that will take your daily body care routine to the next level.
Advertisement – Continue Reading Below
1
BEST BODY OIL FOR UNEVEN TONE
Skincare Body Oil
Nearly 124,000 Amazon shoppers swear by this best-selling oil to minimize the appearance of scars and stretch marks while helping skin retain its moisture.
One satisfied customer writes, "After reading countless articles and glowing reviews, I finally bought a bottle and have been using it for the past week at night on my face. Let me tell you, I could not be happier! This past winter, my usual healthy skin has become incredibly dry and flaky and nothing has helped. After only a week, my face already feels and looks so much softer and even-toned."
2
BEST BODY OIL FOR SENSITIVE SKIN
Body Skin Care Oil
This plant-based body oil softens dry skin using many of the same ingredients as the brand's coveted Thermal Spring Water facial spray.
3
BEST FIRMING BODY OIL
Óleo Para O Corpo
Costa Brazil's firming oil is best used on damp skin to hydrate and brighten over time, and uses eco-friendly packaging to cut down on environmental waste.
4
BEST FRAGRANCE-FREE BODY OIL
The Body Oil
For those with sensitive skin, this popular fragrance-free, hypoallergenic, and dermatologist-tested oil may just become a staple in your beauty rotation.
5
BEST BODY OIL WITH SHIMMER
Soleil Blanc Shimmering Body Oil
If you're looking for a little shimmer with your moisture, consider this scented beauty enthusiast favorite from Tom Ford that over 500 Nordstrom customers are raving about.
"I absolutely adore this product, the smell is beautiful," writes one shopper, adding that it's "a lovely mix of floral and tropical." And if you're concerned about it being overly shiny, no need: "I was slightly worried it might be a bit too glittery for me, but the shimmer is really subtle and just makes skin glow," says the review.
6
BEST NOURISHING BODY OIL
The Body Oil
Fans of Augustinus Bader's culty face products will love using this fast-absorbing body oil. It incorporates the same TFC8 complex that's found in the brand's beloved serum, eye cream, and Ultimate Soothing Cream.
7
BEST BODY OIL FOR GLOW
Head-To-Toe Glow Oil
Because you can apply this glowy oil to your hair and on your body, we're betting it will quickly become one of your favorite multitasking products to use after a bath or shower.
8
BEST SCENTED BODY OIL
Salt Soothing Scented Body Oil
For the fragrance lovers: This ylang ylang and Tahitian tiare-scented body oil from Ellis Brooklyn is created to layer with your go-to scent.
9
BEST DRY BODY OIL
Body Hero Dry-Touch Oil Mist
You don't have to worry about oily fingertips while applying this dry-touch oil, especially since it comes in a handy spray bottle for targeted application.
10
BEST SOOTHING BODY OIL
Sacred Body Oil with Marula Oil
Here's another body oil that makes it easy to target specific dry spots, since it contains a built-in dropper. The body oil also includes a grounding affirmation that makes its application process that much more intentional.
11
BEST BODY OIL WITH SPF
Glow Oil SPF 50
This product combines the benefits of broad-spectrum SPF 50 and body oil into one, without leaving arms and legs feeling greasy—great if you don't like the feel of traditional sunscreen,
12
BEST AROMATHERAPY BODY OIL
Undaria Algae Body Oil
This artisanal, seaweed-infused body oil takes up to six months to create, and has a calming, aromatherapy-inspired scent.
13
BEST QUICK-ABSORBING OIL
Revitalizing Body Oil
This restorative product from the experts at Tata Harper uses a blend of evening primrose and camellia oils for instant skin rejuvenation.
14
BEST BRONZING BODY OIL
GlowMotions Glow Body Oil
For a hint of extra color ahead of beach season (or any season), consider this highly popular bronze-y body oil from Sol de Janeiro. But know that it's moving fast—it already sold out in one signature color.
15
BEST ILLUMINATING BODY OIL
Pool Time Glowing Body Oil
This shimmery body oil has a subtle scent that's not overpowering, and is powered by vitamin E for supreme moisture while poolside or otherwise.
16
BEST VEGAN BODY OIL
100 Percent Squalane Oil
Created from percent plant-derived squalane, this vegan oil can be used alone for moisture, or as a carrier oil to help other actives penetrate the skin more effectively.
17
BEST MULTI-TASKING BODY OIL
Rose Hair & Body Oil
This formula is ideal for both hair and body, and features OUAI's coveted rose, bergamot, and lychee-noted Melrose Place scent.
18
BEST IN-SHOWER BODY OIL
Sudsy Shower Oil
To save time getting ready, this convenient body oil from Kopari is made to use in the shower, and transitions from an oil to a milk for a robust lather.
This content is created and maintained by a third party, and imported onto this page to help users provide their email addresses. You may be able to find more information about this and similar content at piano.io
Advertisement – Continue Reading Below