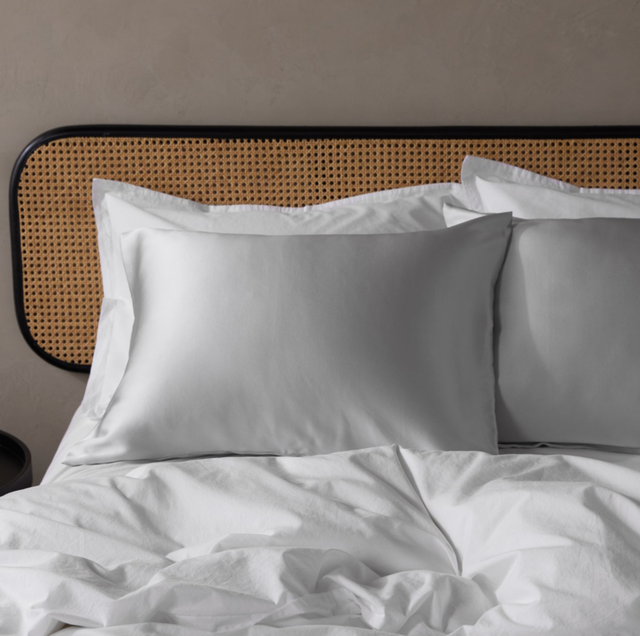 Parachute
Although there are virtually unlimited options available when it comes to shopping for your bedding of choice, snagging one of the best silk pillowcases on the market is one of the easiest ways to add more luxury to your sleep routine. Unlike airy summer linens or cozy flannel picks that are typically regulated to seasonal use, satin and silk pillowcases are ideal all year round. And they not only feel especially cooling during warmer months (or in general for hot sleepers), but they also have a smooth texture that keeps hair frustrations, including frizz, mid-sleep snags, and breakage, at bay.
Plus, the best silk pillowcases can also come in handy for those with sensitive skin, since the versatile material is known to ward off dust mites and other allergens. And because there's far less creasing with this type of fabric compared to others while you sleep, using a silk pillowcase is said to help prevent wrinkles from occurring, since there's less wear and tear on your skin over time.
When it comes to deciding which pillowcase is right for you, there are a number of types to choose from, which is usually determined by their momme, or the silk's measured thickness, weight, and density (similar to thread count for cotton). According to the silk professionals at Blissy, a higher momme number means there are more strands of silk per 100 yards of fabric, therefore making the product heavier.
Need another reason to make the swap? Silk pillowcases are also less absorbent when compared to materials like percale cotton, which means even if you wait until the 11th hour to apply skincare, you won't have to worry about all your hard work going to waste on your sheets.
To help you find a seamless sleep upgrade and your truest beauty rest maybe ever, we've rounded up 18 of the best silk pillowcases worth adding to your collection from coveted brands like Casper, Parachute, Brooklinen, and more.
Advertisement – Continue Reading Below
1
BEST MULBERRY SILK PILLOWCASE
Mulberry Silk Pillowcase
In addition to helping your hair and skin look its best, this top-rated pillowcase from Brooklinen is also machine washable to make it easy when it's time to change the sheets.
2
BEST CLASSIC SILK PILLOWCASE
Pure Silk Pillowcase
Recommended by editors, dermatologists, and hairstylists alike, Slip is one of our holy grail options for pillowcases, as they're made of pure silk inside and out.
3
BEST STYLISH SILK PILLOWCASE
Sisi Silk Pillowcase
Fans of Hill House Home's culty Nap Dresses should consider scooping up a few of the brand's printed silk pillowcases, which feature hidden zippers to keep your pillows secure.
4
MOST POPULAR SILK PILLOWCASE
100% Mulberry Silk Pillowcase
This beloved pillowcase is a must-have for any bedding collection. Not only is it available in 19 different color options to suit a number of sheet sets, but you can also shop the cases in three different sizes, from standard to king.
5
BEST SILK PILLOWCASE FOR SKIN
Silk Plus Pillowcase
Perfect for those with oily and combination skin types, this versatile bedding essential gives you a reason to flip it over. On one side, you'll find skin- and hair-friendly mulberry silk, while the other features rayon material that's designed to wick away excess oil.
6
BEST BREATHABLE SILK PILLOWCASE
Standard Solid Silk Pillowcase
Since this pillowcase is made with a lighter-weight silk, it's especially ideal for sweaty sleepers in need of some cooling relief.
7
BEST OEKO-TEK STANDARD 100-CERTIFIED SILK PILLOWCASE
Silk Pillowcase
Like all of Parachute's home items, this pillowcase is OEKO-TEX Standard 100 certified, which means it's been thoroughly tested for harmful substances. In addition to being one of the cleanest possible options for bedding, the pillowcase is made entirely of mulberry silk for hotel quality at home.
8
BEST SILK PILLOWCASE BUNDLE
Silk Pillowcase + Sleep Mask Set (Standard Size)
Because you'll not only receive one of Casper's coveted pillowcases but a silk sleep mask as well with this bedding bundle, we won't blame you if you decide to hit the snooze button once (or twice) before waking in the morning.
9
BEST BUDGET-FRIENDLY SATIN PILLOWCASE
Satin Pillowcase
You don't have to spend a ton of money to get the benefits of a silk or satin pillowcase. This satin option from Kitsch is priced at less than $20 and has more than 4,000 customer reviews at Ulta. One shopper writes, "Love this pillowcase. It stays cool, definitely helps with frizz control, and also includes unique style options. The sunset one I have is great—now I just need sheets to match!"
10
BEST SILK PILLOWCASE FOR EASY CLEANING
Silk Pillowcase
Here's another OEKO-TEK-certified pillowcase—this one from the experts at Avocado Mattress. It uses weighted organic silk for ultimate beauty rest and includes its own wash bag to keep it separated from the bulk of your laundry.
11
BEST AMAZON'S CHOICE SILK PILLOWCASE
100% Pure Mulberry Silk Pillowcase
Nearly 7,000 Amazon customers are raving about this simple yet sophisticated mulberry silk pillowcase, with one satisfied shopper writing, "I bought this silk case for reasons much like most of the others who have reviewed this product. For example, I want my hair to look less like bed-head upon waking, I expect less frizz by using this pillowcase, and I want silky goodness on my face as I sleep. Good news, I got what I paid for! This silky case truly has helps my hair out every night. It is very soft—luxuriously soft even—and keeps my face cool during the night. The case was quite wrinkled upon unfolding it from the packaging, but it fell out pretty quickly, and it continues to stay wrinkle-free."
12
BEST SILK PILLOWCASE FOR TRAVEL
Blush Silk Pillowcase
If you're not comfortable laying your head on a hotel or Airbnb pillowcase, this one comes with its own carrying case that makes it simple to pack in your carry-on for a well-deserved vacation.
13
BEST COOLING-SILK PILLOWCASE
100% Mulberry Silk Pillowcase
Since this popular case is made with 100 percent natural mulberry silk, it's as breathable as it is cool to the touch, which makes for a supremely comfortable night's sleep.
14
BEST LONG-FIBER SILK PILLOWCASE
22-Momme 100% Pure Mulberry Silk
More than 5,000 Amazon shoppers agree: This satin pillowcase is one of the best you'll find on the market, since it features long-fiber silk for a tight, resilient weave.
15
BEST SILK PILLOWCASE FOR HAIR
Silk Pillowcase for Hair and Skin
This pillowcase takes hair care to new heights, since it conveniently includes an accompanying silk scrunchie to keep hair out of your face while you count sheep.
16
BEST ECO-CONSCIOUS SILK PILLOWCASE
22-Momme Zippered Silk Pillowcase
In addition to being hypoallergenic and OEKO-TEK certified, this luxe pillowcase also happens to be biodegradable, making it a little more earth friendly. Plus, did we mention it also has a thread count of 600?
17
BEST VERSATILE SILK PILLOWCASE
100% Mulberry Silk Pillowcase (Queen-Size)
If you're looking to upgrade more than just your everyday bedding, we found silk options for both your throw and body pillows, and even toddler-sized ones from this in-demand brand. As a bonus, you can take 40 percent off its queen-size pillowcases right now, which Amazon customers have said are "incredibly soft, smooth and cool."
18
BEST SILK PILLOWCASE SET
100% Mulberry Silk Pillowcases (Set of 2)
You'll get two for the price of one with this top-rated 19-momme mulberry silk pillowcase set we spotted on markdown at Amazon for 15 percent off.
This content is created and maintained by a third party, and imported onto this page to help users provide their email addresses. You may be able to find more information about this and similar content at piano.io
Advertisement – Continue Reading Below