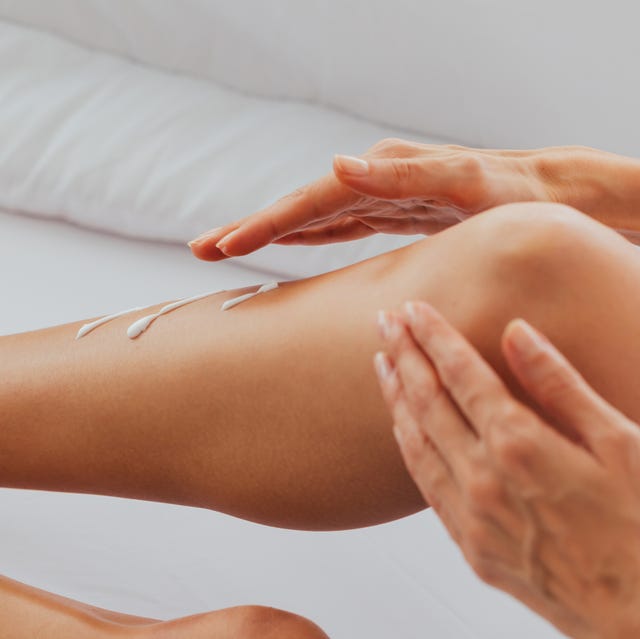 Sarayuth Punnasuriyaporn / EyeEmGetty Images
While they tend to get a bad rap, the best hair removal creams available have come a long way. Once notorious for having pungent—almost rotten—odors are, their formulas are now created with more gentle yet hardworking ingredients that get the job done (and well). Plus, many of these updated creams are not only super effective at dissolving body hair, but are even nearly fragrance-free. And the best part? The creams leave your skin feeling silky smooth, without the need of a razor or wax strip. These popular creams—from tried-and-true brands like Nair and Sally Hansen—are so good, you may even decide to stop using every other hair removal method altogether. To painlessly get rid of unwanted hair from your face, legs, under arms, and more, we've narrowed down the best of the best hair removal creams on the market to shop now before summer hits.
Advertisement – Continue Reading Below
BEST SOFTENING CREAM
Hair Removal Body Cream with Softening Baby Oil
Nair is a classic for a reason: this softening body hair removal cream features a baby oil blend that reveals smooth, moisturized, and hairless skin in just three minutes.
BEST SENSITIVE REMOVAL CREAM FOR FACE
Hair Removal Cream for Face
Not only will does this kit include GiGi's sensitive skin-friendly removal cream for the cheeks, upper lip, chin, and forehead, but it also features an accompanying soothing cream that slows future hair growth.
BEST FOR QUICK REMOVAL
Hair Removal Cream
Thousands of Amazon reviewers agree: this depilatory cream is one of the very best. Not only is it infused with aloe vera and vitamin E to calm redness and irritation, but it only takes five minutes to remove hair from your legs, arms, and more. Did we mention it's also on sale right now?
BEST FOR MINIMIZING INGROWNS
Legs & Body 3-in-1 Gel Cream Hair Remover
If the threat of ingrown hairs has caused you to take a break from shaving, consider reaching for Veet's gel-cream remover instead, which aims to reduce them overtime.
BEST MOISTURIZING CREAM FOR FACE
Hair Remover Moisturizing Face Cream
Here's another popular hair removal cream from Nair that's made for the face, and powered by sweet almond oil to help keep your skin supremely moisturized.
BEST FOR SENSITIVE SKIN
Sensitive Hair Removal Cream
For those with sensitive skin, this coveted removal cream uses a gentle formula to minimize potential irritation.
BEST REMOVAL CREAM FOR FACE AND BODY
Hair Remover Kit
Get rid of unwanted hair from the top of your lip downward with this easy-to-use removal kit from the pros at Sally Hansen. One satisfied customer writes, "I've been using this stuff for almost 20 years. Takes all of the hair off, easy to apply, and easy to remove with damp cotton rounds. Will continue to purchase."
BEST IN-SHOWER REMOVAL CREAM
Hair Remover Shower Cream
Here's a shower-ready hair removal cream for legs and body that over 1,500 Amazon shoppers swear by. It uses Moroccan Argan oil to leave skin baby soft and features the subtle hint of orange blossom.
BEST REMOVER FOR BIKINI AREA
Hair Removal Treatment Kit
This two-step treatment is formulated for the sensitive bikini line, and works in four minutes to remove hair and leave the area silky smooth while reducing the frequency of future growth.
This content is created and maintained by a third party, and imported onto this page to help users provide their email addresses. You may be able to find more information about this and similar content at piano.io
Advertisement – Continue Reading Below