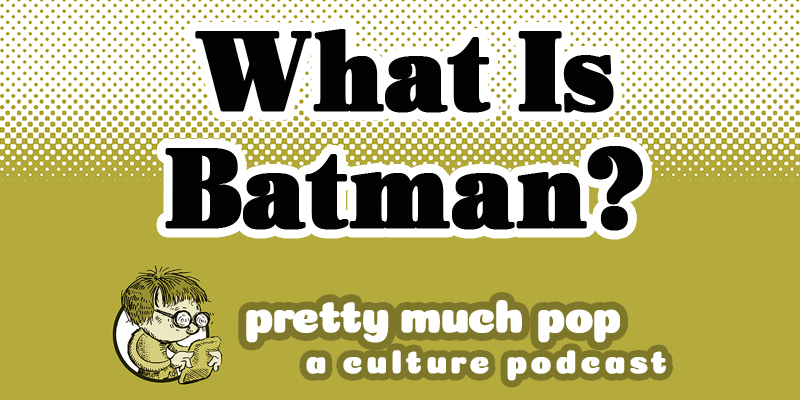 In light of the recent release of Matt Reeves' film The Batman, we consider the strange alternation of darkness and camp that is Batman. Is he even a super hero? What's with his rogues' gallery? What's with DC's anti-world-building?
Your Pretty Much Pop host Mark Linsenmayer is joined by philosophy prof/NY Times entertainment writer Lawrence Ware, improv comedian/educator Anthony LeBlanc, and Marketing Over Coffee host John J. Wall, all of whom are deeply immersed in the comics, and we touch on other recent shows in the Batman universe.
Some relevant articles include:
"Batman Actors Ranked from Worst to Best" from Den of Geek
"All the Batman Movies, Ranked" by Eliana Docterman
"The Best Order to Watch All the Batman Movies" in by Austen Goslin
"The Top 27 Best Batman Comics and Graphic Novels" from IGN
"5 Things 'The Batman' Got Right And 3 Things It Got Wrong" by Haley Petersen
Follow us @law_writes, @anthonyleblanc, @johnjwall, and @MarkLinsenmayer.
Hear more Pretty Much Pop. Support the show at patreon.com/prettymuchpop or by choosing a paid subscription through Apple Podcasts. This podcast is part of the Partially Examined Life podcast network.
Pretty Much Pop: A Culture Podcast is the first podcast curated by Open Culture. Browse all Pretty Much Pop posts.